PACKERS WELCOME 49ERS TO LAMBEAU FIELD
Two teams battling for position in the NFC playoff picture – Green Bay and San Francisco – square off this afternoon at Lambeau Field.
The Packers come into the game off one of their best performances in the three-plus seasons under Head Coach Mike McCarthy, a 17-7 victory over Dallas that propelled the team back into playoff contention.
Coming into Lambeau Field is a team very much in the same position the Packers were one week ago. San Francisco has lost four of its last five games but could vault itself back into the playoff picture with a win.
Frequent foes in the 1990s and early part of the decade, the Packers and 49ers have met just once since 2003. The rivalry took to new heights when the teams met four straight years (1995-98) in the postseason.
Including playoffs, the Packers have won six consecutive games over the 49ers in Green Bay. In the overall series, the Packers have won six straight, and 11 of the last 12, including a 4-1 mark in postseason action.
The two teams last met in 2006 in San Francisco, a 30-19 Packers win.
McCarthy's last stop as an NFL assistant came in San Francisco, where he served as offensive coordinator in 2005. QB Aaron Rodgers, a Chico, Calif., native, will see his first regular-season action against the team he grew up rooting for.
Packers fans will certainly recognize a familiar face on the opposing sideline. 49ers coach Mike Singletary was a Hall of Fame middle linebacker for the rival Bears for 12 seasons (1981-92). Chicago was 15-7 against Green Bay during Singletary's playing days.
Singletary and his team are rested, as the 49ers last played on Thursday, Nov. 12. Facing his former team, Singletary defeated Chicago 10-6 to halt a four-game losing skid.
The NFL's longest-tenured stadium, Lambeau Field, is expected to host its 283rd consecutive sellout today against the 49ers.
At 3-2 on the season at home, the Packers have now won 16 of their last 23 regular-season games at Lambeau Field.
THE RODGERS-SMITH STORYLINE
Football fans around the country remember the storyline of the 2005 NFL Draft. Armed with the No. 1 pick, San Francisco was seemingly choosing between quarterbacks – Alex Smith from Utah and Aaron Rodgers from nearby California.
An All-Pac-10 selection and native of nearby Chico, Rodgers certainly would have been the 'hometown' pick. San Francisco opted for Smith and Rodgers was the second quarterback selected, arriving in Green Bay with the No. 24 selection.
Head Coach Mike McCarthy, at that time the newly named offensive coordinator for the 49ers, had a role in the pre-draft evaluations and coached Smith in his rookie season before arriving in Green Bay.
Once in the NFL, the two signal callers took divergent paths to arrive at this point. Smith started seven games as a rookie and all 16 as a second-year player in 2006. He started seven games in 2007 before being benched and missed all of last season on injured reserve with a shoulder injury.
Recently, Smith reclaimed the starting role from Shaun Hill. In four games, Smith has thrown for 808 yards, six touchdowns and six interceptions for a 79.5 QB rating.
Rodgers, on the other hand, waited his turn to see the field, becoming a full-time starter for the first time in his fourth NFL season.
Now fifth-year players, the two quarterbacks forever linked by the 2005 NFL Draft will play against one another for the first time.
As per team tradition, the Packers select game captains each week.
Today's captains will be QB Aaron Rodgers (offense), LB Clay Matthews (defense) and LB Desmond Bishop (special teams).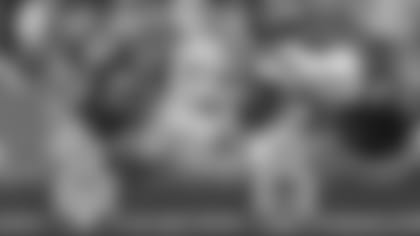 Today the Packers welcome back alumni Ken Bowman and Mark Lee. Bowman (center, 1964-73) played in 123 career games for the Packers and was a part of three championship teams of the 1960s, including the first two Super Bowls. Lee (cornerback, 1980-90) played in 157 career games for the Packers and posted 31 career interceptions.
The famous University of Wisconsin marching band will perform the National Anthem as well as halftime and "5th Quarter" entertainment.
Today's flyover will be performed by the Air Force.
Today's officiating crew includes referee Scott Green (19), umpire Butch Hannah (40), head linesman Tom Stabile (24), line judge Tom Symonette (100), field judge Dyrol Prioleau (109), side judge Larry Rose (128) and back judge Scott Helverson (93).
With nine interceptions since 2008, ranks third among NFL safeties behind Baltimore's Ed Reed (11) and Pittsburgh's Troy Polamalu (10).
For his career, has hit 48-of-52 field goals from 39 yards-and-closer.
Has hit 18-of-25 field goals from 40-49 yards.
Has hit 7-of-16 field goals from 50-plus yards.
Has a reception in 120 consecutive games, besting the franchise's previous long streak of Sharpe's 103 (1988-94).
His 12 catches of 20-plus yards is tied for third in the NFL, behind New England's Randy Moss (14) and Indianapolis' Reggie Wayne (13). Minnesota's Sidney Rice also has 12.
Has 10 career 100-yard games.
When he gets 22 carries or more, the team is 9-1 (10-1 incl. playoffs).
His 39.5 sacks since 2006 ranks third among all NFL players, behind Dallas' DeMarcus Ware (52.5) and Minnesota's Jared Allen (48).
With 53 career sacks, is No. 4 on the team's all-time sacks list. Needs three more to move past No. 3 Tim Harris (55).
In 25 career starts, has eclipsed a 100.0-plus passer rating 13 times.
Has six career 300-yard games and six 3-TD games.
Has 41 career interceptions, 24 in 55 games since coming to Green Bay in 2006. Woodson had 17 interceptions in 106 games with Oakland.
Is second in interceptions in the NFL since 2006 with 24 (Asante Samuel - PHI, 25).
His five interception-return TDs since 2006 is the most in the league during that span.