PACKERS HOST 49ERS IN SEASON OPENER
Green Bay kicks off its 94th season in team history – and 92nd as a member of the National Football League – by hosting San Francisco today at Lambeau Field, a meeting of the top two teams in the NFC in 2011.
The Packers were the top seed in the conference last season at 15-1, with the 49ers checking in second at 13-3. Not since 1999 (15-1 Vikings at 14-2 Falcons) have two teams with this many combined wins from the previous season squared off in Week 1.
This marks the third straight year that the top two seeds in the NFC from the previous season met in Week 1 the next season (Atlanta at Chicago, 2011; Minnesota at New Orleans, 2010).
It will be the first time in franchise history that Green Bay will face a team in Week 1 that won 13 or more games the previous season.
This marks the fifth straight year that the Packers' opening game of the season will be either a nationally televised prime-time contest or a late-afternoon tilt seen by the majority of the country.
Today's contest will be a matchup of the highest-scoring offense in the league in 2011 (Green Bay, 35.0 ppg) against the No. 2 scoring defense (San Francisco, 14.3 ppg) from last season.
Including playoffs, the Packers have won eight consecutive games over the 49ers in Green Bay. In the overall series, the Packers have also won eight straight, and 13 of the last 14, including a 4-1 mark in postseason action.
Frequent foes in the 1990s and 2000s, this will be the fourth meeting (2006, 2009, 2010) between the clubs during Head Coach Mike McCarthy's seven-year tenure. McCarthy's last stop as an NFL assistant came in San Francisco, where he served as offensive coordinator in 2005.
This will be only the second time in franchise history that the Packers will face San Francisco in a season opener, with the other meeting (Sept. 12, 1976) also coming at Lambeau Field.
Under Head Coach Mike McCarthy, the Packers have won five straight season openers (2007-11), which matches the franchise record. The only other time that the Packers emerged victorious in five consecutive opening games came from 1980-84.
Green Bay is one of only two NFL teams to win its season opener each of the past five years, joining New England as the only clubs in the league to do so over that span.
McCarthy is the only head coach in franchise history to win five consecutive season openers.
Green Bay has 52 wins on Kickoff Weekend, which ties them with Chicago*for the most in league history*.
For the sixth time in seven years under McCarthy, Green Bay will start its season at Lambeau Field. The only season that saw the Packers start the year on the road over that span was in 2010 at Philadelphia.
Home openers have become near habit for the Packers, as 32 of 43 regular-season openers since the AFL-NFL merger (1970) have been in front of a home crowd.
The Packers have 49 wins overall in home openers, tied with Detroit and the N.Y Giants for the second most in NFL annals (Chicago, 63).
Entering today's contest, Green Bay has won 17 of its last 18 regular-season games.
Green Bay has won 13 straight regular-season contests at Lambeau Field and 19 of its last 20 regular-season games at home. With the 13 consecutive wins, the Packers are tied for the fourth-longest home winning streak in franchise history.
During their 13-game home winning streak, the Packers have averaged 37.2 points per game.
DB Charles Woodson will be appearing in his 200th regular-season NFL game. Among active NFL defensive backs, Woodson ranks No. 2 in games played entering today's contest behind only Tampa Bay's Ronde Barber (225) and ahead of Denver's Champ Bailey (194).
WR Jordy Nelson has caught at least one TD pass in a franchise-record eight straight home games, two shy of the NFL record held by Cris Carter (2000-01) and Bob Hayes (1965-66). In 2011, Nelson became the first NFL player since the league went to a 16-game schedule in 1978 to catch at least one TD pass in all eight home games in a season. Nelson has five TD receptions in his last two regular-season games.
The two quarterbacks expected to start today were the best in the league in limiting interceptions in 2011. Packers QB Aaron Rodgers ranked No. 2 in the NFL in interception percentage (1.2%, six INTs in 502 attempts), while 49ers QB Alex Smith checked in at No. 1 (1.1%, five INTs in 445 attempts).
In two career starts against the 49ers, Rodgers has thrown for 642 yards and five TDs with no INTs on 53-of-75 passing (70.7 percent) for a 118.9 passer rating. In a Nov. 22, 2009, start vs. San Francisco, he threw for 274 yards in the first half, his regular-season career-high for a half.
Rodgers has thrown a TD pass in 29 straight regular-season games at Lambeau Field, a franchise record. It is also the longest current home streak by an NFL quarterback.
WR Greg Jennings needs one more touchdown catch to hit the 50-TD reception mark for his career. It would move him into sole possession of sixth place for most TD receptions by a Packer (currently tied with WR James Lofton).
Green Bay has either won the turnover battle or come out even in the category in 18 consecutive regular-season games, the longest current streak in the league.
The Packers have forced 11 turnovers in their last three regular-season games at Lambeau Field, the most over a three-game stretch at home since they posted the same number in 2010 (Weeks 9, 13, 16).
As per team tradition, the Packers select game captains each week.
Today's captains will be QB Aaron Rodgers(offense), DB Charles Woodson (defense) and CB Jarrett Bush (special teams).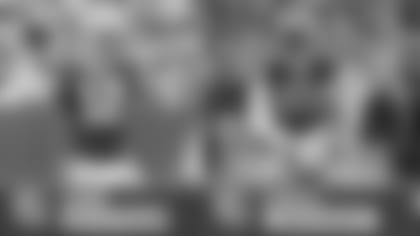 Today's officiating crew includes referee David White (128), umpire Mike Hannon (44), head linesman Ed Schmid (91), line judge Greg Nowak (137), field judge Rusty Spindel (105), side judge Barry Wilson (130) and back judge Peter Shafer (94).