This is an abbreviated version of the Dope Sheet. To read the full version, download the PDF by clicking here.
GREEN BAY (0-0) AT SAN FRANCISCO (0-0)
Sunday, Sept. 8 - Candlestick Park - 3:25 p.m. CDT
packers OPEN SEASON in san francisco for the first time
Green Bay kicks off its 95th season in team history, and 93rd as a member of the National Football League, by visiting San Francisco in Week 1 for the first time in franchise history.
It marks the second consecutive year that the Packers have opened their season against the 49ers (at Lambeau Field in 2012), the first time Green Bay has faced the same opponent in Week 1 in consecutive seasons since it squared off with the Chicago Bears in three straight season openers from 1979-81.
Outside of the last two seasons, the only other time the Packers and 49ers played each other in Week 1 came in 1976 at Green Bay.
Sunday's matchup will feature two of the three teams in the NFL to have won 24 or more regular-season games over the past two years. Since 2011, Green Bay has a 26-6 mark (.813) in the regular season, No. 1 in the league over that span. San Francisco is 24-7-1 (.765) since '11, No. 3 in the NFL behind only the Packers and New England (25-7, .781).
According to the Elias Sports Bureau, this will be the first Week 1 matchup since 1991 featuring two teams that have won 24-plus games over the previous two regular seasons. On Sept. 2, 1991, San Francisco (28 wins from 1989-90) visited the N.Y. Giants (25 wins from 1989-90) in Week 1 on Monday Night Football.
This will be the third matchup between the two clubs in the last 12 months, with the teams meeting last year on Sept. 9 in Green Bay and also in a NFC Divisional playoff contest on Jan. 12, 2013, in San Francisco.
Green Bay enters Sunday's contest having won nine of the last 10 regular-season meetings against the 49ers. Including the playoffs, the Packers have won 13 of the last 16 against San Francisco.
Under Head Coach Mike McCarthy, the Packers have won five of their last six season openers, which is tied for the No. 2 mark in the NFL with Baltimore over that span behind only New England (6-0 since 2007).
That included five straight Week 1 wins from 2007-11, which made McCarthy the only head coach in franchise history to accomplish that feat.
Green Bay has 52 wins on Kickoff Weekend, second most in NFL history behind only the Chicago Bears (53 victories in Week 1).
This will mark just the second time in McCarthy's eight seasons (2006-13) that the Packers have opened their season away from Lambeau Field. The only other instance over that span was in 2010 at Philadelphia.
Opening on the road has been a rare occurrence dating back even further. Since the 1970 AFL-NFL merger, the Packers have opened their season at home 32 times while opening on the road just 12 times. Since 1986, 23 of Green Bay's season openers have been at home, making Sunday's game just the fifth time in the past 28 years that the Packers have gone on the road to start their season.
FOX Sports, now in its 20th season as an NFL network television partner, will broadcast the game to the majority of the country.
Play-by-play man Joe Buck and color analyst Troy Aikman will have the call from the broadcast booth with Pam Oliver reporting from the sidelines.
This marks the sixth straight season that the Packers' Week 1 game will be either a nationally televised prime-time contest or a late-afternoon tilt seen by the majority of the country.
Milwaukee's WTMJ (620 AM), airing Green Bay games since 1929, heads up the 50-station Packers Radio Network, with Wayne Larrivee (play-by-play) and Larry McCarren (color) calling the action. The duo is in its 15th season of broadcasts together across the Packers Radio Network, which covers 42 markets in six states.
Dial Global Sports will air the game across the country. Chuck Cooperstein (play-by-play) and Rod Woodson (analyst) will call the action with Scott Graham hosting the pregame and halftime shows.
Compass Media Networks will broadcast the game to a national audience with Matt Smith (play-by-play) and Curtis Conway (analyst) handling the call.
The broadcast is also available on SiriusXM Satellite Radio (WTMJ feed) as part of the network's NFL Sunday Drive.
THE DOPE ON THIS WEEK'S OPPONENT:
Packers vs. 49ers:
All-time regular season: 30-26-1
All-time postseason: 4-2
All-time, in San Francisco: 11-17-1 (includes four postseason meetings)
Streaks: The Packers have won nine of the last 10 in the regular season and 13 of the last 16 (including playoffs).
Last meeting, regular season: Sept. 9, 2012, at Lambeau Field; 49ers won, 30-22
Mike McCarthy: 80-42-0, .656, (incl. 6-4 postseason); 8th NFL season
Jim Harbaugh: 27-9-1, .743, (incl. 3-2 postseason); 3rd NFL season
Head to Head: Harbaugh 2-0
vs. Opponent: McCarthy 3-2 vs. 49ers; Harbaugh 2-0 vs. Packers
MIKE McCARTHY…Is in his eighth year as the Packers' 14th head coach.
Joined Vince Lombardi and Mike Holmgren as the only coaches to guide the Packers to a Super Bowl title with a win over Pittsburgh in Super Bowl XLV.
Has led the Packers to playoff appearances in five of his seven seasons at the helm, and the team's five postseason berths over the past six seasons are the most by an NFC team.
Led Green Bay to 47 regular-season victories from 2009-12, the second most in the NFL over that span and the second most in franchise history over a four-year period.
His .656 winning percentage (including playoffs) ranks No. 3 among active NFL coaches (min. 50 games) entering the 2013 season.
Was named Packers head coach on Jan. 12, 2006, his first head-coaching job after 13 years as an NFL assistant.
Became the first Packers coach since Lombardi to lead the team to a championship game in his second season (2007).
JIM HARBAUGH…Is in his third year as the 49ers' 17th head coach.
In his first two seasons at the helm, has led the 49ers to two NFC West titles, two NFC Championship appearances and one Super Bowl appearance.
Is just the second NFL coach to win consecutive division titles in his first two seasons after inheriting a team with a losing record.
Earned NFL Coach of the Year honors from The Associated Press in 2011 after leading the 49ers to a 13-3 record in his rookie campaign.
Was previously the head coach at Stanford (2007-10), where he led the Cardinal to its first BCS game appearance and victory in the Orange Bowl, in 2010.
Also was the head coach at the University of San Diego (2004-06). Began his NFL coaching career as an offensive assistant with the Oakland Raiders (2002-03). Played QB for 15 seasons in the NFL with the Bears, Colts, Ravens, Chargers and Panthers.
Originally dating back to 1950, the series featured two games per season from 1953-66 with the teams trading dominant stretches.
San Francisco won 13 times in a span of 15 games between 1950-58, while the Packers won 10 of 11 games between 1959-64.
In more recent times, the series has been noted for its postseason clashes, including several defining moments in Packers history. Green Bay's 27-17 triumph in the 1995 NFC Divisional playoff was considered the breakthrough victory that established the Packers as an elite team for the next several years. The Packers also won the next two postseason meetings, a 35-14 home victory in the 1996 NFC Divisional playoff en route to the Super Bowl XXXI title, and a 23-10 win at San Francisco in the 1997 NFC Championship game.
The two teams met in the playoffs for a fourth straight season in 1998, with the 49ers winning 30-27 on QB Steve Young's last-second TD pass to WR Terrell Owens.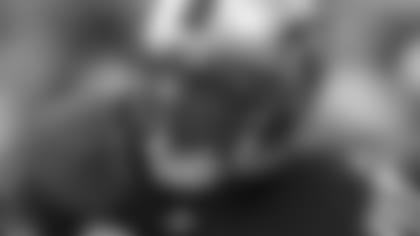 Packers outside linebackers coach Kevin Greene played for the 49ers in 1997
Packers head coach Mike McCarthy was San Francisco's offensive coordinator in 2005...Packers outside linebackers coach Kevin Greene played for the 49ers in 1997...Packers quarterbacks coach Ben McAdoo served as assistant offensive line coach/quality control for the 49ers in 2005...Packers QB Seneca Wallace was with the 49ers during the 2013 preseason; Wallace is from Rancho Cordova, Calif., and attended Sacramento City Junior College...Packers QB Aaron Rodgers is from Chico, Calif., and played collegiately at Butte College in Oroville, Calif., and the University of California…Packers WR Jeremy Ross attended Laguna Creek High in Elk Grove, Calif., and played at the University of California...Other Packers from northern California include T David Bakhtiari (San Mateo), CB Jarrett Bush (Vacaville) and WR James Jones (San Jose); Jones also attended San Jose State…Packers LB Clay Matthews' grandfather, Clay Sr., played defensive line for the 49ers for four seasons (1950, 1953-55)...49ers QB Colin Kaepernick was born in Milwaukee...49ers secondary coach Ed Donatell served as Green Bay's defensive coordinator from 2000-03…49ers head coach Jim Harbaugh and Packers tight ends coach Jerry Fontenot were teammates with the Chicago Bears…Harbaugh, 49ers tight ends coach Reggie Davis and 49ers asst. secondary coach Greg Jackson were teammates of Packers secondary-safeties coach Darren Perry with the San Diego Chargers in 1999...Perry was 49ers CB Nnamdi Asomugha's position coach in Oakland for two seasons (2007-08)...McCarthy coached with 49ers offensive line coach Mike Solari in Kansas City from 1997-98…Packers defensive coordinator Dom Capers and 49ers defensive coordinator Vic Fangio coached together with the Philadelphia/Baltimore Stars (USFL), the New Orleans Saints, Carolina Panthers and Houston Texans…49ers offensive coordinator Greg Roman worked on Capers' staffs in Carolina and Houston…49ers special teams coordinator/asst. head coach Brad Seely also worked on Capers' staff in Carolina…Packers special teams coordinator Shawn Slocum was 49ers LB Patrick Willis' position coach for one season at Ole Miss (2005)...Packers vice president/general counsel Ed Policy's father, Carmen, worked in San Francisco's front office in the 1980s and 1990s, including time as president and chief executive officer…49ers quarterbacks coach Geep Chryst is a native of Madison, Wis., and coached at Wisconsin-Platteville (1987) and Wisconsin (1988)…49ers assistant secondary coach Greg Jackson coached on the staff at Wisconsin in 2010.
LAST MEETING, REGULAR SEASON
Sept. 9, 2012, at Lambeau Field; 49ers won, 30-22.
QB Alex Smith threw for 211 yards and two TDs with no INTs and RB Frank Gore rushed for 112 yards as the 49ers snapped a nine-game losing streak to the Packers in the regular season.
QB Aaron Rodgers connected on 30 of 44 passes for 303 yards and two TDs with one interception.
WR Randall Cobb led the Packers with nine catches for 77 yards (8.6 avg.) and scored on a 75-yard punt return in the fourth quarter.
Although this will only be the second time under Head Coach Mike McCarthy (2010 at Philadelphia) that the Packers have played away from Lambeau Field in Week 1, they have had success in their first road contest of the season.
Green Bay has won its first road game in six of seven seasons under McCarthy, with last season at Seattle in Week 3 the lone exception.
The Packers have an all-time record of 53-37-2 (.596) in road openers, the most wins and third-best winning percentage in the NFL.
With a six-game winning streak in the first road game of the season from 2006-11, McCarthy joined Vince Lombardi (eight straight, 1960-67) as the only coaches in team history to win six or more consecutive road openers.
QB Aaron Rodgers has not thrown an interception in 144 consecutive passing attempts in the regular season, the longest current streak in the league. He has not had a two-INT game in 39 straight regular-season starts, the longest streak in NFL history since the 1970 AFL-NFL merger.
In three career regular-season starts against the 49ers, Rodgers has completed 83 of 119 passes (69.7 percent) for 945 yards and seven TDs with one interception for a 109.4 passer rating. He has also rushed for 79 yards on 16 carries (4.9 avg.) in those three contests.
WR Randall Cobb is the only player in NFL history to score on a kick return (kickoff or punt) in Week 1 of each of his first two seasons in the league. Cobb scored on a 108-yard kickoff return vs. New Orleans in the 2011 opener and on a 75-yard punt return vs. San Francisco in Week 1 of 2012.
TE Jermichael Finley needs five catches to move past No. 3 Ed West (202) on the all-time franchise list for tight ends and 110 receiving yards to move past No. 2 Ron Kramer (2,594). In his last three regular-season games, Finley has caught 18 passes for 203 yards (11.3 avg.).
In two games against San Francisco last season, LB Clay Matthews registered 3.5 sacks.
In his last three regular-season games, WR James Jones has caught 18 passes for 222 yards (12.3 avg.) and five TDs.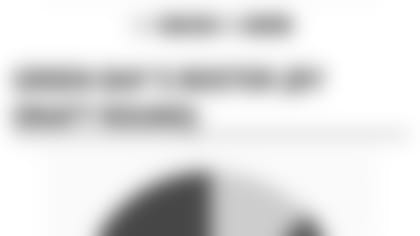 In two games against the 49ers last season, P Tim Masthay posted a 47.7-yard average and a 43.7-yard net average on 10 punts, with six of those punts placed inside the 20-yard line.
The Packers' current 53-man roster is composed of 23 offensive players, 27 defensive players and three specialists.
Of the 53 players on Green Bay's roster, 33 of them (62.3 percent) were drafted by the Packers.
With nine non-drafted free agents on the roster having entered the league with Green Bay, 42 of the 53 players (79.2 percent) began their pro careers with the Packers. Of the 53 players on the team, 50 of them have only seen regular-season NFL action with the Packers.
Nearly half of the players (26 of 53, 49.1 percent) on Green Bay's roster entered the league as a sixth-round or seventh-round pick or as an undrafted player. More than a third of the players (18, 34.0 percent) on the roster were not drafted.
Only 15 of the 53 players on the roster (28.3 percent) were selected in the first three rounds of the draft.
The Packers had three rookie free agents make the 53-man roster (S Chris Banjo, LB Andy Mulumba, G Lane Taylor), one that features 11 rookies overall. Green Bay has had at least three non-drafted free agents make the opening-day roster each of the last four seasons.
Of the 53 players on the roster, 44 of them (83.0 percent) are 28 years old or younger.
21-24 - 25 players
25-28 - 19 players
29-32 - 7 players
33-plus - 2 players
R-1 - 13 players
2-3 - 12 players
4-5 - 15 players
6-9 - 11 players
10-plus - 2 players
1st - 7 players
2nd/3rd - 8 players
4th/5th - 12 players
6th/7th - 8 players
Undrafted -18 players
Since taking over as the starter in 2008, QB Aaron Rodgers has been one of the most effective signal-callers in the league away from home.
A look at where Rodgers ranks in several categories on the road in the regular season since '08 (min. 500 attempts):

Quarterback, Passer Rating
1. Aaron Rodgers, GB, 103.0

Tom Brady, NE, 100.3

Peyton Manning, IND/DEN, 98.1
Quarterback, TD/INT Ratio
1. Aaron Rodgers, GB, 3.52 (81/23)

Tom Brady, NE, 3.04 (70/23)

Tony Romo, DAL, 2.12 (53/25)
Quarterback, Yards/Attempt
1. Aaron Rodgers, GB, 8.14

Philip Rivers, SD, 8.04

Tom Brady, NE, 7.97
Over the last two seasons, Rodgers has completed 369 of 550 passes (67.1 percent) for 43 TDs and five INTs for a 116.2 passer rating on the road. That passer rating is the best by a QB in NFL history on the road over a two-season span (min. 300 attempts).
A look at the top two-season passer ratings on the road in league annals:
Quarterback, Road Passer Rating
1. Aaron Rodgers, GB, 2011-12, 116.2

Peyton Manning, IND, 2004-05, 115.3

Tom Brady, NE, 2006-07, 114.3
A look at where Rodgers' career rating (min. 700 attempts) on the road ranks in NFL history:
Quarterback, Career Passer Rating
1. Aaron Rodgers, GB, 102.3

Tom Brady, NE, 96.5

Joe Montana, SF/KC, 95.2
---
In his last 19 regular-season starts away from Lambeau Field, Rodgers has completed 424 of 627 passes (67.6 percent) for 5,434 yards and 48 TDs with six INTs for a116.1 passer rating. He has posted a 100-plus passer rating in15 of those 19 games and 10 games with 300-plus passing yards.
This is an abbreviated version of the Dope Sheet. To read the full version, download the PDF by clicking here.