Actions To Become Formal At Annual Meeting, Set For July 29 At Lambeau Field
Packers President/CEO Mark Murphy on Thursday announced that Larry Weyers will become Vice President and Lead Director of the Packers Board of Directors and Mark McMullen will become a member of the Board"s Executive Committee and serve as Treasurer.
Murphy made the announcement after today"s quarterly meeting of the Board of Directors at the Lambeau Field Atrium. The changes were approved by vote of the Board and will become formal at the organization"s Annual Meeting, set for July 29 at 11 a.m. in Lambeau Field.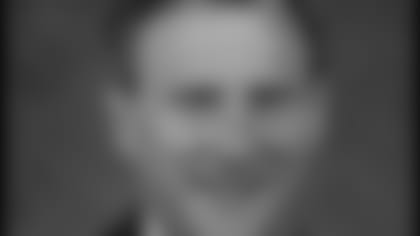 Weyers, 65, who recently retired as executive chairman of Integrys Energy Group Inc., has been a member of the Packers Board of Directors since 2002, a member of the Executive Committee since 2004 and Treasurer since 2005.
McMullen, Chairman and CEO of Associated Bank Corp. Wealth Management, has been a member of the Packers Board of Directors since 2007. He initially joined Associated in 1981 in treasury and portfolio management. He was elected an executive officer of Associated Bank Corp. in April 2001.
McMullen, 61, holds a bachelor"s degree from Marquette University and previously served on the State of Wisconsin Investment Board for 12 years. He also chaired the Green Bay/Brown County Professional Football Stadium District Board during the renovation of Lambeau Field. He is a member of the boards of directors of Bellin Health and the Bellin Health Foundation, as well as the Greater Green Bay Community Foundation and Cornerstone Foundation of Northeastern Wisconsin. He also is active with the Boys & Girls Clubs of Green Bay, and has served on many other service organization boards in the community during the past 20 years.
The appointments are in conjunction with Peter Platten taking on emeritus status at the Annual Meeting. Platten was elected to the Board in 1980, and since joining the Executive Committee in 1985, has served in various roles, including Secretary (1985), Vice President and Lead Director (2007).
With respect to the changes, Murphy said, "Larry Weyers has been a very valuable member of our Executive Committee. He is a talented leader and I look forward to his continued contributions in his new role.
"Mark McMullen brings great experience to the Executive Committee. His strong financial background and prior service on the stadium district board will be very beneficial to the organization.
"Peter Platten has served the organization so well for almost 30 years. His knowledge of the organization and League has been invaluable to the franchise. He will be sorely missed on the Executive Committee."
Murphy also announced three candidates who will be presented for shareholder vote to join the Packers Board of Directors. They are Thomas J. Cardella, 55, president, MillerCoors/Miller Brewing Company-Eastern Division; Jeffrey A. Joerres, 50, chairman/CEO, Manpower Inc.; and Thomas G. Kunkel, 54, president, St. Norbert College.
"These three individuals bring excellent credentials and skills as candidates for the Board, and give us additional representation from the Milwaukee area, as well as further strengthens our relationship with St. Norbert College," added Murphy in reference to Cardella and Joerres, and Kunkel, respectively. "We"re very pleased to present them to our shareholders."
Three directors, Robert C. Buchanan, Virgis W. Colbert and John H. Dickens, will be taking on emeritus status at the Annual Meeting, in addition to Platten.
Proxies and further information about the Annual Meeting will be sent to shareholders in mid-June.