PACKERS TRAVEL TO CHICAGO FOR NFC CHAMPIONSHIP
The NFL's oldest rivalry continues today as the Packers and Bears meet for game No. 182 in the all-time series and for just the second time ever in the postseason with a berth in Super Bowl XLV on the line.
No two franchises in NFL annals have met more than Green Bay and Chicago. The Bears hold a 92-83-6 edge in the series, which includes the one postseason matchup.
The lone playoff meeting between the rivals came on Dec. 14, 1941, at Wrigley Field in Chicago. In a Western Division Playoff contest necessitated when both teams finished the year 10-1, each having given the other its lone loss, the Bears topped the Packers 33-14 behind their offensive trio of George McAfee, Norm Standlee and Hugh Gallarneau.
Not only is this only the second postseason meeting between the Packers and the Bears, but this is just the fourth time that both teams advanced to the playoffs in the same season.
Green Bay advanced to the NFC title game with a 48-21 victory over the Atlanta Falcons at the Georgia Dome last Saturday night. It was only the second time since the NFL went to a 12-team playoff format in 1990 that a No. 6 seed beat a No. 1 seed in the NFC. Combined with the Packers' Wild Card win at Philadelphia, it was the first time in team history that the Packers won two road playoff games in a postseason.
The Bears beat Seattle, 35-24, at Soldier Field last Sunday to advance to their second NFC title game in the past five seasons. Chicago hosted New Orleans in the 2006 NFC Championship.
For the third straight week in the playoffs, the Packers will be traveling to face a team they also visited in the regular season. According to the Elias Sports Bureau, Green Bay is the first NFL team to play road contests against three teams in both the regular season and playoffs in the same season. The 2008 Baltimore Ravens were the last NFL team to play three teams, regardless of location, in the regular season and the playoffs (Miami, Tennessee, Pittsburgh).
The Packers and Bears split the season series, with each team winning on its home field. Chicago beat Green Bay, 20-17, at Soldier Field in Week 3 while the Packers clinched a playoff berth with their 10-3 victory at Lambeau Field in Week 17. With the games being decided by a total of 10 points, it was the lowest number in the season series since 1998 (Green Bay sweep, 26-20, 16-13).
FOR THE GEORGE S. HALAS TROPHY
No franchise has won more NFC Championships (including NFL Championship Games, 1933-69) than the Packers, who have emerged victorious 10 times in 14 appearances.
Today will be the fifth time Green Bay has played in the NFC title contest since the 1970 AFL-NFL merger.
This will be Green Bay's second NFC Championship appearance in the past four seasons (2007), which makes the Packers the only team in the NFC to play in the conference title game twice over that span.
Green Bay's 26th postseason berth in team history marks the franchise's 13th appearance in the last 18 seasons and the third in the past four years under Head Coach Mike McCarthy.
The Packers' 26 playoff appearances rank tied for No. 4 in NFL history behind only the N.Y. Giants and Dallas (30 each) and Cleveland/L.A./St. Louis Rams (27).
Green Bay's win at Atlanta last Saturday was its 27th in the postseason, third most in NFL history. The Packers now trail only Dallas (33) and Pittsburgh (32) for the most playoff victories.
The Packers own the league's best postseason winning percentage (.628, 27-16) ahead of Pittsburgh (.627, 32-19), Baltimore (.600, 9-6) and Carolina (.600, 6-4).
Green Bay is 5-3 (.625) this season against 2010 playoff teams, with four of its wins coming on the road (Philadelphia, Week 1 and NFC Wild Card; N.Y. Jets, Week 8; Atlanta, NFC Divisional). The Bears are 4-3 (.571) on the year against '10 playoff teams.
The Packers (2007, 2009, 2010) are one of only two teams in the NFC to advance to the postseason in three of the past four seasons, with the Eagles (2008-10) the other team to do so. Since realignment in 2002, the Packers are tied for No. 2 in the NFC (with Seattle) with six playoff appearances behind only Philadelphia (seven).
Today the Packers will look to become the first No. 6 seed in the NFC to advance to the Super Bowl since the NFL went to a 12-team playoff format in 1990. The 2005 Pittsburgh Steelers are the only other No. 6 seed to advance to the Super Bowl since '90.
PLAYOFF CAPTAINS
As per team tradition, the Packers alternated game captains each week during the regular season. For the postseason, the team elected captains.
Players elected captains were WR Greg Jennings and QB Aaron Rodgers (offense), LB A.J. Hawk and CB Charles Woodson (defense) and CB/S Jarrett Bush and K Mason Crosby (special teams).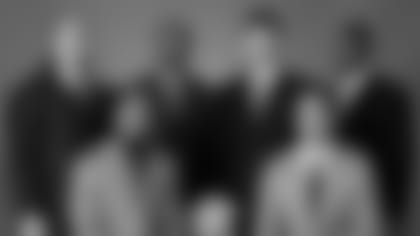 Today's officiating crew includes referee Terry McAulay (77), umpire Carl Paganelli (124), head linesman George Hayward (54), line judge Mark Perlman (9), field judge Steve Zimmer (33), side judge Greg Meyer (78) and back judge Tony Steratore (112).
WHAT TO WATCH FOR IN THE POSTSEASON
With 43 career receptions in the postseason, ranks No. 3 in team annals behind only WR Antonio Freeman (47) and WR Robert Brooks (45).
Ranks No. 3 in team history with 593 receiving yards in the playoffs, 58 yards behind No. 2 Brooks (651).
Has played in more playoff games (11) in a Green Bay uniform than anyone else on the team.
85 GREG JENNINGS
With two 100-yard games in his playoff career, ranks tied for No. 3 in team annals behind only Brooks and Freeman (three each).
52 CLAY MATTHEWS
With two sacks at Atlanta last Saturday, became the first Packer (since 1982) to register a sack in each of his first three NFL postseason games.
Ranks tied for No. 2 in team playoff history with four career sacks, trailing only DE Reggie White (eight).
12 AARON RODGERS
His 10 TD passes in his first three playoff starts set an NFL postseason record, topping the mark of nine held by Jeff George, Daryle Lamonica and Dan Marino. Rodgers is also the only NFL QB to throw three-plus TD passes in each of his first three playoff starts.
Needs two TD passes to set the NFL record for the most by an NFL quarterback in his first four postseason starts (Troy Aikman and Kurt Warner, 11).
Is the only QB in NFL history to post a 120-plus passer rating in each of his first three playoff starts, and his career postseason rating of 129.4 ranks No. 1 in NFL history (min. 100 attempts).
Ranks No. 1 in NFL playoff history (min. 100 attempts) with a 73.3 completion percentage (77-of-105).
38 TRAMON WILLIAMS
With three interceptions in his playoff career, needs one more to tie the career franchise record held by CB Herb Adderley, CB Craig Newsome and S Eugene Robinson.
Is tied with Newsome (1996) and DB Joe Laws (1944) for the most interceptions (three) by a Packer in a single postseason.
21 CHARLES WOODSON
With 12 career games played, leads the team in postseason experience. Five of those contests have been with Green Bay while the other seven were with Oakland.