PACKERS TRAVEL TO CHICACO FOR MONDAY-NIGHT TILT
The NFL's oldest rivalry continues tonight as the Packers and Bears meet on the gridiron for game No. 180 in the all-time series with first place in the NFC North on the line.
No two franchises in NFL annals have met more than Green Bay and Chicago, with the Packers winning both contests last season. The Bears hold a 91-82-6 edge in the series, which includes one postseason matchup.
This will be the first time since 1962 that both teams entered the game with a 2-0 record. The Packers won that Sept. 30, 1962, matchup in Green Bay, 49-0.
This will be the earliest in the season that the Packers have traveled to Chicago since 1995, when the teams squared off at Soldier Field in Week 2, also on Monday Night Football. From 2004-09, all six matchups in Chicago were in December or later.
The Packers snapped a two-game losing streak in '09 with the win at Chicago, and have won 13 of the last 17 games at Soldier Field.
Tonight marks the first division game of the year for the Packers, who have a 17-7 (.708) mark against NFC North opponents under Head Coach Mike McCarthy. That record is first among NFC North teams, with Chicago checking in second at 15-10 (.600) since 2006.
Green Bay will be looking to continue its early-season road success under McCarthy tonight. Since he took the helm in 2006, the Packers have a 6-1 (.857) record away from home in the month of September. That percentage is tied for No. 1 in the NFL over that span with the Indianapolis Colts, who also have a 6-1 mark.
The teams won't see each other again until Week 17, the first time that the Packers have ever hosted Chicago in the season finale.
FAMILIAR FOE ON MONDAY NIGHT
This will be the 10th matchup for Green Bay on Monday Night Football against the Bears, the most for the Packers versus any other opponent in the NFL.
The Packers hold a 5-4 advantage against Chicago on MNF, including wins in five of the last six contests.
Green Bay owns the NFC's longest MNF appearance streak at 18 seasons (1993-2010). In the NFL, only Denver (19, 1992-2010) has a longer streak.
The matchup with the Bears will be the Packers' lone MNF appearance this season, with three Sunday night prime-time games still on Green Bay's schedule. Green Bay's 15 games on Sunday this season are the most since 1993 (also 15).
The Packers are 27-28-1 all-time in the regular season on MNF.
This is the sixth straight season that the Packers and Bears have squared off in a nationally televised contest. It will be the second MNF game over that span (2008), with three Sunday night contests (2006-07, 2009) and a national TV game on Christmas Day in 2005.
NOTABLE CONNECTIONS
Green Bay RB coach Edgar Bennett finished his playing career in Chicago (1998-99)...Packers asst. O-line coach Jerry Fontenot was a third-round draft choice of the Bears in 1989 and was a mainstay at C in his eight seasons (1989-96) in Chicago...Lovie Smith was a University of Wisconsin assistant in 1987, while Bears LB coach Bob Babich spent two seasons on the Badgers' staff (1988-89)...Packers NT Ryan Pickett played in St. Louis for both Smith and Bears off. coord. Mike Martz, when Smith served as the Rams' def. coord. and Martz as head coach...Bears assistant DB/safeties coach Gill Byrd served as the Packers exec. dir./player prog. and comm. affairs from 1999-2001...Packers T/G Bryan Bulaga earned all-state honors as a senior at Marian Central Catholic High (Woodstock, Ill.)...Bears TE coach Mike DeBord was the head coach at Central Michigan when Packers DE Cullen Jenkins played there...Packers WR coach Jimmy Robinson was on the staff of Memphis (USFL) in 1985 when Bears RB coach Tim Spencer played for the Showboats...Packers President/CEO Mark Murphy was a teammate of Bears WR coach Darryl Drake with the Redskins in 1979...Bears asst. special teams coach Chris Tabor was the special teams coach at Utah State for Packers CB Jarrett Bush's final season there (2005)...Bears off. quality control coach Andrew Hayes-Stoker was a college teammate of Packers coaching admin. Curtis Fuller at TCU...Bears DE Julius Peppers was a key member of the Carolina defenses that Packers DL coach Mike Trgovac coordinated from 2003-08...Bears LB Nick Roach is a Milwaukee native who played in college at Northwestern...Packers QB Matt Flynn, FB Quinn Johnson and Bears S Craig Steltz led LSU to the BCS national title in 2007...Other former college teammates include Bears WR Rashied Davis and Packers WR James Jones (San Jose State), Bears DE Mark Anderson and Packers S Charlie Peprah (Alabama), Bears WR Devin Aromashodu and Packers CB Pat Lee (Auburn), Bears CB Zackary Bowman, S Josh Bullocks and Packers RB Brandon Jackson (Nebraska), Bears DT Marcus Harrison and Packers LS Brett Goode (Arkansas), Bears LB Brian Iwuh and Packers K Mason Crosby (Colorado), Bears G Lance Louis and Packers WR Brett Swain (San Diego State), Bears DE Henry Melton and Packers TE Jermichael Finley (Texas), and Bears TE Greg Olsen and Packers CB Sam Shields (Miami).
TONIGHT'S CAPTAINS
As per team tradition, the Packers select game captains each week.
Tonight's captains will be T Mark Tauscher (offense), LB Nick Barnett (defense) and CB Jarrett Bush (special teams).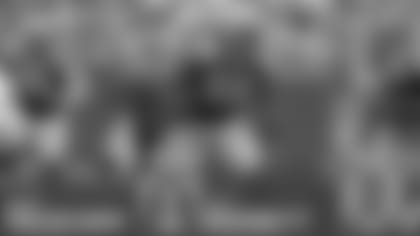 WEARING THE STRIPES
Tonight's officiating crew includes referee Terry McAulay (77), umpire Paul King (121), head linesman Greg Bradley (98), line judge Mark Steinkerchner (84), field judge Terry Brown (43), side judge Michael Banks (72) and back judge Greg Steed (12).
UP NEXT
The Packers return home to host the Detroit Lions next Sunday at noon (CDT), while Chicago travels to New York to take on the Giants on Sunday night at 7:20 p.m. (CDT).