PACKERS AND BEARS SET TO SQUARE OFF IN KEY DIVISIONAL MATCHUP
The Packers (9-4) face the Bears (8-5) today at Soldier Field with a chance to clinch their second straight NFC North title with a victory over Chicago.
The Packers enter today's contest with a one-game lead over the Bears and a two-game edge over the Vikings (7-6). Green Bay will be looking to capture back-to-back NFC North titles for the first time since it won three straight from 2002-04.
Green Bay has won seven of its last eight games entering today's contest, which is tied for the second-best record in the league since Week 6 behind only Denver (8-0).
Today will mark game No. 186 in the NFL's oldest rivalry. The Bears hold a 92-87-6 edge in the series, which includes two playoff meetings (1-1).
The Packers have won five straight and seven of the last eight meetings against the Bears (including playoffs). Green Bay will be aiming for its third season sweep of the Bears in the last four years (2009, 2011).
Green Bay's current five-game winning streak against Chicago is its longest since a seven-game streak from 2000-03.
Six of the last nine meetings between the Packers and Bears (including postseason) have been decided by seven points or less.
This will mark the seventh time in the last nine seasons that the Packers have played at Soldier Field in the regular season in December or January.
This is the last in a stretch of three straight NFC North games for Green Bay, the first time the Packers have had three consecutive divisional contests on the schedule since 2006 (Weeks 15-17).
With their 27-20 win over the Lions last Sunday night at Lambeau Field, the Packers extended theirfranchise-record divisional winning streak to 11 games(previous mark was eight games). It is the longest current divisional winning streak in the NFL, two ahead of New England's nine-game winning streak against AFC East foes.
The Packers have won four straight NFC North games away from Lambeau Field, the longest streak by the team since a five-game road divisional streak from 2006-07.
Including playoffs, the Packers are 13-4 (.765) away from Lambeau Field over their last 17 games. Green Bay has won 10 of its last 14 regular-season road contests.
The Packers have won 26 of their last 31 regular-season games overall (.839), the best record in the league over that span.
Green Bay is one victory shy of its fourth straight season with double-digit wins, which would tie a team record (1929-32, 1995-98, 2001-04).
The Packers' current 11-game divisional winning streak is the longest current streak in the league and the longest in franchise history, surpassing eight-game winning streaks in 1996-97 and 2001-02.
The Packers' divisional winning streak is the third longest in the league since realignment in 2002 behind only 12-game winning streaks by Indianapolis (2004-06) and Baltimore (2010-12).
During their current NFC North winning streak, the Packers have outscored their opponents by a combined total of 319 to 195 and have a combined turnover differential of plus-15 (28 takeaways, 13 giveaways).
The Packers have a 31-9 (.775) regular-season record against NFC North opponents under*McCarthy, a divisional mark that ranksNo. 2 in the NFL* since 2006 behind only New England (33-8, .805).
Green Bay has won 13 of 19 NFC North games (.684) away from Lambeau Field under McCarthy, the No. 4 road divisional mark in the NFL since 2006.
The Packers have a 4-0 record in NFC North games this season, assuring them of a winning record in the division for a franchise-record seventh consecutive season. New England is the only other team in the league to post a winning record in its division each season from 2006-12.
The Packers have held their opponents to 20 points or less in six of the last seven games. In its last five meetings with the Bears (including playoffs), Green Bay has given up an average of 13.0 points per game.
Green Bay has either won the takeaway battle or come out even in 28 of its last 31 regular-season games.
Entering Week 15, the Packers rank No. 6 in the NFL in sacks (35) and No. 4 in sack yardage (235). Green Bay has had 14 different players record at least one sack this season (No. 2 in the NFL), tied for the second most in a season in franchise history (since 1982) behind only the 1987 season (15 players).
In his last three games against the Bears, QB Aaron Rodgers has completed 71 of 99 passes (71.7 percent) for 799 yards and nine TDs with two INTs for a 117.4 passer rating.
In his last 17 regular-season starts away from Lambeau Field, Rodgers*has completed 373 of 551 passes (67.7 percent) for 4,778 yards and 41 TDs with six INTs for a114.9 passer rating. Rodgers has posted a 100-plus passer rating in13 of those 17 games*.
Rodgers' career passer rating of 108.8 in divisional games ranksNo. 1 in NFL history(since the NFL went to a divisional format in 1967). He has completed 584 of 838 passes (69.7 percent) for 6,955 yards and 54 TDs with 15 INTs.
WRRandall Cobbneeds 160 combined net yards to set the single-season franchise record held by RB Ahman Green (2,250 in 2003). Cobb*leads the NFL *with 2,091 combined net yards this season (rushing, receiving, interception returns, punt returns, kickoff returns, fumble returns).
Cobb has six TD catches over the past seven games, tied for the third most in the NFL over that span behind only Patriots TE Rob Gronkowski and Cowboys WR Dez Bryant* *(seven). Over the last 10 games, Cobb has 60 receptions for 681 yards (11.4 avg.) and seven TDs.
WR*Greg Jennings *ranks No. 8 in team history with 6,322 receiving yards and needs 25 more yards to surpass No. 7 Max McGee (6,346).
TE*Jermichael Finley *ranks No. 6 in team annals among TEs with 2,282 receiving yards and needs 19 more to surpass No. 5 Bubba Franks (2,300).
PTim Masthay has placed a career-high 28 punts inside the 20 this season, which ranks No. 4 in the league. Masthay's total is tied with Craig Hentrich (28 in 1996) for No. 2 in franchise history (since 1976) behind only Sean Landeta (30 in 1998).
As per team tradition, the Packers select game captains each week.  
Today's captains will be WR Greg Jennings(offense), DT Ryan Pickett (defense) and LB Jamari Lattimore(special teams).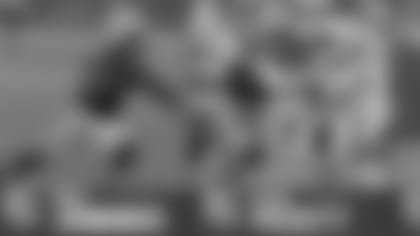 Today's officiating crew includes referee Walt Anderson (66), umpire Butch Hannah (40), head linesman Steve Stelljes (22), line judge Byron Boston (18), field judge David Meslow (118), side judge Jeff Lamberth (21) and back judge Billy Smith (2).