PACKERS HEAD TO CINCINNATI TO TAKE ON THE BENGALS
The Packers travel to Cincinnati tonight to face the Bengals at Paul Brown Stadium, Green Bay's first visit to Cincinnati in the preseason since 2006.
The 2006 meeting came in Mike McCarthy's first season as head coach. This season's road preseason slate (at San Diego, at Cincinnati) is the same as it was in McCarthy's debut campaign.
The clubs' last preseason meeting came in 2008, when the teams squared off in the opener at Lambeau Field on Monday Night Football. That contest marked QB Aaron Rodgers'first NFL start (preseason or regular season), a game the Bengals won, 20-17.
This will be the 17th preseason meeting overall between the clubs, with the Bengals holding an 11-4-1 advantage in the all-time series. The teams first faced off in the preseason in 1970, the first of 10 straight seasons (1970-79) that the clubs played each other in the preseason. Three of the meetings over that span came in Milwaukee.
Tonight will mark the Packers' third game ever at Paul Brown Stadium, which opened in 2000. The prior meetings were the '06 preseason contest and a regular-season visit in 2005.
The franchises have met just 11 times in the regular season, with the last game coming in 2009 at Lambeau Field. Over the past 13 seasons (1999-2011), the teams met just twice (2005 and 2009). The Bengals hold a 6-5-0 edge in the all-time regular-season series.
Tonight's matchup includes a meeting of head coaches that worked together more than 20 years ago. McCarthy and Bengals head coach Marvin Lewis both coached on the staff at the University of Pittsburgh in 1990-91. This will be the fourth meeting overall between the two head coaches (one regular-season meeting, third preseason game).
This will be the final game before the league's first mandatory roster reduction, one that requires teams to get down to 75 players by 3 p.m. (CDT) on Monday, Aug. 27.
Green Bay fell to Cleveland, 35-10, in its home preseason opener last Thursday night. The Packers will close out their preseason slate next Thursday night against the Kansas City Chiefs at Lambeau Field. It marks the third straight year that the teams are meeting in the preseason finale
THE PACKERS-BENGALS SERIES
The two teams have met 11 times in the regular season, with the Bengals holding a 6-5-0 edge.
The Bengals have won the last two regular-season meetings (2005 and 2009). Prior to 2005, Green Bay owned a three-game winning streak in the series (24-23 in 1992 and 24-10 in 1995, both in Green Bay, and 13-6 in 1998 at Cincinnati).
Perhaps the most memorable game in the series came in 1992 when Brett Favre, summoned to replace an injured Don Majkowski at quarterback in the first quarter, proceeded to direct the Packers to an electrifying, 24-23 come-from-behind victory, forged when he hit wide receiver Kitrick Taylor with a 35-yard scoring pass as only 13 seconds remained in the game. Chris Jacke's subsequent PAT gave Green Bay the one-point win.
The series launched at Lambeau Field in 1971, when the legendary Paul Brown was head coach of the Bengals, a team he had founded three years earlier as a member of the then American Football League. The Packers posted a 20-17 victory in their first meeting, with a Lou Michaels field goal providing the victory margin.
NOTABLE CONNECTIONS
Packers head coach Mike McCarthy and Bengals head coach Marvin Lewis were both assistant coaches at the University of Pittsburgh in 1990 and 1991; Packers special teams coordinator Shawn Slocum was also on that 1990 staff...Lewis and Packers defensive coordinator Dom Capers coached on the Steelers' defensive staff together from 1992-94...Lewis was Packers outside linebackers coach Kevin Greene's position coach in Pittsburgh from 1993-95...Packers RB Cedric Benson played for the Bengals for the past four seasons (2008-11) and registered 1,000 or more rushing yards each of the last three seasons...Ohio natives on Green Bay's roster include TE Tom Crabtree (Carroll), LB A.J. Hawk (Centerville), CB Otis Merrill (Cleveland), RB Brandon Saine (Piqua), DB Charles Woodson (Fremont) and DE Jerel Worthy (Huber Heights)...Hawk, Saine and DT Ryan Pickett all played at Ohio State...Capers grew up in Buffalo, Ohio, where he attended Meadowbrook High School...Capers also attended Mount Union College in Alliance, Ohio, and coached defensive backs at Ohio State from 1982-83...Packers defensive line coach Mike Trgovac was born in Youngstown, Ohio, and attended Fitch High School in Austintown, Ohio...Packers tight ends coach Jerry Fontenot played center for the Bengals in 2004...Fontenot was a teammate of Bengals defensive backs coach Mark Carrier with the Bears...Packers secondary-safeties coach Darren Perry's first NFL coaching job came in 2002 when he coached safeties for the Bengals on Dick LeBeau's staff...Bengals TE Donald Lee played in 92 games for Green Bay over six seasons (2005-10)...Bengals LS Clark Harris was selected by Green Bay in the seventh round of the 2007 NFL Draft...Bengals G Kevin Zeitler, DT Nick Hayden and FB Chris Pressley all played at the University of Wisconsin...Bengals quarterbacks coach Ken Zampese was an offensive quality control assistant for the Packers in 1999, the same year McCarthy coached the team's quarterbacks...Bengals defensive line coach Jay Hayes coached on the University of Wisconsin staff from 1995-98...Bengals assistant strength and conditioning coach Jeff Friday is a Milwaukee native and attended the University of Wisconsin-Milwaukee.
SAVE THE DATE
Important dates to remember (all times CDT):
Monday, Aug. 27 – Roster reduction to a maximum of 75 players by 3 p.m.
Tuesday, Aug. 28 – Final practice open to public, 11 a.m., Nitschke Field
Thursday, Aug. 30 – Preseason game vs. Kansas City Chiefs, 6 p.m., Lambeau Field (Bishop's Charities Game)
Friday, Aug. 31 – Roster reduction to a maximum of 53 players by 8 p.m.
Saturday, Sept. 1 – After 11 a.m. (CDT), clubs may establish a practice squad of eight players
Sunday, Sept. 9 – Regular-season opener vs. San Francisco 49ers, 3:25 p.m.
As per team tradition, the Packers select game captains each week.
Tonight's captains will be WR Jordy Nelson(offense), DB Charles Woodson (defense) and CB Jarrett Bush (special teams).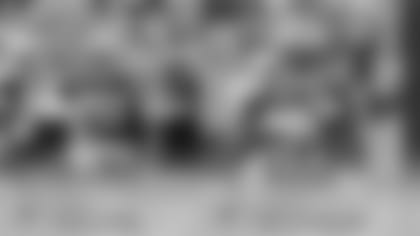 Tonight's officiating crew includes referee Paul Layne (64), umpire Lemuel Hawkins (47), head linesman Mike Peek (77), line judge John Vachon (123), field judge Calvin White (127), side judge Steve Hendley (136) and back judge Greg Hay (48).