PACKERS HOST BRONCOS FOR THE FIRST TIME SINCE 2003
The Packers return home after a two-game road trip to host the Denver Broncos today at Lambeau Field, the first meeting between the clubs in Green Bay since 2003.
For only the ninth time in the past 50 seasons, the Packers are off to a 3-0 start, one of only three teams in the league with an undefeated record entering today. It is just the second 3-0 start for Green Bay in the past 10 seasons (2007).
Green Bay is coming off back-to-back road wins at Carolina and Chicago, which brought the Packers' mark in September road games under Head Coach Mike McCarthy to 8-2 (.800). That winning percentage ranks No. 1 in the league since 2006.
Including playoffs, the Packers enter today's contest on a nine-game winning streak, the team's longest since a nine-game streak in 1996-97.
Today's game against the Broncos is the lone scheduled 3:15 p.m. contest at Lambeau Field this season, although three noon games later this season are eligible to be moved under the NFL's flexible scheduling.
Green Bay is undefeated in the series with Denver in games played in Wisconsin (4-0-1). This will be the fourth meeting between the clubs at Lambeau Field (1993, 1996, 2003).
HOME SWEET HOME
Today's contest at Lambeau Field will be the first in front of the home crowd since the Packers opened the season vs. New Orleans on Sept. 8.
Green Bay has won six straight contests at Lambeau Field and 12 of its last 13 at home.
The Packers' 12-1 home mark since Week 10 of 2009 ranks No. 2 in the NFL over that span behind only New England (12-0).
Green Bay has a 27-8 (.771) record in its last 35 regular-season games at Lambeau Field, a record that ranks No. 3 in the NFL and No. 1 in the NFC over that span.
The Packers will be looking to extend their regular-season home winning streak to seven games today, which would be the longest home streak of Head Coach Mike McCarthy's tenure. It would also be the longest streak since Green Bay posted an 11-game winning streak at Lambeau from 2001-02.
1961 TEAM TO BE HONORED
Today's game will feature halftime introductions of 18 players from the Packers' 1961 championship team, here celebrating the 50th anniversary of that title season.
Those scheduled to be introduced include Dan Currie, Ben Davidson, Willie Davis, Boyd Dowler, Lee Folkins, Forrest Gregg, Dale Hackbart, Paul Hornung, Gary Knafelc, Jerry Kramer, Tom Moore, John Roach, Bob Skoronski, Bart Starr, Jim Taylor, Fuzzy Thurston, Nelson Toburen and Jesse Whittenton. Susan Lombardi, daughter of Vince Lombardi, also will be introduced.
The 1961 Green Bay Packers captured the Western Conference title with an 11-3 record and then shut out the New York Giants, 37-0, at Lambeau Field Dec. 31 to earn the NFL title.
WHAT TO WATCH FOR
The Packers rank No. 1 in the NFL in rushing defense at 55.0 yards per game. Green Bay's 165 yards allowed this season are the fourth fewest in team history through the first three games.
QB Aaron Rodgers – Including the playoffs, has posted a 110-plus passer rating in 11 of his last 14 starts...Leads the NFL with a 120.9 passer rating through Week 3...His 120.9 passer rating was the best mark posted by a Green Bay QB in the month of September in franchise history.
CB Charles Woodson – His next interception will be the 50th of his career.
WR Greg Jennings – Needs six more receptions to surpass Max McGee (345) for the No. 8 spot in franchise annals and 97 more receiving yards to move past Billy Howton (5,581) for the No. 8 position in team history.
S Morgan Burnett – Has posted three interceptions in the past two games...Became the first Packer since Chuck Cecil in 1988 to record four interceptions in his first seven NFL games played.
K Mason Crosby – Needs 11 more points to surpass Jim Taylor (546) for the No. 5 spot in team history.
Green Bay has a 20-7 record (.741) over its past 27 regular-season-games, which is tied for No. 1 in NFL over that span with New England.
TODAY'S CAPTAINS
As per team tradition, the Packers select game captains each week.   
Today's captains will be TE Jermichael Finley (offense), LB Desmond Bishop (defense) and CB Pat Lee (special teams).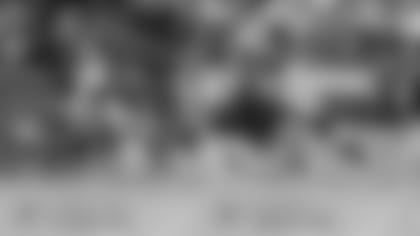 Today's officiating crew includes referee Scott Green (19), umpire Bruce Stritesky (102), head linesman Tom Stabile (24), line judge Tom Barnes (55), field judge Dyrol Prioleau (109), side judge Larry Rose (128) and back judge Scott Helverson (93).