PACKERS HIT THE ROAD TO TAKE ON BROWNS
Coming off its first shutout victory in nearly two years, Green Bay travels east to Cleveland to take on the 1-5 Browns.
The Packers make the trip to the city on the shores of Lake Erie for the first time since 1995. Cleveland is the only NFL city the Packers have not traveled to over that period.
In fact, since the Browns franchise resumed play in 1999, Green Bay is the only franchise yet to make an appearance in Cleveland.
Today marks matchup No. 18 in the all-time series, which began in Milwaukee in 1953. Green Bay owns a 9-7-0 advantage over the Browns in the regular season and took perhaps the most famous meeting between the two, a 23-12 victory in the 1965 NFL Championship.
The two franchises have produced some of the greatest teams and players the league has ever seen. The Packers rank second among all teams with players enshrined in the Pro Football Hall of Fame with 21, while the Browns are sixth with 16. Green Bay has 12 NFL championships, while Cleveland has four.
Since Green Bay's last trip to Cleveland, the two teams have met just twice in 13 seasons. Both (2001 and '05) have come at Lambeau Field.
Coaches most likely didn't pay too much attention this week to their preseason matchup against the Browns to kick off the 2009 campaign. Green Bay's starters did jump out to a 14-0 lead in just over a quarter of play.
Cleveland returns home after two consecutive road games, most recently dropping a 27-14 decision at Pittsburgh. The Browns will continue in the NFC North in Week 8 with a game in Chicago before their bye.
Penalties were a major focus all week after Green Bay was flagged a season-high 13 times for 130 yards last Sunday against Detroit.
The 13 penalties tied the high mark in Head Coach Mike McCarthy's three-plus seasons, while the 130 yards was the second-highest total under McCarthy.
The Packers have been flagged 47 times this season, tied with Detroit and Oakland for the fifth-highest total in the NFL. Buffalo (61), Baltimore (54), the New York Jets (51) and St. Louis (51) are the most penalized teams in the NFL so far. Each of those teams has played six games compared to Green Bay's five.
In penalty yards, the Packers are fourth highest with 359.
Those numbers are too high for a team that wanted to put an emphasis on reducing penalties in 2009. Last season, it was flagged for 125 penalties – tied for third most in the NFL.
Of those, 110 of the Packers' penalties were accepted, resulting in a league-high 984 penalty yards. Dallas (952), Tennessee (855), Tampa Bay (834) and Oakland (823) rounded out the top 5.
The Packers drew penalties against their opponents, too. Eighty-nine opponent penalties were accepted by Green Bay, resulting in 721 penalty yards. That yardage total ranked No. 15.
As per team tradition, the Packers select game captains each week.
Today's captains will be FB John Kuhn (offense), DE Cullen Jenkins (defense) and CB Derrick Martin (special teams).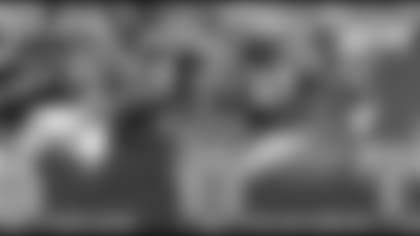 Green Bay plays its third road game of the season today, a 550-plus mile trek to Cleveland.
The Packers are 1-1 on the season in road games and have been able to stay above the .500 mark on the road during McCarthy's tenure.
In three-plus seasons, the team has a road record of 14-12 (.538). Only once under McCarthy has the team finished below .500 on the road, which was a 2-6 (.250) mark in 2008. As a franchise, the team is 5-4-0 all time in Cleveland.
Since 2006, 12 NFL teams have records over .500 on the road. They are New England (21-5), Indianapolis (20-7), New York Giants (20-8), Dallas (17-10), Philadelphia (14-11-1), Green Bay (14-12), New Orleans (14-12) and San Diego (14-12).
Today's officiating crew includes referee Don Carey (126), umpire Garth DeFelice (53), head linesman George Hayward (54), line judge Carl Johnson (101), field judge Mike Weir (50), side judge Greg Meyer (78) and back judge Terrence Miles (111).
For his career, has hit 45-of-49 field goals from 39 yards-and-closer.
Has hit 17-of-24 field goals from 40-49 yards.
Has hit 7-of-13 field goals from 50-plus yards.
Last week surpassed Sterling Sharpe (595) to become the franchise's all-time leader in receptions. Driver enters with 602 career catches.
Ranks No. 2 in franchise history with 8,384 career receiving yards. James Lofton (9,656) ranks No. 1.
Has a reception in 116 consecutive games, besting the franchise's previous long streak of Sharpe's 103 (1988-94).
Enters with 2,506 career rushing yards.
Has nine 100-yard games in his career.
Has 11 career 100-yard receiving games.
With 52½ career sacks, is No. 4 on the team's all-time sacks list. Needs three more to move past No. 3 Tim Harris (55).
In 21 career starts, has eclipsed a 100.0-plus passer rating 11 times.
Has six career 300-yard games and four career games with 3-plus TD passes.
Has 39 career interceptions, 22 in 51 games since coming to Green Bay in 2006. Woodson had 17 interceptions in 106 games with Oakland.
Is third in most interceptions in the NFL since 2006 with 22 (Asante Samuel - PHI, 24, Ed Reed - BAL 23).
With six defensive touchdowns as a member of the Packers (five interceptions, one fumble return), is No. 3 on the team's all-time list. Needs one more to match Herb Adderley and Darren Sharper with seven atop the list.