PRESEASON ACTION FOR GREEN BAY STARTS IN CLEVELAND
The Green Bay Packers' 2011 season officially kicks off tonight in Cleveland when they take on the Browns in a preseason contest at Cleveland Browns Stadium, the third straight year the teams have squared off against each other in the preseason opener.
Green Bay lines up against another opponent for the first time since Feb. 6, when it captured its 13th world championship and fourth Super Bowl title with a 31-25 win over the Pittsburgh Steelers in Super Bowl XLV.
Tonight marks the debut of rookie and free-agent acquisitions, as well as a potent offense that returns all but one of its starters from 2010. Under the direction of Head Coach Mike McCarthy, the offensive play-caller, the unit ranked No. 9 in total offense a season ago. McCarthy has led the offense to a top-10 ranking in total offense each of his five seasons at the helm, joining New Orleans as the only team to accomplish that from 2006-10. The Packers have also finished in the top 10 in scoring offense each of the past four seasons.
Tonight's contest also features a defense in its third year under defensive coordinator Dom Capers. The Packers posted their best scoring-defense mark since the Super Bowl champion team of 1996 (13.1 ppg) when they finished No. 2 in the league in 2010 by allowing just 15.0 points per game in, highlighted by three games where their opponent did not get into the end zone. The defense also registered 47 sacks last season, good for No. 2 in the NFL and the most by a Green Bay unit since 2001 (52).
This will be the first time since 2007 that the Packers have opened the preseason away from Lambeau Field. The last time Green Bay played at Cleveland during the preseason was on Aug. 15, 2003. The Packers' last appearance at Cleveland Browns Stadium for a regular-season contest was on Oct. 25, 2009, when Green Bay came away with a 31-3 victory.
Tonight marks the 23rd preseason meeting in the all-time series between Cleveland and Green Bay. The Browns registered a 27-24 victory over the Packers in the 2010 preseason opener at Lambeau Field and hold a 12-10-0 advantage in the all-time preseason series.
Green Bay returns to Lambeau Field next week to host the Arizona Cardinals on Friday, Aug. 19 in the 62nd annual Upper Midwest Shrine Game, one of the NFL's longest standing team traditions. Each season, the Packers donate a percentage of the gate to the Shriners' Hospitals for Children.
NOTABLE CONNECTIONS
Browns president Mike Holmgren is the former head coach of the Packers (1992-99) who led the team to six consecutive playoff appearances, back-to-back Super Bowls, and the Super Bowl XXXI championship in 1996...Holmgren's senior advisor, Gil Haskell, coached both Green Bay's RBs (1992-94) and WRs (1995-97) under Holmgren in Green  Bay...Browns RB Brandon Jackson was a second-round draft choice of the Packers in 2007 and played four seasons (2007-10) in Green Bay...Browns senior assistant-defense Ray Rhodes was Green Bay's head coach in 1999 and also served as the defensive coordinator from 1992-93...Browns defensive coordinator Dick Jauron coached on the staff in Green Bay from 1986-94...Browns linebackers coach Bill Davis coached on Green Bay's staff in 2000 and was on the San Francisco staff in 2005 with Packers head coach Mike McCarthy...Davis also coached with Packers defensive coordinator Dom Capers in Pittsburgh and Carolina...Browns strength and conditioning coach Kent Johnston held the same post under Holmgren in Green Bay (1992-98)...Browns head coach Pat Shurmur's uncle, Fritz Shurmur, was Green Bay's defensive coordinator from 1994-98...Browns TE Evan Moore was with the Packers during training camp in 2008-09 and spent the '08 season with the team on injured reserve...Browns RB Quinn Porter was with Green Bay during training camp in 2010...Browns VP of football operations, Mark Schiefelbein, spent 18 years (1992-2009) in the Packers' front office...Clay Matthews Jr., the father of Packers LB Clay Matthews III, played the first 16 of his 19 seasons in the NFL for the Browns (1978-93)...Browns LB Kaluka Maiava and the Packers' Matthews played in the same LB corps at USC and were both drafted in 2009...Browns T Joe Thomas hails from the Milwaukee area and played collegiately at the University of Wisconsin...Packers LS Brett Goode and TE D.J. Williams played with Browns RB Peyton Hillis at Arkansas...Browns WR Mohamed Massaquoi and Packers DE Jarius Wynn were college teammates at Georgia and both were '09 draft picks...Packers TE Jermichael Finley and Browns QB Colt McCoy were teammates at Texas, as were Browns WR Brian Robiskie and Packers LB A.J. Hawk at Ohio State, Browns LB Titus Brown and Packers T/G Derek Sherrod at Mississippi State, Browns WR Chris Matthews and Packers WR Randall Cobb at Kentucky, Browns DL Jabari Fletcher and Packers LB D.J. Smith at Appalachian State and Browns DL Derreck Robinson and Packers T Bryan Bulaga at Iowa...Packers offensive coordinator Joe Philbin tutored Browns OL Eric Steinbach at Iowa...Packers S/CB Brandon Underwood and Browns DB DeAngelo Smith played in the same defensive backfield at Cincinnati and were both '09 draft picks (Smith selected by Dallas)...Browns tight ends coach Steve Hagen was Packers TE Ryan Taylor's position coach for two seasons at North Carolina..Packers safeties coach Darren Perry and Browns running backs coach Gary Brown were teammates at Penn State...Packers offensive quality control coach Joel Hilgenberg was a teammate of Browns defensive line coach Dwaine Board in New Orleans.
Important dates to remember (all times CDT):
Friday, Aug. 19 – Preseason game vs. Arizona Cardinals, 7 p.m., Lambeau Field
Friday, Aug. 26 – Preseason game at Indianapolis Colts, 7 p.m., Lucas Oil Stadium
Tuesday, Aug. 30 – Final practice open to public, 11 a.m., Nitschke Field; Possible roster reduction, to 75 players                
Thursday, Sept. 1 – Preseason game vs. Kansas City Chiefs, 7 p.m., Lambeau Field
Saturday, Sept. 3 – NFL-mandated roster reduction, to 53 players
Thursday, Sept. 8 – Regular-season opener vs. New Orleans Saints, 7:30 p.m., Lambeau Field
As per team tradition, the Packers select game captains each week.  
Tonight's captains will be QB Aaron Rodgers(offense), S Nick Collins (defense) and P Tim Masthay (special teams).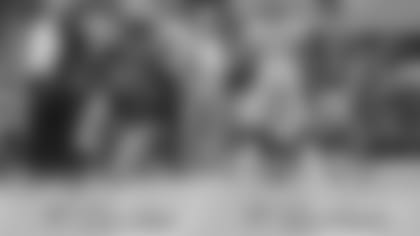 Tonight's officiating crew includes referee Walt Coleman (65), umpire Roy Ellison (81), head linesman Ed Camp (134), line judge Mark Steinkerchner (84), field judge Greg Gautreaux (80), side judge Rick Patterson (15) and back judge Greg Yette (38).