PACKERS HOST BROWNS IN HOME PRESEASON OPENER
The Packers host the Cleveland Browns tonight at Lambeau Field in the team's home preseason opener. This marks the fourth straight year (2009-12) that the teams have squared off in the preseason.
It marks the 24th preseason meeting in the all-time series between Cleveland and Green Bay. The Browns registered a 27-17 victory over the Packers last year in Cleveland in the preseason opener and hold a 13-10-0 advantage in the all-time preseason series.
Including tonight's meeting, the two clubs have played each other in eight of the past 13 preseasons.
This will mark the first time since 2005 (vs. San Diego) that the Packers have opened their home preseason slate on a Thursday night.
The two franchises have produced some of the greatest teams and players the league has ever seen. The Packers rank second among all teams with players enshrined in the Pro Football Hall of Fame with 21, while the Browns are sixth with 16. Green Bay has 13 NFL championships, while Cleveland has four.
The series includes one postseason meeting, the 1965 NFL Championship played in Green Bay and won by the Packers, 23-12. Green Bay holds a 10-7-0 edge in the all-time regular-season series.
Green Bay lost to the Chargers at San Diego, 21-13, in its preseason opener last Thursday night. The Packers will travel to Cincinnati a week from tonight to take on the Bengals at Paul Brown Stadium, Green Bay's first trip to Cincinnati in the preseason since 2006.
One of the NFL's longest team traditions, the Upper Midwest Shrine Game kicks off its 63rd installment tonight at Lambeau Field.
Each season, the Packers donate a percentage of the gate to the Shriners Hospitals for Children. The Shriners' facilities provide specialized medical services, helping children with birth defects and other injuries, at absolutely no cost.
To date, the series has raised more than $3.4 million for the Midwest Shrine's burn centers and hospitals for disabled children.
Green Bay is 32-27-3 all-time in the series. This will mark the third time in the past four years (also 2009 and 2010) that the Packers have faced the Browns in the Shrine Game.
The series has called three separate stadiums home: Milwaukee's State Fair Park (1950-51), Milwaukee County Stadium (1952-82, 1984-94) and Lambeau Field (1983, 1995-present).
In his first season leading the Packers, Vince Lombardi made an agreement with George Halas to play in the Shrine game annually. Green Bay and Chicago played each preseason in County Stadium from 1959-73.
The Packers annually designate the Shrine game as the first 'Gold package' game for season-ticket holders primarily from the Milwaukee area. The team created the three-game package after moving all of its home games to Green Bay in 1995. Also in the 'Gold package' this season are the contests against Chicago (Sept. 13) and Arizona (Nov. 4).
NOTABLE CONNECTIONS
Ohio natives on Green Bay's roster include TE Tom Crabtree (Carroll), LB A.J. Hawk (Centerville), CB Otis Merrill (Cleveland), RB Brandon Saine (Piqua), CB Charles Woodson (Fremont) and DE Jerel Worthy (Huber Heights)...Packers defensive coordinator Dom Capers grew up in Buffalo, Ohio, where he attended Meadowbrook High School...Capers also attended Mount Union College in Alliance, Ohio...Packers QB Graham Harrell attended the Browns' rookie minicamp on a tryout basis in both 2009 and 2010...Browns president Mike Holmgren is the former head coach of the Packers (1992-99) who led the team to six consecutive playoff appearances, back-to-back Super Bowls, and the Super Bowl XXXI championship in 1996...Holmgren's senior advisor, Gil Haskell, coached both Green Bay's RBs (1992-94) and WRs (1995-97) under Holmgren in Green Bay...Browns senior assistant-defense Ray Rhodes was Green Bay's head coach in 1999 and also served as the defensive coordinator from 1992-93...Browns defensive coordinator Dick Jauron coached on the staff in Green Bay from 1986-94...Browns linebackers coach Bill Davis coached on Green Bay's staff in 2000 and was on the San Francisco staff in 2005 with Packers head coach Mike McCarthy...Davis also coached with Capers in Pittsburgh and Carolina...Browns strength and conditioning coach Kent Johnston held the same post under Holmgren in Green Bay (1992-98)...Browns head coach Pat Shurmur's uncle, Fritz Shurmur, was Green Bay's defensive coordinator from 1994-98...Browns offensive coordinator Brad Childress coached on the staff at the University of Wisconsin from 1992-98...Browns senior assistant-offense Nolan Cromwell served on Green Bay's coaching staff from 1992-98...Browns defensive backs coach Tim Hauck played in 58 games at safety for the Packers over four seasons (1991-94)...Browns VP of football operations, Mark Schiefelbein, spent 18 years (1992-2009) in the Packers' front office...Clay Matthews Jr., the father of Packers LB Clay Matthews III, played the first 16 of his 19 seasons in the NFL for the Browns (1978-93)...Browns RB Brandon Jackson was a second-round draft choice of the Packers in 2007 and played four seasons (2007-10) in Green Bay...Browns TE Evan Moore was with the Packers during training camp in 2008-09 and spent the '08 season with the team on injured reserve...Browns DL Scott Paxson spent time on the Packers' practice squad in 2006...Browns OL Stanley Daniels spent time on Green Bay's practice squad in 2009...Browns T Joe Thomas played collegiately at the University of Wisconsin and attended Brookfield (Wis.) Central High.
Important dates to remember (all times CDT):
Thursday, Aug. 23 – Preseason game at Cincinnati Bengals, 6 p.m., Paul Brown Stadium
Monday, Aug. 27 – Roster reduction to a maximum of 75 players by 3 p.m. (CDT)
Tuesday, Aug. 28 – Final practice open to public, 11 a.m., Nitschke Field
Thursday, Aug. 30 – Preseason game vs. Kansas City Chiefs, 6 p.m., Lambeau Field (Bishop's Charities Game)
Friday, Aug. 31 – Roster reduction to a maximum of 53 players by 8 p.m. (CDT)
Saturday, Sept. 1 – After 11 a.m. (CDT), clubs may establish a practice squad of eight players
Sunday, Sept. 9 – Regular-season opener vs. San Francisco 49ers, 3:25 p.m. (CDT)
As per team tradition, the Packers select game captains each week.
Tonight's captains will be T Bryan Bulaga(offense), DT B.J. Raji (defense) and LS Brett Goode (special teams).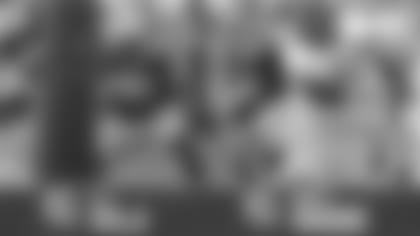 Tonight's officiating crew includes referee Ken Roan (86), umpire David Chisham (19), head linesman Kevin Akin (2), line judge Eric Hoffman (50), field judge Brian Burkhart (15), side judge Dwayne Strozier (111) and back judge Mike Varner (124).