PACKERS HOST BUCCANEERS FOR FIRST TIME SINCE 2005
On a short week following their 45-7 victory over the division-rival Minnesota Vikings at Lambeau Field on Monday night, the Packers stay home to host Tampa Bay today, the Buccaneers' first visit to Green Bay since 2005 and only their second in the last 10 seasons.
The Packers are off to a 9-0 start for the first time since 1962 and only the fourth time in franchise history.
The three previous 9-0 starts in team history (1929, 1931, 1962) all resulted in NFL titles for the Packers.
Including playoffs, the Packers have won15 straight games, the longest winning streak in team history. That tops the previous mark of 12 games from 1961-62.
The Packers' streak of 11 consecutive wins in the regular season (2010-11)is tied for No. 1 in franchise annalswith 11-game streaks in 1928-29 and 1961-62.
This is the second regular-season winning streak of eight or more games during Head Coach Mike McCarthy's tenure (eight-game streak in 2006-07).
The Buccaneers emerged victorious, 17-16, in their last visit to Lambeau Field on Sept. 25, 2005, as they snapped a 13-game road losing streak to Green Bay. Tampa Bay's last win at Green Bay prior to that had come on Sept. 10, 1989.
The Packers will operate on a condensed schedule again this week when they go on the road to take on the Lions on Thursday. It will mark the third Thanksgiving Day game for Green Bay at Detroit in the last five seasons (the Packers won games in 2007 and 2009).
For the first time this season, the Packers will have back-to-back games in front of the home crowd at Lambeau Field. Green Bay will also wrap up the regular season with consecutive home contests vs. Chicago on Christmas Day and Detroit on New Year's Day.
The Packers have won nine straight contests at Lambeau Field and 15 of their last 16 at home. It is the longest regular-season home winning streak by Green Bay since an 11-game streak from 2001-02 and thelongest current home winning streak in the NFL.
Green Bay's 15-1 (.938) home mark since Week 10 of 2009 ranks No. 1 in the NFL over that span.
The Packers are off to their first 4-0 start at home since 2002. That season, Green Bay went on to post a perfect 8-0 mark at Lambeau Field.
The Packers are one of only three teams in league that are unbeaten at home this season (Baltimore, New Orleans).
Green Bay has averaged a league-high 40.0 points per game at home this season. The franchise record is 38.0 ppg in 1942.
Green Bay will be looking to get off to just its third 10-0 start in franchise history (1929, 1962)...With a win today, the Packers would match the longest single-season winning streak in the regular season in team annals (10-game streaks in 1929 and 1962).
The Packers rank No. 1 in the NFL in scoring at 35.6 points per game...Their 320 points this season are the most in franchise history through nine games and the fourth most since the 1970 AFL-NFL merger by an NFL team through nine contests...With the 320 points, the Packers already hold the team record for most points in the first 10 games of a season; the previous mark was 309 points in both 1961 and 1962.
The Packers have scored at least 24 points in every game this season, the only team in the NFL to accomplish that feat in 2011. That is the franchise recordfor most consecutive 24-point games in a single season, topping the previous mark of eight games in 1963.
QB Aaron Rodgers – Is the first QB in NFL history to post 2,800 passing yards/28 passing TDs in the first nine games of the season...Has registered a 110-plus passer rating in every game this season, a nine-game streak that is the longest single-season streak in NFL history...With the nine 110-rating games, is already tied for the No. 3 mark in NFL history for the most in a single season, trailing only 49ers QB Steve Young (11 in 1994) and Patriots QB Tom Brady (10 in 2007)...Has posted a 140-plus passer rating in three straight games, only the second quarterback in NFL history to accomplish that feat in a single season (Rams QB Kurt Warner, 1999)...Has completed at least 75 percent of his passes in three straight games, a franchise single-season record...With a 300-yard passing game today, would tie Brett Favre (1995, 2007) for the most 300-yard games by a Packer in a single season with seven...Needs 36 passing yards today to top the franchise mark for the most yards in the first 10 games of the season (Lynn Dickey, 2,904, 1983)...Already holds the team mark for most TD passes through 10 games with 28 through nine contests, besting the mark of 27 by Favre in 1996...Has thrown 87 consecutive passes without an interception.
K Mason Crosby – Has made 23 straight field goals (2010-11) entering today's contest, the longest regular-season streak in franchise history and the longest current streak in the NFL..Has made 16 straight FGs this season, one shy of matching the franchise record for most consecutive field goals in a single season (Chris Jacke, 17, 1993).
LB Clay Matthews – Is tied for No. 2 all-time (since 1982) among Green Bay players for the most sacks in his first three seasons in the NFL with 28.5, trailing only LB Tony Bennett (29.5).
WR Donald Driver – Needs 7 yards from scrimmage for 10,000 yards for his career. Ranks No. 2 in franchise history in yards from scrimmage behind only RB Ahman Green (11,048).
WR Greg Jennings – Needs 23 receiving yards to become the eighth player in franchise history to hit the 6,000-yard mark for his career. If he reaches the 6,000-yard mark today in his 85th career game, would become the second fastest to 6,000 receiving yards in franchise history behind only WR Sterling Sharpe (84 games) and ahead of WR James Lofton (86 games).
As per team tradition, the Packers select game captains each week.
Today's captains will be WR Jordy Nelson(offense), LB A.J. Hawk(defense) and CB/S Jarrett Bush(special teams).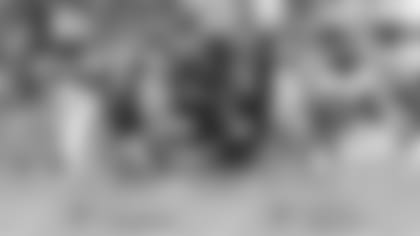 Today's officiating crew includes referee Alberto Riveron (57), umpire Scott Dawson (70), head linesman Jim Mello (48), line judge Ron Phares (10), field judge Steve Zimmer (33), side judge Jimmy DeBell (58) and back judge Greg Steed (12).