REGULAR SEASON WRAPS UP IN ARIZONA
One week after clinching a postseason berth, Green Bay travels to Arizona to take on the Cardinals to close out the 2009 regular season.
Green Bay is coming off one of its most well-rounded performances in recent memory and will look to continue that momentum in Arizona.
Though a postseason berth has been clinched, the outcome of three NFC games today will determine the final seeding. The possibility remains that the Packers could turn right around and make another trip to Phoenix to take on the Cardinals in the Wild Card round.
Depending upon the outcome of today's games, Arizona has the opportunity to rise all the way up to the NFC's No. 2 seed.
If past performance is any indication, Green Bay could provide a tough challenge. It is 14-1 in regular-season finales since 1994, the league's top mark in regular-season finales over that period.
The two clubs already met in the preseason, a game that was highlighted by a near-flawless performance by the Packers' first units in the opening half.
Dating back to 1921 when the Cardinals franchise resided in Chicago, this remains one of the oldest rivalries in football. Green Bay owns a 42-22-4 advantage in the all-time series, including wins in five of the last six regular-season games.
Green Bay's convincing win over Seattle, coupled with a New York Giants loss, clinched the 25th postseason berth in Packers' team history.
For the Packers, it is their 12 postseason appearance in 17 years and their second under Head Coach Mike McCarthy.
Green Bay owns the league's second-best postseason winning percentage (.625, 25-15) among NFL teams behind Baltimore (.636, 7-4).
Though it won't know when or where it is playing, Green Bay has earned one of the NFC's two Wild Card berths. Not including the 1982 season, which involved a different playoff system due to a strike-shortened season, the Packers have made their way to the postseason via the Wild Card four previous times: 1993, '94, '98 and 2001. In three out of four appearances as an NFC Wild Card, Green Bay won its first game.
Wild Card teams have achieved postseason success in recent years. Last season, both Philadelphia and Baltimore reached the conference title game, while the New York Giants won the Super Bowl in 2007 as a Wild Card entrant. Two Wild Card teams also reached the conference title games in '05 (Carolina and Pittsburgh), with the Steelers going on to win Super Bowl XL.
THREE PACKERS NAMED PRO BOWLERS
S Nick Collins, QB Aaron Rodgers and CB Charles Woodson were named to the NFC Pro Bowl squad this week. Additionally, Woodson was named a starter on the NFC squad.
For Collins, it is his second consecutive and second career selection. So far on the season, the fifth-year pro has 51 tackles, six interceptions, a sack and fumble recovery. His six interceptions are second most among NFC safeties and tied for fifth overall in the NFL.
Collins becomes the first Packers safety to be named to consecutive Pro Bowls since LeRoy Butler, who went three consecutive seasons (1996-98).
Rodgers earns his first career selection in his second season as a starter. He became the first player in NFL history to throw for 4,000 yards in each of his first two seasons as a starter and ranks among the league's top 10 in nearly every significant passing category.
uWoodson has earned his sixth career Pro Bowl bid and second as a member of the Packers. He has registered a career high in tackles (81) and has tied his career high with eight interceptions. Additionally, the 12-year pro has two sacks, four forced fumbles, one fumble recovery and 18 passes defensed.
With Woodson and Collins being named to the team, the Packers have two or more secondary players going to the Pro Bowl in consecutive years for the first time since 1973-74, when cornerbacks Willie Buchanon and Ken Ellis were selected. Last season, Al Harris joined Collins and Woodson on the NFC Pro Bowl squad.
LB Clay Matthews was named a first alternate to the NFC squad. Other alternates include T Chad Clifton, RB Ryan Grant and LB A.J. Hawk.
As per team tradition, the Packers select game captains each week.
Today's captains will be WR Donald Driver (offense), CB Charles Woodson (defense) and LS Brett Goode (special teams).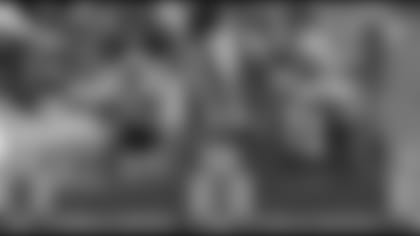 Today's officiating crew includes referee Carl Cheffers (51), umpire Undrey Wash (96), head linesman Kent Payne (79), line judge Charles Stewart (62), field judge Jon Lucivansky (89), side judge Jeff Lamberth (103) and back judge Dino Paganelli (105).
With 13 interceptions since 2008, ranks tied for second with Philadelphia's Asante Samuel among all NFL players behind Charles Woodson (15).
With 405 interception return yards since 2008, leads all NFL players.
For his career, has hit 58-of-64 field goals from 39 yards-and-closer.
Has hit 18-of-27 field goals from 40-49 yards.
Has hit 8-of-17 field goals from 50-plus yards.
Needs 15 receiving yards for 9,000 career. He ranks No. 2 on the franchise's all-time receiving yards list (8,985 career) behind No. 1 James Lofton (9,656).
Needs four yards to reach 1,000. His six 1,000-yard campaigns already is a franchise record, ahead of Lofton and Sterling Sharpe (five each).
Became only the third player in franchise history to post back-to-back seasons of 1,200-plus rushing yards (Ahman Green, 2001-03; Jim Taylor, 1961-62).
Has 12 career 100-yard games.
Needs 116 yards to become the fourth player in team history to post 1,200 receiving yards in back-to-back seasons (Sharpe,1992-93; Freeman, 1997-98; Driver, 2005-06).
Has 14 career 100-yard games.
Became the first player in NFL history to post 4,000 yards passing in each of his first two seasons as a starter.
Needs 260 passing yards to break the franchise's single-season mark of 4,458 held by Lynn Dickey (1983).
Has nine career 300-yard games and nine 3-TD games.
In 31 career starts, has eclipsed a 100.0-plus passer rating 17 times.
Has established a new career high in tackles (81) and tied his career high with eight interceptions.
Has 44 career interceptions, 27 in 61 games since coming to Green Bay in 2006. Woodson had 17 interceptions in 106 games with Oakland.