PACKERS HOST CARDINALS IN FINAL CONTEST BEFORE BYE
Green Bay (5-3) stays home for the second straight week to host Arizona (4-4), the Cardinals' seventh visit ever to Lambeau Field and their first since 2006.
The Packers will be looking to extend their winning streak to four games as they head into their Week 10 bye. Green Bay improved to 5-3 on the season with a 24-15 win over Jacksonville last Sunday at home, its third straight victory and fourth win in five games.
The Packers have won each of the previous six meetings with the Cardinals at Lambeau Field, including a victory in a 1982 first-round playoff game.
Dating back to 1921 when the Cardinals franchise resided in Chicago, this remains one of the oldest rivalries in pro football. Green Bay owns a 44-23-4 advantage in the all-time series, including victories in six of the last seven regular-season meetings between the teams since 1988.
This will be the first regular-season meeting between the clubs since they squared off in Arizona in the 2009 finale. The Packers topped the Cardinals, 33-7, to set up a matchup between the teams in Arizona the following Sunday in a Wild Card game.
Arizona would emerge victorious in that playoff game, topping Green Bay in overtime, 51-45, in the highest-scoring postseason game in NFL history. The teams combined for 1,024 yards and a playoff-record 13 TDs.
The Packers have won 22 of their last 26 regular-season games (.846), the best record in the league over that span.
Since 1994, the Packers are 13-5 (.722) in the game heading into the bye. Under Head Coach Mike McCarthy, Green Bay is 4-2 (.667) in the game before its open date on the schedule.
This afternoon will be Green Bay's last appearance at Lambeau Field until its Week 13 matchup with Minnesota. The Packers come out of their bye with road contests at Detroit (Week 11) and the N.Y. Giants (Week 12).
The Packers enter today's game with the Cardinals having won 16 of their last 17 and 22 of their last 24 games at home in the regular season.
Green Bay's .917 winning percentage (22-2) at home since Week 10 of 2009 istied for No. 1 in the NFL over that span with Baltimore (22-2).
Green Bay's 21-3 mark at home from 2009-11 was the best by the club over a three-year span since it posted the same mark from 2000-02.
The Packers have averaged 31.5 points per game at home since 2009, No. 1 in the leagueover that span. Green Bay has posted 30-plus points in 13 of 28 home games since '09 and eight 40-point games.
The defense has done its part as well at home since 2009, generating 70 turnovers at Lambeau Field. With Green Bay's offense posting only 30 giveaways over that span, the Packers have a plus-40 turnover ratio at home, No. 1 in the league since '09.
Green Bay has scored 151 points over its past five games, a 30.2-point average that ranks No. 5 in the league since Week 4.
The Packers rank No. 2 in the league in red-zone efficiency this season, scoring TDs on 72.0 percent (18 of 25) of their opportunities. Over the past five games, Green Bay has scored TDs on 14 of 18 trips inside the 20 (77.8 percent).
Green Bay ranks No. 2 in the NFL this season with 180 first downs. The Packers have posted 20-plus first downs in six consecutive games, their longest streak since an eight-game one in 2009.
Green Bay has either won the takeaway battle or come out even in 24 of its last 26 regular-season games.
Entering Week 9, the Packers are tied for the league lead in sacks (26) and lead the NFL in sack yardage (182). Green Bay has had 13 different players register at least one sack this season, which ranks No. 2 in the NFL behind only Cleveland (14 players).
Green Bay has not allowed its opponents to score on an opening possession this season, one of only two teams in the league (Chicago) to do so.
QB Aaron Rodgers has thrown a league-high 21 touchdown passes this season as he became the first NFL quarterback to throw 20-plus TD passes in the opening eight games of back-to-back-seasons (24 TDs in first eight games of 2011).
Rodgers has thrown a TD pass in 33 consecutive regular-season games at Lambeau Field, a team record (previous mark was 25 by Favre from 1992-96). Rodgers' home streak is the longest in the NFL since Dolphins QB Dan Marino (39 games, 1983-88).
Over his last five games, Rodgers has thrown for 1,420 yards and 18 TDs with two INTs on 127-of-182 passing (69.8 percent) for a 121.1 passer rating. The 18 TD passes are a team record over a five-game span, topping the previous mark of 17 held by Rodgers (twice in 2011).
Rodgers has not thrown an interception in three straight games. His streak of 122 attempts without an INT is the longest current streak in the NFL.
WR Donald Driver needs 10 receiving yards to hit the 5,000-yard receiving mark for his career at Lambeau Field. He holds the stadium records for career receiving yards (4,990) and receptions (362).
WR Jordy Nelsonleads the league with 14 TD catches at home since 2011 and ranks No. 2 in the NFL in receiving yards at home since 2011 at 96.1 per game (Giants WR Victor Cruz, 98.0).
WR James Jones is tied for the NFL lead (Cruz, Bengals WR A.J. Green, Patriots TE Rob Gronkowski) with seven TD grabs this season, which already matches his career high set in 2011.
WR Randall Cobb has caught 31 passes for 367 yards (11.8 avg.) and four TDs over the past five games. His reception total since Week 4 is tied for No. 5 in the NFL.
LB Clay Matthews, who ranks No. 2 in the NFL with nine sacks this season,**needs one more for the third 10-sack season of his career (2009-10). A third 10-sack season would move him into sole possession of the No. 3 spot in franchise history behind only DEs Reggie White (1993, 1995, 1997-98) and Kabeer Gbaja-Biamila (2001-04), who each posted four 10-sack seasons with the Packers.
K*Mason Crosby *enters today with 699 career points. With one point today, he would reach the 700-point mark in his 89th career game. That would be the second fastest to 700 points in franchise history behind only RB Paul Hornung (87 games).
As per team tradition, the Packers select game captains each week.
Today's captains will be T Bryan Bulaga(offense), LB A.J. Hawk (defense) and LB Robert Francois (special teams).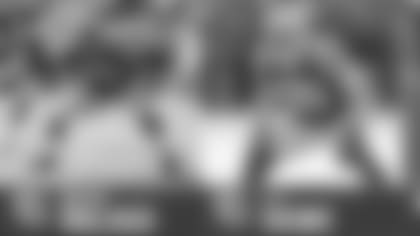 Today's officiating crew includes referee Walt Coleman (65), umpire Roy Ellison (81), head linesman Jerry Bergman (91), line judge Mike Spanier (90), field judge Greg Gautreaux (80), side judge Rick Patterson (15) and back judge Greg Yette (38).