PACKERS VISIT SAN DIEGO FOR FIRST TIME SINCE 2003
Green Bay comes out of its bye with a road contest against the San Diego Chargers today, the team's first visit to San Diego since 2003 and only its sixth in franchise history.
The Packers have won five straight games in the series, including a 31-24 victory over the Chargers at Lambeau Field on Sept. 23, 2007, the last meeting between the two franchises.
Green Bay's .889 overall winning percentage (8-1) in the series is its highest against any NFL opponent.
The Packers have a 5-0 record all-time at San Diego. Green Bay is one of only two teams in the league (Atlanta, 5-0) to have an undefeated record in San Diego (min. three games).
Green Bay has a 5-0 record against AFC West clubs under Head Coach Mike McCarthy, the only division that the Packers have an unblemished mark against since 2006.
The Packers are off to a 7-0 start for the first time since 1962 and only the fifth time in franchise history.
The four previous 7-0 starts in team history (1929-31, 1962) all resulted in NFL titles for the Packers.
Green Bay is only the fourth defending Super Bowl champion to start the following season 7-0 (1990 San Francisco 49ers, 1998 Denver Broncos and 2007 Indianapolis Colts).
Including playoffs, the Packers have won13 straight games, the longest winning streak in team history. That tops the previous mark of 12 games from 1961-62.
The Packers' streak of nine consecutive wins in the regular season (2010-11) is tied for No. 3 in franchise annals behind only 11-game streaks in 1928-29 and 1961-62.
This is the second regular-season winning streak of eight or more games during McCarthy's tenure. Green Bay had an eight-game winning streak from 2006-07.
Under McCarthy, the Packers are 4-1 in the game following their bye. Green Bay has a 30-19 (.612) overall record after the bye since '06.
Today in San Diego, Green Bay will be looking to get off to just its fifth 5-0 starton the road in franchise history.
One of those fast starts came under the guidance of McCarthy, as the Packers also got off to a 5-0 start away from Lambeau Field in 2007. The only other 5-0 road starts in team history came in 1929, 1936 and 1941.
Including playoffs, the Packers have won seven straight road contests and nine of their last 12. That .750 road winning percentage over that span is tied for No. 1 in the NFL with Atlanta (6-2) and Detroit (6-2).
Green Bay is one of only three teams in the league with an undefeated road record this season (Detroit, 4-0; San Francisco, 3-0).
The Packers' string of success away from home will be put to the test today. The Chargers have won 17 of their last 21 regular-season games at Qualcomm Stadium, an .810 winning percentage that is tied for No. 3 in the NFL over that span.
The Packers rank No. 1 in the NFL in scoring at 32.9 points per game...Their 230 points this season are the second most in franchise history through seven games behind only the 241 points posted in the first seven contests in 1942...The franchise record for most points in the first eight games of a season was 248 posted in 1942.
The Packers have scored at least 24 points in every game this season, the only team in the NFL to accomplish that feat in 2011. That is one shy of the franchise record for most consecutive 24-point games in a single season (eight games, Sept. 22-Nov. 10, 1963).
QB Aaron Rodgers – Is the first QB in NFL history to post 2,300 passing yards/20 passing TDs in the first seven games of the season...Has registered a 110-plus passer rating in every game this season, a seven-game streak that ties 49ers QB Steve Young for the longest single-season streak in NFL history...With a 110-rating effort today, would tie Brett Favre's franchise mark (2007) for the most 110-rating games in a single season with eight...With a 300-yard passing game today, would tie Favre (1995, 2007) for the most 300-yard games by a Packer in a single season with seven...With 300 passing yards and two TD passes today, would join Young (six in 1998) and Joe Montana (five in 1982) as the only NFL quarterbacks to pass for 300-plus yards and two TDs in five consecutive games in a season...Has thrown a 70-yard TD pass in each of the last three games, only the third NFL quarterback since the 1970 AFL-NFL merger (Cowboys QB Craig Morton and Saints QB Drew Brees) to accomplish that feat...Needs two TD passes today to top the franchise mark for most TD passes in the first eight games of the season (Favre, 21, 1996) and 74 passing yards to top the team mark for yardage through eight contests (Lynn Dickey, 2,445, 1983).
K Mason Crosby – Has made 21 straight field goals entering today's contest, the longest streak in franchise history and the second-longest current streak in the NFL (Atlanta's Matt Bryant, 27).
CB Charles Woodson – With one more sack, will become the first Packers defensive back (since sacks became an official statistic in 1982) to register two-plus sacks in four consecutive seasons.
LB Clay Matthews – Has posted a sack in each of the last two games...Already ranks No. 4 all-time (since 1982) among Green Bay players for the most sacks in his first three seasons in the NFL with 26.5, trailing only LB Tony Bennett (29.5), LB Tim Harris (28.5) and DE Kabeer Gbaja-Biamila (27.0).
As per team tradition, the Packers select game captains each week.
Today's captains will be T Bryan Bulaga(offense), CB Tramon Williams (defense) and P Tim Masthay(special teams).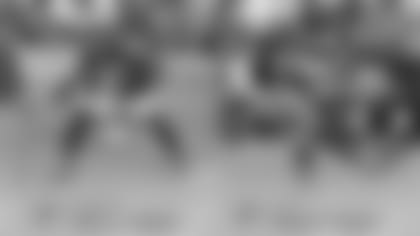 Today's officiating crew includes referee Clete Blakeman (34), umpire Garth DeFelice (53), head linesman Tony Veteri (36), line judge Jeff Seeman (45), field judge Buddy Horton (82), side judge Greg Meyer (78) and back judge Terrence Miles (111).