PRESEASON ACTION FOR GREEN BAY STARTS IN SAN DIEGO
The Green Bay Packers' 2012 season officially kicks off tonight when they travel to San Diego to take on the Chargers in a preseason contest at Qualcomm Stadium, the first time the clubs have squared off in the preseason since 2006.
The '06 preseason meeting between the teams also came in San Diego and was the head-coaching debut of Green Bay's Mike McCarthy.
Tonight's contest marks the first time since 2005 that the Packers have opened the preseason on a Thursday night. Ironically, that '05 meeting also came against the Chargers, at Lambeau Field.
This evening's matchup features two of the most productive offenses in the league. Over the past three seasons, Green Bay ranks No. 3 in scoring (29.4 ppg) and No. 5 in yards per game (380.8) while San Diego checks in at No. 4 in scoring (27.1 ppg) and No. 3 in yards per game (382.9).
Tonight marks the debut of rookie and free-agent acquisitions, as well as a potent offense that returns all but two of its starters from 2011. Under the direction of McCarthy, the offensive play-caller, the Packers set franchise records for points (560), touchdowns (70), total net yards (6,482), net passing yards (4,924), passing TDs (51) and fewest giveaways (14). McCarthy has led the Packers to a top-10 ranking in total offense in each of his six seasons at the helm, joining New Orleans as the only team to accomplish that feat from 2006-11.
This evening's contest also features a defense in its fourth year under defensive coordinator Dom Capers. In 2011, Green Bay led the league in interceptions (31) for the second time in three seasons (also 2009). That interception total was the best registered by the Packers since 1962 (also 31). The Packers tied for the league lead in '11 with San Francisco for the most total takeaways with 38.
This will mark the second straight year that the Packers have opened the preseason away from Lambeau Field after opening at home the previous three seasons (2008-10). For the first time since 2005, Green Bay's preseason slate is made up of four AFC teams. The Packers do not play any of their preseason opponents during the regular season in 2012.
Tonight's game will be televised to a national audience on ESPN. Over the past 20 preseasons, the Packers have appeared on national television at least once in 19 of those years. The lone season that saw Green Bay not appear in front of a national audience over that span was in 2009.
This marks only the fourth preseason meeting between the teams and the second in San Diego. The all-time series is knotted at 1-1-1.
Green Bay returns home next Thursday night to host the Cleveland Browns in the 63rd annual Upper Midwest Shrine Game. Each season, the Packers donate a percentage of the gate to the Shriners' Hospitals for Children.
THE PACKERS-CHARGERS SERIES
The two teams have met 10 times in the regular season in a series that dates back to 1970, the year of the AFL-NFL merger.
The Packers have won six straight and nine of the last 10 meetings, including a 6-0 mark in San Diego. Green Bay's only loss in the city came in Super Bowl XXXII to the Denver Broncos.
The Chargers were the hosts for the Packers' first-ever appearance on Monday Night Football, on Oct. 12, 1970. The Packers won, 22-20, on a 14-yard Dale Livingston field goal with 3:39 remaining.
Their second meeting, at Lambeau Field in 1974, was won by the Packers, 34-0, and became Dan Devine's final victory in his four-year tenure as Green Bay head coach.
One of the more bizarre contests in Packers history was played in San Diego on Sept. 14, 1978. With a temperature of 102 degrees at kickoff (tied for the highest in Packers history), the teams combined for 18 sacks, including 10 by the Chargers. The Packers also created 11 turnovers - five interceptions (four by Willie Buchanon to tie a league record) and six fumble recoveries - in a 24-3 Green Bay victory.
NOTABLE CONNECTIONS
Packers LB Vic So'oto is a native of nearby Carlsbad, Calif., and attended Carlsbad High...So'oto is a second cousin of the late Junior Seau, who played for the Chargers from 1990-2002...Packers C/G Tommie Draheim attended El Capitan High in Lakeside, Calif., and played at San Diego State...Other California natives on Green Bay's roster include LB Desmond Bishop (Fairfield), WR Diondre Borel (Oakley), CB Jarrett Bush (Vacaville), C/G Evan Dietrich-Smith (Salinas), CB Davon House (Palmdale), WR James Jones (San Jose), LB Clay Matthews (Agoura Hills), QB Aaron Rodgers (Chico), CB Dion Turner (Oakland) and Marc Tyler (Westlake Village)...Packers secondary-safeties coach Darren Perry spent the 1999 season with the Chargers but did not play that season due to a neck injury…Packers scout Sam Seale played CB for the Chargers for four seasons (1988-91)…Chargers S Atari Bigby played six seasons for the Packers (2005-10)…Chargers LB Ricky Elmore was drafted by the Packers in the sixth round of the 2011 NFL Draft...Packers outside linebackers coach Kevin Greene played for the L.A. Rams when Chargers head coach Norv Turner coached on the staff there…Turner succeeded Packers head coach Mike McCarthy as offensive coordinator in San Francisco in 2006 after McCarthy was named head coach by the Packers…Packers CB Charles Woodson played for Turner in Oakland when he was the head coach of the Raiders from 2004-05…Packers defensive line coach Mike Trgovac coached on Turner's staff in Washington in 2000...Packers offensive coordinator Tom Clements and Chargers secondary coach Ron Meeks were teammates with the Hamilton Tiger-Cats in 1979...McCarthy coached with Chargers strength and conditioning coach Jeff Hurd in Kansas City...Chargers linebackers coach John Pagano coached in New Orleans with Clements and both were on the staff when Packers tight ends coach Jerry Fontenot played for the Saints…Chargers offensive line coach Mike Sullivan coached at the University of Miami when Packers asst. head coach/inside LBs Winston Moss played for the Hurricanes…Sullivan also coached at Western Michigan when Packers WR Greg Jennings was a senior there...Packers G Ray Dominguez and Chargers LB Darryl Gamble were teammates at Bainbridge (Ga.) High...Packers DE Lawrence Guy and Chargers WR Phillip Payne were teammates at Western High in Las Vegas.
SAVE THE DATE
Important dates to remember (all times CDT):
Thursday, Aug. 16 – Preseason game vs. Cleveland Browns, 7 p.m., Lambeau Field (Midwest Shrine Game)
Thursday, Aug. 23 – Preseason game at Cincinnati Bengals, 6 p.m., Paul Brown Stadium
Monday, Aug. 27 – Roster reduction to a maximum of 75 players by 3 p.m. (CDT)
Tuesday, Aug. 28 – Final practice open to public, 11 a.m., Nitschke Field
Thursday, Aug. 30 – Preseason game vs. Kansas City Chiefs, 6 p.m., Lambeau Field (Bishop's Charities Game)
Friday, Aug. 31 – Roster reduction to a maximum of 53 players by 8 p.m. (CDT)
Saturday, Sept. 1 – After 11 a.m. (CDT), clubs may establish a practice squad of eight players
Sunday, Sept. 9 – Regular-season opener vs. San Francisco 49ers, 3:25 p.m. (CDT)
As per team tradition, the Packers select game captains each week.
Tonight's captains will be QB Aaron Rodgers(offense), S Morgan Burnett (defense) and WR Randall Cobb (special teams).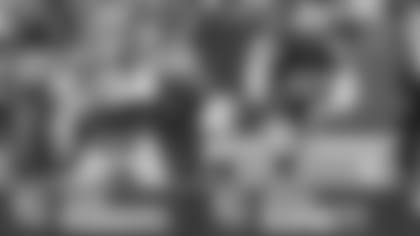 Tonight's officiating crew includes referee Donovan Briggans, umpire Dennis Angel, head linesman Lynn Lawhon, line judge Shannon Eastin, field judge Eric Joe, side judge Paul Caldera and back judge Mike Fischer.