PACKERS HOST CHIEFS IN PRESEASON FINALE
Green Bay welcomes Kansas City to Lambeau Field to close out the preseason slate with a game against the Chiefs tonight. It will be the first time since 2008 that the Packers have played at home in their preseason finale.
This will be the second straight season that the teams have squared off in the final preseason contest. Last year, Green Bay traveled to Arrowhead Stadium to take on the Chiefs on Sept. 2, a contest Kansas City won, 17-13.
The teams have met 12 times before in the preseason, with the Chiefs holding a 6-5-1 advantage. The last time the Packers hosted Kansas City at Lambeau Field during the preseason was on Aug. 8, 1992, a 21-14 Green Bay victory.
For Head Coach Mike McCarthy, it is a matchup against the team where his NFL coaching career started. McCarthy spent six seasons on the Chiefs' staff (1993-98), the first two as an offensive assistant/quality control coach and the final four as the quarterbacks coach. Thursday night will be the third time McCarthy has coached against Kansas City since taking over as head coach of Green Bay in 2006, with the other one in addition to last year's preseason contest coming in a regular-season game on Nov. 4, 2007, a 33-22 Packers win over the Chiefs at Arrowhead Stadium.
Ironically, McCarthy's very first game as an NFL coach was a preseason contest between the Chiefs and the Packers on Aug. 7, 1993, at Milwaukee County Stadium. Kansas City won, 29-21.
The Packers and Chiefs will meet during the regular season in Week 15 at Arrowhead Stadium, the latest in a season that Green Bay has ever paid a visit to Kansas City. The last time the teams met in both the preseason and regular season was in 2003.
Tonight marks another Green Bay preseason tradition: the Bishop's Charities Game. It was first played in 1961 after Vince Lombardi was approached by the Diocese of Green Bay about playing a charitable contest in Green Bay (the Shrine contest was a fixture in Milwaukee). The series enjoys its 51st contest this year and has raised more than $3.5 million.
The Packers are 26-23-1 all-time in the series. They will be playing Kansas City for the fourth time in the series, with the other meetings coming in 1978, 1979 and 1992.
NOTABLE CONNECTIONS
Packers Head Coach Mike McCarthy began his NFL coaching career in Kansas City, first as quality control/offensive assistant (1993-94) and later as QB coach (1995-98)...Packers VP of football administration/player finance Russ Ball began his NFL career with the Chiefs and went on to work 10 seasons there (1989-98), the first eight as an asst. strength and conditioning coach and the final two in football operations...Ball played center at Central Missouri St. when Chiefs DB coach Emmitt Thomas was on the coaching staff there...Ball also coached at Missouri when Chiefs quality control coach Otis Smith played for the Tigers…Thomas was the Packers' defensive coordinator in 1999, when McCarthy was Green Bay's QB coach...Thomas also coached in Atlanta with Packers cornerbacks coach Joe Whitt Jr. ...Packers VP of sales and marketing Tim Connolly spent seven seasons with the Chiefs (1989-95) as executive VP and chief operating officer...Packers asst. director of pro personnel Tim Terry (1999) and director of player development Rob Davis (1996) went to training camp as players with the Chiefs...Chiefs assistant head coach Maurice Carthon interviewed for the Packers' head-coaching job in 2006 when McCarthy was hired...Packers QB coach Tom Clements previously held the same post in Kansas City (2000) and also played quarterback for the Chiefs in 1980…Chiefs QB coach Jim Zorn played for the Packers in 1985…Chiefs LS Thomas Gafford spent the 2006 training camp and the 2008 offseason with Green Bay...Packers TE Tom Crabtree spent 2009 training camp with the Chiefs...Chiefs DT Anthony Toribio played in one game for the Packers in '09 and spent parts of 2008-09 on Green Bay's practice squad…Chiefs WR coach Richie Anderson and Packers safeties coach Darren Perry were teammates at Penn State...The two teams feature several former LSU standouts whose college careers crossed paths at different times. Those LSU alums are Chiefs WR Dwayne Bowe, DE Glenn Dorsey, DE Tyson Jackson, CB Travis Daniels and Packers QB Matt Flynn and FB Quinn Johnson; Jackson and Johnson have been friends and teammates since junior high in Edgard, La. ...Other former college teammates include Chiefs TE Tony Moeaki and QB Ricky Stanzi and Packers T Bryan Bulaga (Iowa), Chiefs RB Jamaal Charles and Packers TE Jermichael Finley (Texas), Chiefs P Dustin Colquitt and Packers C Scott Wells (Tennessee), Chiefs FB Mike Cox and Packers S Morgan Burnett (Georgia Tech), Chiefs DE Wallace Gilberry and Packers S Charlie Peprah (Alabama), Chiefs DL Allen Bailey and Packers CB Sam Shields (Miami), Chiefs OL Butch Lewis and LB Clay Matthews (USC), Chiefs LB Amara Kamara and Packers LB Elijah Joseph and DE Eli Joseph (Temple), Chiefs DB Jalil Brown and Packers LB Brad Jones (Colorado), and Chiefs CB Brandon Carr and Packers G/C Nick McDonald (Grand Valley State).
As per team tradition, the Packers select game captains each week.  
Tonight's captains will be C Scott Wells(offense), NT B.J. Raji (defense) and LS Brett Goode (special teams).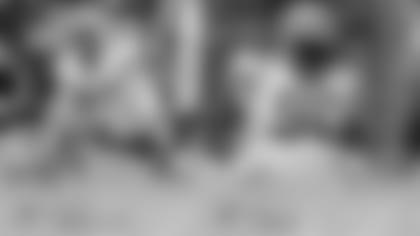 WEARING THE STRIPES
Tonight's officiating crew includes referee Mike Carey (94), umpire Chad Brown (31), head linesman Dana McKenzie (8), line judge Tim Podraza (47), field judge Mike Weir (50), side judge Boris Cheek (41) and back judge Kirk Dornan (6).