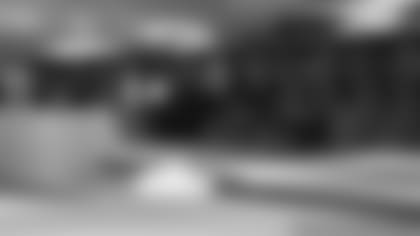 GREEN BAY—From Sunday afternoon through Sunday evening and into Monday morning, the Packers locker room went from a determined to a despondent to a nearly desolate place.
That's how quickly the end arrives in the NFL, and how it looks. Large plastic bags filled with belongings and keepsakes. Cardboard bins filling with the unwanted refuse.
In a span of a little over 18 hours, players begin with a resolute commitment to the cause, have to come to grips with heartbreak, and then must start cleaning both their lockers and their minds, not necessarily in that order.
On Monday, the Packers were looking back in a painful but prideful way.
"In December, the way we'd been playing, it was really not about how you start but how you finish," tight end Andrew Quarless said. "I think besides the loss, we finished pretty strong. We fought hard, man, every game."
That they did, and sooner rather than later the 2013 season will be remembered for the borderline miraculous run the Packers made to get into the playoffs – winning two dramatic second-half comebacks with backup QB Matt Flynn and then claiming the NFC North title as Aaron Rodgers returned in Chicago and threw his most memorable pass since Super Bowl XLV – rather than for how agonizingly the run failed to continue.
"People can ridicule our team from different aspects, but you go through what we've been though, (injuries) worse than 2010, and still come into the playoffs and lose by a field goal with a second on the clock, … " outside linebacker Mike Neal said. "I don't care what nobody says, that's a hell of a football team, and I'm proud of everybody for that."
Thoughts like that help with the hurt for some. For others, part of the processing is sticking to business, going through the post-mortem checklist, which includes meetings with coaches and a physical with the medical staff, that was printed out and sitting in each locker when the players arrived Monday.
"You just try and do what's on your sheet right here," fullback John Kuhn said. "I've got a (morning) exit interview with Coach Mike, so I'm going to do that, and then I have an exit interview with my position coach.
"I'm just going to go down my checklist and check them off, so reality won't set in until tomorrow or the next day probably."
The reality is the Packers missed opportunities in all phases of Sunday's loss to the 49ers. After taking the lead early in the fourth quarter, they allowed a 37-yard return on a perfectly placed kickoff that pinned the 49ers returner right at the pylon. They had a goal-to-go series later that produced only a game-tying field goal rather than a go-ahead TD. They had two third-and-longs on San Francisco's final drive, both after a potential interception couldn't be corralled.
"You feel the same way. I don't think it changes after, what, 18 hours," said cornerback Micah Hyde, the rookie who had that interception in his hands in San Francisco territory with just over four minutes left. "It's a tough loss, as a group.
"As an individual, I feel I should have made that play. Like I said, I've made that play a million times. I think if that play happened 100 more times, I think I catch that ball 100 times. That's going to happen. People make mistakes. I'll move on from it, and I guarantee I'll learn from it and I'll be a much better player because of it."
Whether the Packers will be a better team in 2014 due to what they endured in 2013, only time will tell. The faces will change, as they always do, and those possibilities will be discussed in the coming weeks and months.
In the immediate aftermath of experiencing the season's most exhilarating and most excruciating moments in one week's time, the summation is this: the Packers seized a chance that made the year memorable, but didn't maximize on that chance to make it special.
"Any opportunity that's missed is hard to swallow," cornerback Tramon Williams said. "We had a lot of instances where we can go back and say, ah, we should have had this or we should have had that, and we just didn't come up with it.
"At the same time, those opportunities are going to present themselves again. The Packers have built a team that's made for going to the playoffs, that's made (for) going for championships. We'll be in this situation again, and we just have to make the plays next time around."