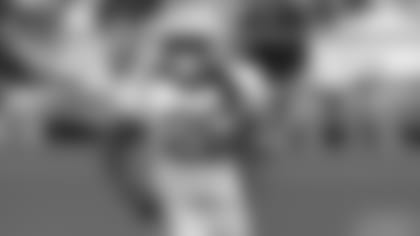 RB DuJuan Harris
GREEN BAY—Preseason weeks don't get more important than this one for the Packers.
That's the mentality evident in Mike McCarthy's words and tone of voice as the Packers prepare for their third preseason game of 2013.
Following a helmets-only practice that McCarthy was pleased with on Monday – so much so he lopped off the final period and ended things early – the head coach addressed a number of issues on his agenda for this week.
In a nutshell, he wants to see players get healthy, starting jobs seized and high-impact play from anyone who wants to be on the final roster.
"We're halfway there," McCarthy said, referring to two of four preseason games being in the books. "This game is important. We have a (roster) cut coming after this game. We improved as a team from Arizona to St. Louis, but we've got a lot of work to do."
Work started on Monday for cornerback Casey Hayward (hamstring), who was on the practice field for the first time in camp, albeit in a limited fashion. Same goes for defensive end Datone Jones (ankle) and tight end Andrew Quarless (quad), who returned from injury absences.
They were among the 15 players who missed the St. Louis game, a number McCarthy wants reduced for Friday's game with Seattle.
McCarthy is having the players practice in shells Tuesday. They won't put the pads on until Wednesday in hopes of giving those who have been banged up a better chance to play on Friday.
"You definitely need it," Hayward, Green Bay's top rookie from a year ago, said of game action. "Last season is in the past. I want to work on so many things to get better this year."
Rookie Micah Hyde and Davon House, who bounced back from a rough opener with a solid performance in St. Louis, have ratcheted up the competition at cornerback. The position has lost James Nixon (knee, ankle) for now, but Hyde has been so impressive he's adding punt-return duties this week.
Tight end remains competitive as well, with Brandon Bostick and D.J. Williams combining for five catches in St. Louis, though Matthew Mulligan (elbow) is now sidelined.
"We have two weeks left," said Quarless, who was out two weeks of camp after sitting out all last year due to injury. "I've missed quite a bit. That doesn't make me feel happy. Nothing is guaranteed. I have to get out there and produce and show them what I can do."
As for starting jobs, right tackle appears closer to being decided, with Don Barclay taking more and more of the snaps with the No. 1 offensive line ahead of Marshall Newhouse. McCarthy didn't declare the competition over, however.
A potential running back duel also awaits between Eddie Lacy and DuJuan Harris. Despite Lacy's standout showing in St. Louis, Harris took the first snaps with the top unit on Monday and ran with more speed and burst than last week as a limited participant coming off his knee injury. He's eager to get his first preseason action this week.
"I definitely tried to push it today," Harris said. "I feel a lot better than I did before.
"It's real important (to play), get those hits out of the way and get back in the groove of things."
From up and down the roster, McCarthy made it clear he's looking for players on both sides of the ball to show game-changing abilities. With a roster reduction to 75 players looming before the preseason finale, now is the time.
McCarthy lamented big-play opportunities that were missed in St. Louis. Deep seam passes by Aaron Rodgers and Vince Young that should have gone for touchdowns were off target, among other offensive miscues, and the defense got its hands on the ball a number of times aside from its three takeaways. Maximizing on those chances is what the head coach wants to see next.
"The efficiency of what we're trying to do – alignment, assignment, technique – we have improved, but this game in the National Football League is about making big plays," McCarthy said. "Big plays equate to scoring points on offense, and big plays equate to keeping the offense out of the end zone on defense, and that's the part, we're just not quite there yet."
When he sees that, McCarthy will know two things. First, that his team is truly ready for the regular season, and second, which players deserve the final roster spots.
"You get into this third week, don't be the guy that sits there and had a very high-efficient grade but had opportunities throughout the preseason to make impact plays and don't do it," McCarthy said. "That's what I'm looking for, from our whole football team." Additional coverage - Aug. 19