*Two years after he co-founded the Packers with Curly Lambeau, George Calhoun began writing a piece called The Dope Sheet, which served as the official press release and game program from 1921-24. *
*Honoring Calhoun, the first publicity director, the Packers are running this weekly feature as their release, which is being made available to fans exclusively on Packers.com. This is an abbreviated version of the Dope Sheet. To read the full version, download the PDF by clicking here. *
Here are some highlights from the Packers-Colts Week 5Dope Sheet:
GREEN BAY (2-2) AT INDIANAPOLIS (1-2)Sunday, Oct. 7 - Lucas Oil Stadium - Noon CDT
PACKERS VISIT COLTS FOR FIRST TIME SINCE 2004
Green Bay kicks off a stretch of three consecutive road games by visiting a Colts club coming off its bye, the Packers' first visit to Indianapolis since 2004.
It will be the Packers' first regular-season game at Lucas Oil Stadium, which opened in 2008. Green Bay played at the stadium during the 2011 preseason.
Sunday will mark just the fifth meeting between the teams over the past 21 seasons (1992-2012). The teams have split the four meetings since '92, with each club winning two games at home.
Those four contests were some high-scoring affairs, with the teams combining for 253 points, an average of 63.3 points per game.
The last meeting between the clubs came at Lambeau Field on Oct. 19, 2008, a 34-14 victory for the Packers.
This will be just the fourth visit to Indianapolis by the Packers since the Colts relocated there from Baltimore in 1984. Green Bay is 0-3 in Indianapolis. The Packers' last road victory against the Colts came on September 22, 1974, a 20-13 win at Memorial Stadium in Baltimore.
The Packers hold a 21-20-1 edge in the all-time series, which includes their 13-10 overtime win over the Colts on Dec. 26, 1965, in the Western Conference Championship at Lambeau Field, the first sudden-death game in Packers history.
Green Bay improved to 2-2 this season with a 28-27 win over New Orleans on Sunday at Lambeau Field. The Packers have won 19 of their last 22 regular-season games (.864), the best record in the league over that span.
It marked the Packers' first one-point win since a 21-20 victory over Tampa Bay at Lambeau Field on Nov. 4, 2001.
Following Sunday's contest against the Colts, Green Bay will travel to Houston and St. Louis for its next two games, the first time it has played three straight road contests since 1998 (Weeks 10-12).
The Packers and the Houston Texans (Weeks 12-14) are the only teams in the league with three consecutive road games on the 2012 schedule.
Including playoffs, Green Bay is 10-2 (.833) away from Lambeau Field over its last 12 games. The Packers have won seven of their last nine regular-season road contests.
Sunday's matchup features two of the most successful franchises in the league since the advent of free agency in 1993.
Green Bay leads the league with 14 playoff appearances since '93, with Indianapolis checking in tied for No. 2 with 13 appearances over that span. The franchises have combined for five Super Bowl appearances and three world titles during that period.
The Packers rank No. 2 in the NFL since '93 with a .636 winning percentage (196-112) during the regular season, trailing only New England (.649, 200-108), with the Colts coming in at No. 4 with a .577 winning percentage (177-130) over that span.
Since '93, the Packers have won 10 or more games 12 times and captured eight division crowns, while the Colts have posted 11 seasons with 10-plus wins and eight division titles. The Patriots (13) and Steelers (12) are the only other teams in the league with 11 or more 10-win seasons since 1993.
FOX Sports, now in its 19th season as an NFL network television partner, will broadcast the game to a regional audience.
Play-by-play man Thom Brennamanand color analystBrian Billick will have the call from the broadcast booth with Laura Okmin reporting from the sidelines.
Milwaukee's WTMJ (620 AM), airing Green Bay games since 1929, heads up the 53-station Packers Radio Network, with Wayne Larrivee(play-by-play) and two-time Packers Pro BowlerLarry McCarren (color) calling the action. The duo enters its 14th season of broadcasts together across the Packers Radio Network, which covers 44 markets in six states.
The broadcast is also available on Sirius Satellite Radio (Channel 92, WTMJ feed) as part of the network's NFL Sunday Drive.
DIRECTV subscribers can watch the game in HD on Channel 704.
 
THE DOPE ON THIS WEEK'S OPPONENT:
Packers vs. Indianapolis Colts:
All-time regular season:20-20-1
All-time postseason:1-0
All-time, in Indianapolis:0-3-0
Streaks:The teams have split their last six regular-season meetings, dating back to 1988.
Last meeting, regular season, in Indianapolis:Sept. 26, 2004, Colts won, 45-31
Mike McCarthy: 70-38-0, .648, (incl. 5-3 postseason); 7th NFL season
Bruce Arians:0-0-0, .000, 20th season as an NFL assistant coach
Head to Head:Never met
vs. Opponent:McCarthy 1-0 vs. Colts; Arians 0-0 vs. Packers
MIKE McCARTHY…Is in seventh year as the Packers' 14th head coach.
Joined Vince Lombardi and Mike Holmgren as the only coaches to guide the Packers to a Super Bowl title with a win over Pittsburgh in Super Bowl XLV.
Has led the Packers to playoff appearances in four of his six seasons as the helm, and the team's four postseason berths over the past five seasons are the most by an NFC team.
His .648 winning percentage (including playoffs) ranks No. 4 among active NFL coaches (min. 50 games).
One of only two coaches, along with New Orleans' Sean Payton, to have his offense ranked in the top 10 in total yardage each season from 2006-11.
Was named Packers head coach on Jan. 12, 2006, his first head-coaching job after 13 years as an NFL assistant.
Became the first Packers coach since Lombardi to lead the team to a championship game in his second season (2007).
 BRUCE ARIANS…Is coaching his first game as interim head coach.
Was named the team's offensive coordinator on January 31, 2012, after spending the previous eight seasons with the Pittsburgh Steelers (2004-11), including five as the offensive coordinator (2007-11).
In Pittsburgh, was part of teams that won three AFC North titles, two AFC Championships and one Super Bowl title.
Was instrumental in the development of QB Ben Roethlisberger, helping him become the second-youngest quarterback to win two Super Bowls.
Prior to joining Steelers, served as Cleveland's offensive coordinator for three seasons (2001-03). Also served as the quarterbacks coach in Indianapolis (1998-2000), the tight ends coach in New Orleans (1996) and the running backs coach in Kansas City (1989-92).
The rivalry dates back to 1953, when the Colts were in Baltimore and played the Packers twice per season from 1953-1966.
The most memorable game in that stretch came in the 1965 Western Conference Championship at Lambeau Field, won by the Packers 13-10 in overtime, the first sudden-death game in franchise history. Don Chandler's disputed FG at the end of regulation tied the game and led the NFL to raise the uprights the following year. 
The two clubs met just four times over a 20-year period (1992-2011), but staged two shootouts, both in Indianapolis, in that time. On Nov. 16, 1997, the Colts prevailed 41-38 on a FG at the end of regulation, handing the Packers their last loss that season until Super Bowl XXXII, vs. Denver. Then on Sept. 26, 2004, the Colts won again, 45-31, as Brett Favre and Peyton Manning combined for 753 passing yards and nine TDs.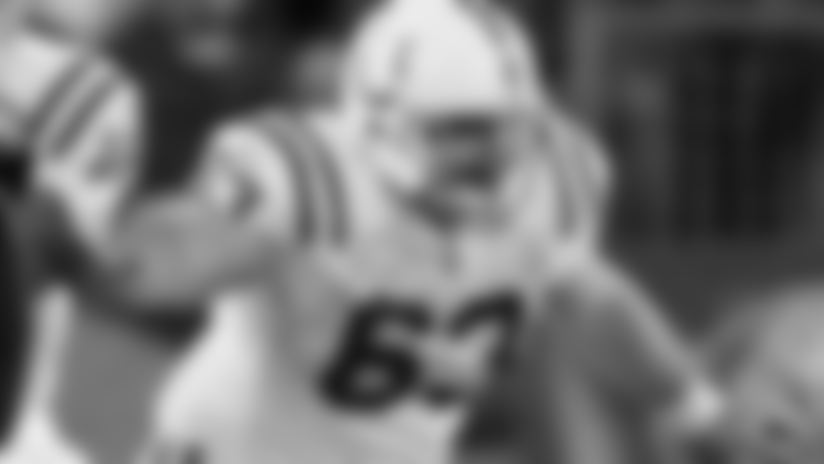 Packers C Jeff Saturday played 13 seasons for the Colts (1999-2011), earning Pro Bowl recognition five times with Indianapolis and finishing his career tied for No. 4 in franchise history with 197 games played…Packers P Tim Masthay entered the NFL with the Colts as a non-drafted free agent in 2009 and spent part of '09 training camp with Indianapolis…Packers DE Mike Neal was born in Gary, Ind., and attended high school in Merrillville, Ind. …Packers offensive coordinator Tom Clements was a three-year starter at quarterback for Notre Dame (1972-74) and was an assistant coach at the school from 1992-95…Packers strength and conditioning coordinator Mark Lovat played baseball at Butler University in Indianapolis…Packers pro scout Glenn Cook worked as a scouting assistant for the Colts from 2011-12…Colts CB Josh Gordy played in two games for the Packers in 2010…Colts head coach Chuck Pagano was Packers DB Charles Woodson's position coach in 2005 with Oakland, Woodson's final season with the Raiders…Colts offensive line coach Harold Goodwin was on the staff at Michigan when Woodson played for the Wolverines…Colts assistant special teams coach Brant Boyer played LB for the Jaguars when Packers defensive coordinator Dom Capers held the same position with Jacksonville in 1999-2000…Packers head coach Mike McCarthy coached on the staff in Kansas City when Colts defensive coordinator Greg Manusky played for the Chiefs…McCarthy and quarterbacks coach Ben McAdoo coached with Colts defensive line coach Gary Emanuel in San Francisco in 2005…Colts assistant offensive line coach Joe Gilbert was Packers G Josh Sitton's position coach for his first three seasons (2004-06) at Central Florida…Packers defensive line coach Mike Trgovac and Colts secondary coach Mike Gillhamer coached together on Carolina's staff from 2004-08…Packers assistant head coach/inside LBs Winston Moss and Colts tight ends coach Alfredo Roberts were teammates at the University of Miami; Pagano was a graduate assistant at Miami in 1986, Moss' senior season…Roberts also coached with Packers running backs coach Alex Van Pelt with Tampa Bay…Former college teammates include Packers T Bryan Bulaga, DE Mike Daniels and LB Dezman Moses and Colts LB Pat Angerer and G Seth Olsen (Iowa), Packers DT B.J. Raji and Colts T Anthony Castonzo (Boston College), Packers T Marshall Newhouse and Colts LB Jerry Hughes (Texas Christian), Packers LB Clay Matthews and Colts T Winston Justice and DE Fili Moala (Southern California), Packers RB Cedric Benson and Colts DE Cory Redding (Texas), and Packers G/T Don Barclay and Colts P Pat McAfee.
 LAST MEETING, REGULAR SEASON
Oct. 19, 2008, at Lambeau Field; Packers won, 34-14.
Safeties Nick Collins (62 yards) and Aaron Rouse (99 yards) both ran back interceptions for touchdowns as Green Bay won going away. 
QB Aaron Rodgers was an efficient 21-of-28 for 186 yards and a TD, a 12-yarder to TE Donald Lee early in the second quarter that gave the Packers the lead for good.
RB Ryan Grant carried the ball 31 times for 105 yards and a TD.
Colts QB Peyton Manning was 21-of-42 for 229 yards and the two INTs. RB Dominic Rhodes rushed for 73 yards and two TDs.
The Packers registered 30 first downs on Sunday vs. New Orleans, with 21 of those first downs coming through the air.
The 30 first downs recorded by Green Bay were the most since the Packers posted 31 first downs at Detroit on Nov. 12, 1989.
The 21 passing first downs are tied for the second most in a game in team history, trailing only the 22 first downs through the air by Green Bay vs. Minnesota on Nov. 11, 2007.
With the Saints recording 25 first downs on Sunday, the 55 combined first downs in the game were the fifth most in a Green Bay game in team history behind 59 combined first downs vs. Detroit (Jan. 1, 2012), 57 at Atlanta (Nov. 27, 1983), and 56 vs. Washington (Oct. 17, 1983) and vs. Arizona (Jan. 2, 2000).
Through Week 4, the Packers are tied for No. 7 in the league with 92 first downs on the season.
In 2011, the Packers ranked No. 5 in the league with 353 total first downs, the second most in a season in team annals behind only the 354 first downs recorded in 2004.
That included 230 passing first downs, the second most in a season in franchise history behind only the 235 through the air in 1995.