COWBOYS COME TO LAMBEAU FOR NFC SHOWDOWN
Two of the NFL's preeminent franchises square off in an afternoon contest at Lambeau Field.
Green Bay comes into the contest off a disappointing 38-28 loss in Tampa, its second loss in as many weeks.
It must rebound quickly if it hopes to remain among the NFC playoff hopefuls, and must do so against one of its old-time conference rivals.
After Vince Lombardi and Tom Landry turned it into one of the league's great rivalries, the Cowboys-Packers series reached another peak in the 1990s with some great playoff battles.
For the seventh time in the all-time series, the teams will square off at historic Lambeau Field, where the Cowboys won for the first time (1-5) in franchise history last season. Most notable among the Cowboys-Packers series at Lambeau Field was the 1967 NFL Championship, the famed 'Ice Bowl', widely considered the greatest NFL game of all-time.
2009 marks the third consecutive season the teams will meet, with both previous meetings won by the Cowboys. Though the Cowboys have taken 11 of the last 13 overall meetings, including three in the postseason, the all-time regular-season series remains close. Dallas owns a slight 12-10-0 advantage.
The Packers and Cowboys represent two of the proudest and most popular clubs in the NFL. They have combined for 17 NFL championships (Green Bay 12, Dallas 5) and eight Super Bowl titles.
Dallas comes into the game riding a four-game winning streak, most recently beating the Eagles 20-16 Sunday night in Philadelphia.
The Cowboys come in riding a longer streak when it comes to November games. It has won a league-best 13 of its last 15 games in the month, including a 13-1 record in games started by QB Tony Romo.
The NFL's longest-tenured stadium, Lambeau Field, is expected to host its 282nd consecutive sellout today against the Cowboys.
The 2008 home game against Dallas set a then-regular-season attendance record (71,113) before being surpassed this season by Minnesota (71,213).
Though 2-2 on the season at home, the Packers have won 15 of their last 22 regular-season games at Lambeau Field.
THE PACKERS-COWBOYS SERIES
In the 1967 NFL Championship, dubbed the 'Ice Bowl', kickoff temperature was recorded as 13 below zero with a minus-46 wind chill, the coldest game in league annals. Bart Starr's game-winning touchdown, a 1-yard dive with 13 seconds left, sealed Green Bay's third straight championship en route to its second consecutive Super Bowl title.
Green Bay won 10 of the first 15 in the series, which matched Tom Landry against Vince Lombardi - former assistants on the same New York Giants staff in the 1950s.
Though the Cowboys' win at Lambeau Field last year was their first ever in Green Bay in six tries (1-5 all-time), the series is just as one-sided in games played in Dallas. Green Bay has lost 12 of the last 13 games against the Cowboys in Dallas, including three postseason games. Their lone win during that time came on Christmas Eve in 1989, a 20-10 Packers victory.
The 2007 matchup marked the eighth time in league history that two 10-1 clubs met, just the second such instance since 1970.
As per team tradition, the Packers select game captains each week.
Today's captains will be WR Donald Driver (offense), CB Charles Woodson (defense) and K Mason Crosby (special teams).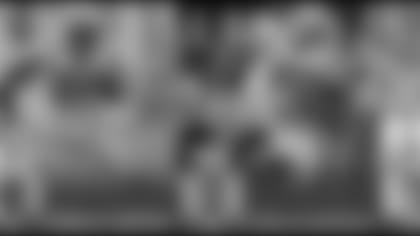 Today the Packers welcome back alumni Sean Jones and Chuck Mercein. Jones (defensive end, 1994-96) was an integral part of the Super Bowl XXXI championship defense, while Mercein (running back, 1967-69) took part in some legendary games under Head Coach Vince Lombardi, including the 1967 NFL Championship against Dallas (the 'Ice Bowl') and Super Bowl II. The pair will be introduced prior to player introductions.
Gymnast Carly Patterson, a 2004 Olympic gold medalist, will perform the National Anthem.
Over 200 local dancers will perform at halftime.
Today's officiating crew includes referee Jeff Triplette (42), umpire Bruce Stritesky (102), head linesman Steve Stelljes (22), line judge Mike Spanier (90), field judge Boris Cheek (41), side judge Dave Wyant (16) and back judge Steve Freeman (133).
With nine interceptions since 2008, ranks third among NFL safeties behind Baltimore's Ed Reed (11) and Pittsburgh's Troy Polamalu (10).
For his career, has hit 48-of-52 field goals from 39 yards-and-closer.
Has hit 17-of-24 field goals from 40-49 yards.
Has hit 7-of-15 field goals from 50-plus yards.
Has a reception in 119 consecutive games, besting the franchise's previous long streak of Sharpe's 103 (1988-94).
His 11 catches of 20-plus yards is tied for the NFL lead with Dallas' Miles Austin and New England's Randy Moss.
Has 10 100-yard games in his career.
When he gets 22 carries or more, the team is 9-1 (10-1 incl. playoffs).
Established a new career-high at Minnesota in Week 4 with 50 receiving yards.
Since 2006, ranks third in the NFL in sacks with 37.5 (Ware, DAL, 50.5; Allen, MIN, 48.0)
With 53 career sacks, is No. 4 on the team's all-time sacks list. Needs three more to move past No. 3 Tim Harris (55).
Has started 97 of the last 98 games, only missing the 2007 regular-season finale to rest for the playoffs.
In 24 career starts, has eclipsed a 100.0-plus passer rating 13 times.
Has six career 300-yard games and six 3-TD games.
Has 40 career interceptions, 23 in 54 games since coming to Green Bay in 2006. Woodson had 17 interceptions in 106 games with Oakland.
Is tied for second in interceptions in the NFL since 2006 with 23 (Asante Samuel - PHI, 25; Ed Reed - BAL, 23).
His five interception-return TDs since 2006 is the most in the league during that span.