PACKERS HOST COWBOYS IN PRIME-TIME SHOWDOWN
Green Bay (5-3) returns home to host the Dallas Cowboys (1-6) in a nationally televised contest tonight at Lambeau Field. It is the third time in the past four years that the teams have squared off in a prime-time matchup, and the fourth straight year they have met in the regular season.
The last time the teams met in four or more consecutive years in the regular season was from 1993-97.
It is the second straight Sunday night home game for the Packers, a first in franchise history.
Green Bay won the 2009 meeting, 17-7, at Lambeau Field on Nov. 15, and the victory proved to be one of the biggest of the season for a Packers team that entered the game with a 4-4 mark at the midway point. The win over Dallas was the springboard to a 7-1 finish for Green Bay on the way to an NFC Wild Card bid.
For the eighth time in the all-time series, the teams will square off at historic Lambeau Field, where the Packers hold a 6-1 edge. Most notable among the contests at Lambeau was the 1967 NFL Championship, the famed 'Ice Bowl', widely considered the greatest NFL game of all-time.
After Vince Lombardi and Tom Landry turned it into one of the league's great rivalries, the Cowboys-Packers series reached another peak in the 1990s with some memorable playoff battles.
Though the Cowboys have taken 11 of the last 14 overall meetings, the all-time regular-season series remains close, with Dallas owning a slight 12-11-0 advantage.
The Packers and Cowboys represent two of the proudest and most popular clubs in the NFL. They have combined for 17 NFL championships (Green Bay 12, Dallas 5) and eight Super Bowl titles.
Green Bay enters tonight's game having won seven of its last eight at Lambeau Field, and has a 22-8 mark (.733) in the last 30 regular-season games at home. That home record ranks No. 1 among NFC teams over that span.
Green Bay will enjoy its bye in Week 10, the latest bye the Packers have ever had. Since 1994, the Packers are 11-5 (.688) in the game heading into the bye.
NOTABLE CONNECTIONS
Wade Phillips first coached in the NFL as LB coach in Houston, where he coached Packers GM Ted Thompson, who played 10 seasons at LB (1975-84) for the Oilers...Thompson is a native of Atlanta, Texas, about 175 miles east of Dallas, and attended SMU...Packers LB Matt Wilhelm played for Phillips in San Diego when he was the defensive coordinator there and was a teammate of DE Igor Olshansky with the Chargers...Phillips and Packers asst. strength and conditioning coach Dave Redding coached on the San Diego staff together from 2004-06...Packers LB Erik Walden was a sixth-round pick of the Cowboys in 2008...Packers head coach Mike McCarthy and special teams coord. Shawn Slocum coached on the Univ. of Pittsburgh staff with Cowboys RB coach Skip Peete...Peete's father, Willie, coached on Green Bay's staff from 1987-91...Cowboys WR coach Ray Sherman spent five seasons in Green Bay (2000-04) at the same position...Cowboys QB Tony Romo is a Burlington, Wis., native, while OT Doug Free is from Manitowoc, Wis. ...Slocum was born in Bryan, Texas, and played at Texas A&M...Packers coaching administrator Curtis Fuller is a Tyler, Texas, native, while T/G Marshall Newhouse is a Dallas native. Both attended TCU...Among other Packers players, native Texans include K Mason Crosby (Georgetown), WR Donald Driver (Houston), QB Matt Flynn (Tyler), RB Dimitri Nance (Euless) and S Charlie Peprah (Plano).
TONIGHT'S CAPTAINS
As per team tradition, the Packers select game captains each week.
Tonight's captains will be TE Donald Lee (offense), CB Tramon Williams (defense) and S Anthony Smith (special teams).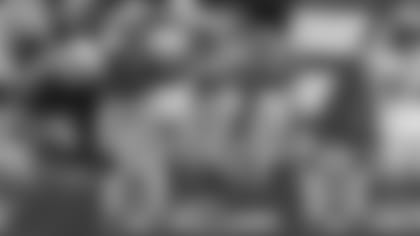 WEARING THE STRIPES
Tonight's officiating crew includes referee Walt Coleman (65), umpire Roy Ellison (81), head linesman Ed Camp (134), line judge Mike Spanier (90), field judge Greg Gautreaux (80), side judge Rick Patterson (15) and back judge Greg Yette (38).
32 BRANDON JACKSON
Needs 21 receiving yards to top his previous career high of 187 yards set in 2009. Already has surpassed his career high in rushing yards, and enters tonight's game with 418 yards on the ground this season.
85 GREG JENNINGS
Has posted 288 receiving yards in the past three games, good for No. 2 in the NFL over that span behind only Denver WR Brandon Lloyd (289).
86 DONALD LEE
Needs two receptions to move past Rich McGeorge (175) and into the No. 5 spot on the team's all-time tight ends list.
52 CLAY MATTHEWS
Enters the game with a league-high 9.5 sacks this season. Could become the first Packer in team history since the statistic became official in 1982 to register a double-digit sack total in each of his first two seasons.
38 TRAMON WILLIAMS
Has posted an interception in three of the past four games.
GREEN BAY PACKERS
The Packers have posted six takeaways in the last six quarters of play, and have forced 17 turnovers in their last six regular-season games at Lambeau Field.
The Packers have scored points off a takeaway in 14 straight games at Lambeau Field, the longest current home streak in the NFL.