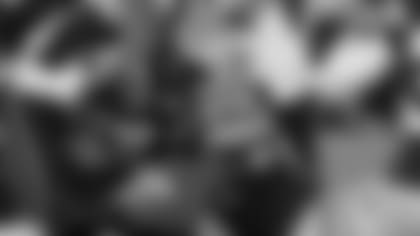 LB Sam Barrington
GREEN BAY—Every week of late, Dom Capers seems to throw a new wrinkle into this Packers defense.
After the bye, he moved Clay Matthews to inside linebacker part-time and Micah Hyde to nickel corner.
Against the Vikings, Brad Jones reappeared as the dime linebacker.
For the Patriots game, Sam Barrington joined Matthews as the inside linebackers in the nickel and was alongside A.J. Hawk in the base defense, with Matthews sliding back outside in that package.
Every move has made an impact to some degree, and it has kept the Packers defense from getting stale.
Some might ask why so many variations haven't been used in past seasons, but the answer is simple. Capers has more options at his disposal now than perhaps he's ever had in his six years as Green Bay's defensive coordinator, and he has more options because the injury list is shorter than it's often been.
"One thing is we're healthier probably right now than we've been at this point in years past, and I think when we're healthy, you can do more things from a personnel standpoint, more personnel groups," Capers said.
Having healthy, capable options is what allowed the Packers to move Matthews around in the first place. With Julius Peppers, Nick Perry and Mike Neal good to go at outside linebacker, Capers could experiment after the bye to help the struggling run defense.
Perry missed one game with a shoulder injury but was back this past week for a handful of snaps, allowing Matthews to continue roaming. That's been one of the only injury blips thus far at outside linebacker, a linchpin position in Capers' scheme.
Contrast that with a year ago in the playoffs, when Matthews was out, Perry was playing hobbled, Peppers wasn't here and the former lineman Neal – finishing his first year at a new spot – plus rookie Andy Mulumba both got hurt during the game.
The latest move inside with Barrington paid immediate dividends. On New England's first series, Barrington stopped running back Shane Vereen two yards short of the first down on second-and-4 and then stood up the bruising LeGarrette Blount at the line of scrimmage on third down, forcing a punt.
Later in the game, Barrington pressured Tom Brady on one play and deflected his pass on another. He finished with five tackles and Mike McCarthy referred to Barrington as a player "starting to hit his stride."
His development, and availability, gave the Packers another run-stopping option for their nickel and base defenses had the Patriots tried to line up and play smash-mouth football the way they did two weeks earlier against the Colts.
Two games ago, when Jones returned to the field against the Vikings in the dime, he effectively chased down QB Teddy Bridgewater on some scrambles. Then the dime linebacker role went to Matthews against the Patriots because Brady wasn't a threat to run, but Matthews was a good option in that look to cover tight end Rob Gronkowski over the middle, if necessary.
"Based off of what our opponent's doing, you'll see different personnel groups and different people will be involved in those, and it can change one week to the next based off of your injury situation, who's available," Capers said. "The purpose is to try to get your best 11 people against who they put out there in the matchups."
That's why Matthews can't be defined strictly as an inside or outside linebacker. It's also why playing Hawk only in base defense last week doesn't necessarily mean he's being phased out of the nickel.
More variations could appear this week against a Falcons offense that could be getting receiver Roddy White back from injury but no longer has retired tight end Tony Gonzalez.
Capers doesn't have to defend different teams in similar ways if he doesn't want to. He has choices, because he has more players to choose from. Hyde's move from safety to nickel corner was a direct reflection of rookie Ha Ha Clinton-Dix's play, with another slot corner in Casey Hayward ready when needed.
It's all part of the evolution of this year's defense, which Capers believes can keep getting better in this final month of the regular season.
"Guys start to get a little bit better feel for what you're doing, and you start to get a little bit better feel of what the capabilities are of your guys," he said.
"We've got to continue to press on and find a way to improve."