GREEN BAY – Stop Jordan Howard.
The phrase might as well have been printed on shirts and handed out to the Packers' defense as the team entered Soldier Field on Sunday.
Throughout the week, film review showed what the statistics read. As much publicity as the switch to rookie quarterback Mitch Trubisky has received, the heart and soul of the Bears' offense remains Howard and the ground game.
Understanding everything the Bears wanted to do offensively starts with the second-year running back, Green Bay put together one of its best performances of the season in holding Chicago's sixth-ranked rushing offense to only 55 yards on 17 carries (3.2 average) in a 23-16 victory.
It led to the Packers tripling the Bears on the ground, as Green Bay ran the ball a season-high 37 times for 160 yards and a touchdown despite losing its top two running backs, Aaron Jones and Ty Montgomery, in the first half to injury.
Sturdy run defense set the table for the Packers' best pass-rushing day of the season – five sacks and seven quarterback hits – and holding Chicago to 4-of-14 in third-down situations, a point of emphasis for Green Bay following last Monday's 30-17 loss to Detroit.
"That's how you win games," defensive tackle Kenny Clark said. "You've got to stop the run and put them in long-passing situations and get after the passer and get off the field. As far as stopping the run and putting them in those third-and-6s and third-and-7s and being able to rush the passer … I think it was the most complete rush-team performance for us. We were working off each other and playing off each other really well today."
Green Bay's defense was a lightning rod for criticism after Monday's loss to the Lions, but the unit played with energy and aggression from the start in holding Howard to minus-5 yards on his first three carries.
While the Packers were without hybrid safety Morgan Burnett, Chicago's run-oriented offense paired nicely with Green Bay's need to run more of its traditional base and nickel defense to defend Howard.
Howard managed to squeak out for two lengthy gains – 14 yards in the first quarter on second-and-20 and 25 on a second-quarter attempt – but otherwise found little room to work with.
The Packers' pass rush took care of the rest. Linebacker Nick Perry sacked Trubisky three times, including twice in three plays in the second half, with Mike Daniels and Davon House also finding their way to the quarterback.
"That's what you expect to do, especially when a team is so one-dimensional, and force them at times to take shots. You have to take advantage of that," said linebacker Clay Matthews, who had a tackle for a loss, pass deflection and quarterback hit. "I thought we did a great job. I thought guys were really flying around and creating a lot of pressure, knifing in there and being disruptive overall, not only in the run game but the pass rush as well."
Unable to establish the run early, Chicago punted on three of its first five possessions. The Bears threatened Green Bay's end zone once in the first half before a Benny Cunningham goal-line dive was ruled a fumble and touchback upon further review when he lost control of the football as it touched the pylon.
As high as Chicago is on Trubisky – the second pick in the 2017 NFL Draft – the blueprint for defenses so far this season has been to force him to throw. The Bears have won both of the games in which he's thrown fewer than 20 passes and are still looking for their first win when he's been over that marker.
"We knew if we could apply pressure, if we can get the coverage good on the back end, all those things complemented each other," Perry said. "He got caught looking downfield sometimes rather than seeing what was up front and we were able to create a lot of pressure."
Next back up: One week after scoring his first NFL touchdown, rookie running back Jamaal Williams received his first extensive playing time after injuries to Aaron Jones and Ty Montgomery during the first half Sunday.
The rookie fourth-round pick responded with a gritty effort on the ground in rushing for a team-high 67 yards on 20 carries, all of which came in the second half.
His 3.4-yards per carry average tell only a small part of the story, as Williams' production in short-yardage situations played heavily in the Packers shutting the door on Chicago.
Perhaps his biggest run came when he picked up four yards on fourth-and-1 from the Chicago 49 with 55 seconds left in the third quarter and the Packers leading 13-6.
It was one of four first-down runs in the final 16 minutes of the game.
"I feel like that's my type of running style is downhill," Williams said. "I feel like I can be versatile, too – agile and do all the other things I need to do to get outside the tackles and try to take it for a touchdown. These type of games, you've got to pound it, get those first downs and really just have that pride with your linemen that you can get the first downs, no matter what."
The Packers lost Jones in the first quarter to a knee injury but received an early spark from Montgomery. The third-year running back ripped off a season-long 37-yard run for a touchdown early in the second quarter and was on pace for a big day (six carries for 54 yards) before leaving with a rib injury.
The Packers didn't forsake the game plan without their top two backs. Instead, they turned to Williams, who carved out the tough yards when the offense needed them the most.
"I guess he was third-string but it speaks a lot to him and his preparation," left tackle David Bakhtiari said. "He was able to come in and knew what to do. Mentally he was ready and physically he was ready. That's something that you want to see."
Kicking game: Mason Crosby knocked a season-high three field goals through the uprights, including a 50-yard make at the start of the fourth quarter.
However, it was Crosby's lone miss that stuck with the Packers' kicker.
Green Bay had a chance to put away Chicago with a 35-yard attempt with 1:07 left, but a bobbled snap disrupted the operation and Crosby's kick sailed wide right to leave the Packers' lead at 23-16.
It ultimately had no bearing on the outcome as the Packers' defense stopped Chicago on four consecutive plays. "We had some important kicks throughout the game," Crosby said. "We needed that one and we've got to be able to at least put it on me to knock it through. That's their job – snap, hold, protect, and everything there and my job is to knock it through. If I attempt it, I should make it. But that one was pretty difficult."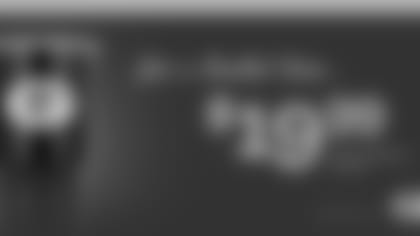 Just $19.99 with in-store purchase!