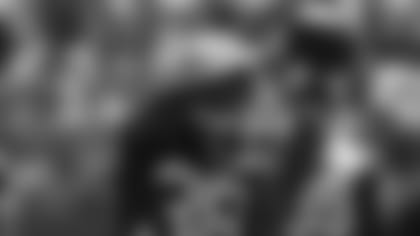 CB Tramon Williams
GREEN BAY—Mike McCarthy may have made his promise about being a better defense right after the draft, but the buy-in from his veteran players appears to have little or nothing to do with the Packers' four defensive selections in early May.
That's not to say the elder statesmen on the team's defense are discounting the impact first-round pick Ha Ha Clinton-Dix might make, for instance, but it means they've seen evidence from the start of the offseason program in April that the defense is headed in a different direction.
They've seen the acquisition of Julius Peppers, the biggest free-agent splash by the Packers since 2006. They've seen Clay Matthews, Nick Perry and Casey Hayward, among others, recovering from injuries that limited them significantly a year ago. They've seen Micah Hyde lining up at safety, B.J. Raji moving back to the nose, and the scheme being tweaked in meetings and on the practice field.
Veteran players won't be fooled by talk. They'll believe what they see, and what they see through the first week of OTAs is a defense that will live up to McCarthy's words.
"I feel as excited as Mike is," cornerback Tramon Williams said. "I feel very confident, just like he said, and for great reason."
The greatest reason is Peppers, who already has made a strong first impression in his new surroundings.
The 6-7, 287-pound playmaker is switching from defensive end to outside linebacker, but he has few doubts about the transition, and neither do his defensive mates. Linebacker A.J. Hawk noted that back in college Peppers didn't just play Division I basketball (as well as football), he played for North Carolina, one of the premier hoops programs in the nation.
That type of athleticism is still present more than a dozen years later.
"How old is he? 34? He runs like he's 18," Hawk said. "If there's ever a genetic freak that was put on this planet, it's Julius. Just a specimen.
"We're going to send him off the bus first. He looks good coming off the bus. What a big, impressive guy."
Added Williams: "No one's built like him."
A former Carolina Panther and Chicago Bear, Peppers said one major factor that attracted him to Green Bay was the prospect of playing alongside another top-notch pass rusher in Matthews.
In the first three seasons of Peppers' career, Carolina's Mike Rucker recorded double-digit sack seasons as the Panthers built a formidable defense. The pairing with Matthews, a perennial Pro Bowler, could be something else altogether.
"I haven't ever played with a dominant guy like him," Peppers said. "To see how we can make something happen, that'll be interesting."
Count Matthews among the curious as well.
"It's going to present some difficulties for the offense to not only block the two of us but other guys who have stepped up in recent history – Mike Daniels, Mike Neal, (they're) coming on strong, and the addition of some new rookies," said Matthews, who did not participate in the first week of OTAs while rehabbing his twice-broken thumb. He's planning to be ready for training camp.
"It should be a whole new pass rush this year, so I'm looking forward to it."
As is Raji, who didn't find the free-agent market to his liking but said he accepted Green Bay's one-year offer to return in part because he believes these Packers are built to win.
Raji also said McCarthy was very up front with him about utilizing him on defense differently than the past couple of years, and perhaps it wasn't entirely coincidental that Peppers' new deal was finalized the day after Raji re-signed.
"Defense goes back to attitude, desire and pursuit," Raji said. "The coaches have done a good job of honing in on areas we lacked, and the players have bought in to what we're trying to do. The sky's the limit for us."
Similar words have been heard since the Packers defense bottomed out a year after the Super Bowl XLV triumph, but there's more reason to believe them because this offseason wasn't similar.
The veteran players definitely noticed.
"I think the way it's gone, how we haven't got it done in the playoffs, especially the last couple years, there has to be a sense of urgency and a sense to find a way to get it right," Hawk said.
"We're not going to win the Super Bowl right now, not in May, but you can definitely take a step back, and we don't want to do that. We want to be going forward."