PACKERS RETURN HOME TO HOST DOLPHINS
Green Bay returns home today to host the Miami Dolphins in the first matchup between the teams at Lambeau Field since 2002.
This is only the Dolphins' fifth visit to Green Bay in their team history, with the other meetings taking place in 1975, 1985, 1997 and '02. The teams also met in Milwaukee in 1994.
The most recent meeting between the teams was in Miami on Oct. 22, 2006, a 34-24 Packers' win in Mike McCarthy's first season as head coach.
The Dolphins hold a 9-3 advantage in the all-time series, but Green Bay has won three of the last four matchups.
Today's contest starts a stretch of three home games in four weeks for the Packers before they have their bye. Green Bay enters the game with a six-game home winning streak, which matches the longest winning streak at Lambeau (2007-08) during McCarthy's tenure. It is the longest current home streak among NFC teams, and third longest in the NFL behind New England (11) and San Diego (7).
McCarthy, who is also the offensive play-caller, will be facing an opposing coach he worked under for the second straight week. Mike Nolan, who was the head coach of San Francisco in 2005 when McCarthy served as the offensive coordinator there, is Miami's defensive coordinator. Last Sunday, Green Bay played at Washington, where Jim Haslett is the defensive coordinator. Haslett was the head coach in New Orleans for each of McCarthy's five seasons there (2000-04) as offensive coordinator.
Green Bay will host the division-rival Minnesota Vikings next Sunday at 7:20 p.m. (CDT) in a nationally televised contest, while the Dolphins will return home to host the Pittsburgh Steelers next Sunday at noon (CDT). NOTABLE CONNECTIONS
Packers TE Donald Lee was a fifth-round draft choice by the Dolphins in 2003 and played two seasons in Miami (2003-04)...Packers defensive coordinator Dom Capers had defensive-coordinator responsibilities for two seasons with the Dolphins, holding the titles of special asst. to the head coach (2006) and defensive coordinator (2007) in Miami...Packers asst. head coach/inside LBs Winston Moss is a Miami native and was a four-year letterman at the University of Miami…Miami defensive coordinator Mike Nolan was the head coach of the San Francisco 49ers when Mike McCarthy was their offensive coordinator in 2005...McCarthy and Dolphins head strength and conditioning coach Evan Marcus coached on the staff together in New Orleans from 2000-02, and Dolphins RB Ricky Williams played for the Saints when McCarthy was on the staff there…Packers TE coach Ben McAdoo also served on Nolan's staff in San Francisco in 2005...Packers defensive line coach Mike Trgovac and Dolphins head coach Tony Sparano served on Washington's staff together in 2001, and Trgovac also coached with Dolphins offensive coordinator Dan Henning in Carolina...Dolphins S Tyrone Culver was a sixth-round draft choice of the Packers in 2006... Packers CB Sam Shields was a four-year letterman at the University of Miami...Packers CB Pat Lee is a Miami-area native, along with fellow DBs Al Harris and Atari Bigby (both on PUP).
As per team tradition, the Packers select game captains each week.
Today's captains will be RB Brandon Jackson (offense), NT B.J. Raji (defense) and CB Tramon Williams (special teams).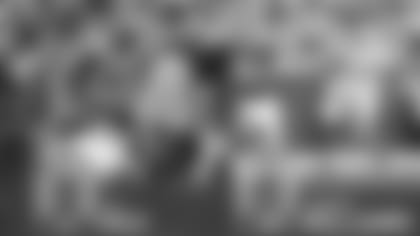 WEARING THE STRIPES
Today's officiating crew includes referee Ed Hochuli (85), umpire Chad Brown (31), head linesman Mark Hittner (28), line judge Tom Symonette (100), field judge Craig Wrolstad (4), side judge Ron Torbert (62) and back judge Don Carey (126).
The Packers Women's Association is teaming up with Festival Foods for the 24th Annual Food Drive for Paul's Pantry prior to today's game. This year's
effort is headed by co-chairwomen Laura Hawk, wife of Packers linebacker A.J. Hawk, and Jen Zimmerman, fiancé of fullback Korey Hall.
At the game prior to kickoff, PWA members will collect non-perishable food items and cash donations in the stadium parking lot and at the gates. Each PWA member will be wearing the jersey of her husband or significant other, or a PWA jersey. Food items can be placed in bins located throughout the Lambeau Field parking lot.
Overall, in 23 years of conducting the food drive, the PWA has collected approximately 603,200 non-perishable food items and $226,069 for Paul's Pantry, a supplementary food distribution program for the needy in the greater Green Bay area.
WHAT TO WATCH FOR
By appearing in today's game, will move into a tie with TE Ed West and LS Rob Davis for the No. 7 spot for most games played in team history with 167.
Enters game with a streak of 132 games with at least one reception (138 including postseason), the longest streak in franchise history. Ranks third among active NFL players behind Pittsburgh's Hines Ward (182) and Atlanta's Tony Gonzalez (152).
GREEN BAY PACKERS
Have scored points off a takeaway in 12 straight games at Lambeau Field, the longest current home streak in the NFL.
Dating back to last season, have posted 13 takeaways in their last four games at home.
Have not allowed an opposing RB to rush for 100 yards in 18 straight games, the longest current streak in the league and the longest in team annals since an 18-game streak from Oct. 1, 1972-Oct. 21, 1973.