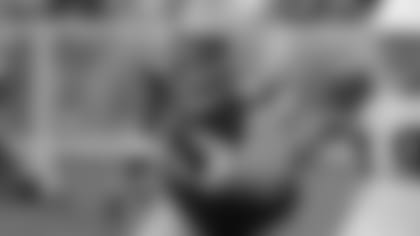 RT Don Barclay
GREEN BAY—Offensive lineman Don Barclay ended his rookie season last year in the Packers' starting lineup, and he's pushing to get back there in year two.
After an otherwise rough night for the offense in getting blanked by Arizona, Mike McCarthy on Saturday singled out Barclay for his solid performance at right tackle. Barclay alternated series at that spot with Marshall Newhouse into the third quarter of Friday's game in an ongoing competition for the starting role.
"I thought Barclay was clearly one of the top performers of the game for us," McCarthy said. "When we went through the grading, we didn't grade out very well as a football team. We graded out poorly as an offense, but I thought Don Barclay's performance was clearly one of the brighter spots in last night's game."
McCarthy didn't specifically address Newhouse's play, but the fourth-year pro was cleanly beaten around the edge by defensive end John Abraham in the second quarter, leading to a sack and fumble by quarterback Graham Harrell.
Newhouse started at left tackle the past two seasons but was switched to right tackle this year, and he has stayed there despite Bryan Bulaga's season-ending knee injury. Rookie fourth-round pick David Bakhtiari has stepped into Bulaga's spot at left tackle, with Newhouse and Barclay battling it out on the right side.
Barclay worked his way into the starting lineup late last season, opening the final four regular-season games and both playoff contests at right tackle. But he was off to a rather slow start in camp this year while also trying to play center, a new position. It appears his play at tackle has sharpened up since being allowed to focus more specifically on that spot.
"He plays the right way," McCarthy said. "He was assignment sound, did an excellent job of finishing, and won a majority of the blocks in his pass sets."
Elsewhere on the offensive line, McCarthy also was pleased with the effort from right guard T.J. Lang, who had missed Thursday's practice with a sore back. McCarthy said he would be "smart" with Lang this week, suggesting he may cut back his reps in practice due to his back.
The only other injury mentioned was Datone Jones' ankle, which forced the rookie first-round pick to leave the game after one snap. There was no update, other than that Jones was undergoing more tests.
The Packers' running game and secondary were tested against the Cardinals with less-than-desirable results.
McCarthy fed the running backs 26 carries, which produced just 70 yards, a 2.7 average.
"The attempts were there. It wasn't clean," McCarthy said. "On some of those runs, you've got two dominant blocks and you have a guy that misses a block, or the read's not exactly right.
"It wasn't consistent enough. We didn't have enough plus-5-yard runs."
Only three of the 26 rushes by backs gained more than 4 yards. James Starks had 7- and 8-yard runs, but just 23 yards on his other 10 carries. Alex Green also had an 8-yard run, but just 8 yards on his other six tries.
The big plays were being turned in by the Cardinals, specifically through the air and after the Packers' two turnovers. One snap after a Harrell interception, Arizona quarterback Carson Palmer fired a 38-yard TD pass, and three snaps after Harrell's fumble, Drew Stanton's 36-yard completion set up the Cardinals' other TD.
"Really, the big negative for the defense was the adversity defense," McCarthy said. "After both turnovers, it turned into 14 points."
Cornerback Davon House, who missed the offseason program due to shoulder surgery, was victimized on both deep balls despite solid work in practice.
House has been starting in the base defense along with Sam Shields in part due to injuries to Tramon Williams and Casey Hayward. McCarthy believes House will bounce back.
"Obviously we'd like to see him play better, and he will play better," McCarthy said. "Guys coming off injuries, it's different out there. They made a couple plays on him, and he's just got to respond and keep playing. You have to have a short memory as a corner. That's life in the NFL."
With no points and only one kickoff, the Packers got no closer to making a decision at kicker, prompting McCarthy to announce that the competition between Mason Crosby and Giorgio Tavecchio would get ramped up in practice.
"You try to be smart with those guys and don't overkick them in camp, but their volume is definitely going to pick up, because we need more information," McCarthy said. "Both kickers need more opportunities."