Video director Bob Eckberg, who has worked for the Green Bay Packers for the last 32 seasons, has informed the club of his decision to retire. Chris Kirby,* *who is entering his 23rd season with the Packers, has been named the team's new video director. The announcements were made Wednesday by Executive Vice President, General Manager and Director of Football Operations Ted Thompson.
"On behalf of the Packers, we want to sincerely thank Bob for his contributions to our team over the past 32 seasons," Thompson said. "He has been a loyal and hardworking employee. As the second video director in the history of the club, there have been many changes in his field over time and he has managed it all seamlessly. Bob's experience and his ability to manage his department will be missed. We would like to wish Bob, his wife Terri and his family the best in retirement."
A Green Bay native, Eckberg started working for the Packers in the early 1970s. He was part of an organization that won 11 division titles, three conference championships and two Super Bowls. The Packers also made the playoffs 18 times during that span.
Eckberg began his career with the Packers while working in the photo department of WBAY-TV, where he helped process all of the Packers' game film. In 1974, he started shooting end-zone-angle coaching film for home games. Eckberg was named the assistant video director for the Packers in 1982 after the club purchased the film-lab setup from WBAY. He held that position until 2001, when he was promoted to be the club's video director.
During his career, Eckberg was instrumental as the Packers have transitioned from film, to videotape, to the current digital technology that allows players and coaches to watch film anywhere on their iPads, laptops and other mobile devices.
Kirby has served as the Packers' assistant video director since 2001. He originally joined the Packers as an intern in 1992 before being hired full time as a video assistant in January 1993. Over the past two decades, Kirby has played a key role in helping the Packers transition through three major format and software upgrades to NFL video.
In addition to Kirby, Andy Muckerheide, who is entering his 14th season, has been promoted to assistant video director, and Mike Halbach, who is entering his 11th season, has been promoted to manager of football technology. Nick Goddard was hired as the Packers' new video assistant.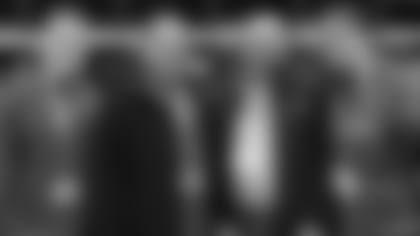 Halbach, Kirby, Eckberg and Muckerheide in the Packers' Super Bowl XLV locker room in North Texas