GREEN BAY—Are you ready to learn about some football?
That's what elementary school students around the state of Wisconsin can do with the help of Kristen Broderick, the education coordinator for the Packers Hall of Fame.
Through the Center for Interactive Learning and Collaboration, Broderick conducts a class that covers several basics about the sport of football and the Packers, including terminology, safety, equipment and history.
Connecting via videoconference, Broderick recently conducted a session with two classes of fourth graders from the northern Wisconsin town of Florence, her fourth class since the program launched in September 2012.
The program is still in its infancy and will continue to be adjusted based on feedback and the age group targeted, but Broderick believes the "e field trip" to learn about football and the Packers will start to catch on.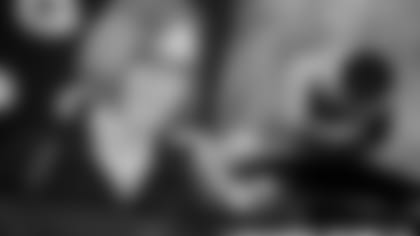 "I think it's got a lot of potential," said Broderick, a former elementary school teacher and Lambeau Field tour guide whose knowledge of the Packers is quite extensive.
Part of Broderick's program involves a video featuring Packers strength and conditioning coordinator Mark Lovat discussing and demonstrating three spinal stability exercises that football players do regularly.
Broderick gets right down on her floor mat and does the exercises with the students, who get a kick out of doing the same exercises professional football players do, no matter how challenging.
"I think they like that exercise part, even though they're groaning," Broderick said, referring to the Florence students counting out the tough stretches. "Anytime you can get them active, that seems to work the best."
The exercises tie into the main theme of the presentation, which is safety. Spinal stability is critical to player safety, as is the proper equipment, which is covered in another video with Bryan Nehring, an assistant equipment manager for the Packers.
The equipment discussion traces the evolution of equipment as it has become safer, from mask-less leather helmets and wool shoulder pads to the technologically advanced gear of today.
"We want them to be safe with whatever they're doing," Broderick said. "Be prepared, wear the proper equipment, do things correctly. There's a reason you want to do that."
Broderick also throws in a few nuggets about nutrition, such as mentioning that in the Packers team dining room, there is no soda available to the players. The importance of staying hydrated while playing and exercising is emphasized, too.
"You have to make sure you eat well in order to do well," Broderick said.
Her office is at Lambeau Field, but Broderick conducts the class at UW-Green Bay, connecting remotely to students through the BadgerNet Converged Network.
"It's different than being there, because you're on a screen," she said. "That has made it a little difficult to get into the swing, but the more we have of this, the easier it will become. It'll become second nature."