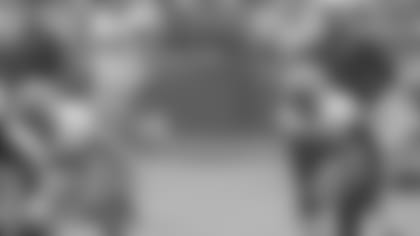 RB DuJuan Harris (26) could make his preseason debut on Friday vs. Seattle.
GREEN BAY—Mike McCarthy waited until Wednesday this week before putting the pads on his players in an effort to give those on the injury list a better chance to play on Friday night.
While he may achieve that goal, he wasn't thrilled with the final on-field preparation he witnessed at Ray Nitschke Field.
"We were in shells yesterday for a reason, we were in pads today for a reason," said an agitated McCarthy following practice. "We didn't take full advantage of the opportunity to get ready to play."
McCarthy didn't delve into specifics, but he was likely referring to the energy and intensity of practice, with the players not having worn pads since last Friday night in St. Louis. Other than a half-line running drill midway through practice, there wasn't much hitting, and during the scout-team work the players appeared to practice as though they weren't in pads.
Quarterback Aaron Rodgers returned from a one-day illness and looked "fine," according to McCarthy, but kicker Mason Crosby's struggles returned for the first time since Family Night. Crosby missed three straight field goals, wide right twice from 42 yards and wide left from 44, in going just 2-for-5 overall.
"It's not a good day," McCarthy said. "He didn't have a good day, probably like a lot of other guys didn't have a good day today. There's plenty of that to go around."
The coach's discontent aside, a host of players practiced in hopes of making their preseason debuts on Friday against the Seahawks. That list includes five potential pass-catchers in tight ends Andrew Quarless and Ryan Taylor and receivers Randall Cobb, Kevin Dorsey and Charles Johnson.
Johnson practiced for the first time since the opening two days of camp. Having originally gotten hurt on the second day of OTAs in the spring, Johnson has hardly seen the field since being drafted in the seventh round and would be a long shot to play in a game this soon, though McCarthy didn't rule it out.
Cobb began the workout in pads but took them off midway through and still may not play due to his bicep injury. "I've made progress," he said. "I'm getting better."
Cornerback Casey Hayward has been on the field only in limited fashion for a few days, leaving his game status uncertain, while additional action for first-round pick Datone Jones could be on hold as well. Jones, who rolled his ankle on his one and only snap in the preseason opener, left practice on Wednesday after apparently re-injuring the same ankle.
The player who appears most ready to officially knock the rust off is running back DuJuan Harris, who has now practiced for two weeks but sat out last week's game as a precaution with his knee.
"He looks like he's fully recovered," McCarthy said. "He's sharp in his assignments. He needs technical work like all the young guys do.
"I thought he looked good today, just from what I saw. I thought he ran the ball hard. He practiced the way you're supposed to. He was one of the guys that went about it the right way."
While the starters generally play at least the first half in the third preseason game, McCarthy suggested that may not be the case against Seattle.
With so many players trying to get in a game for the first time and two roster reductions looming in the next nine days, McCarthy referred to this third preseason game as having "more moving parts" than it typically would. He has spoken often this week about "needing more information" in order to make roster decisions.
"It's important for these individuals who have this opportunity Friday night to play against excellent competition; they need to play well," McCarthy said. Additional coverage - Aug. 21