Later this week, the Green Bay Packers will welcome another rookie class to their roster through the NFL Draft, held April 26-28 in Arlington, Texas.
Armed with 12 selections, the Packers will have plenty of opportunities to add more talent and depth to their roster. All picks are eligible to be traded.
Green Bay enters the draft with a pick in every round, including two selections in the fourth, sixth and seventh rounds and three selections in the fifth round.
It is the most picks the Packers have entered the draft with since 2012 when Green Bay entered the draft with 12 picks and ended up making eight selections.
The event will begin in prime time on Thursday night, with Round 1 on April 26 beginning at 7 p.m. CT.
Rounds 2-3 also will be held in prime time, beginning on Friday, April 27, at 6 p.m. CT. Rounds 4-7 will complete the draft on Saturday, April 28, starting at 11 a.m. CT.
Teams will have 10 minutes in between selections in the first round and seven minutes between each choice for Round 2. Rounds 3-6, including compensatory picks, will allow up to five minutes in between picks and Round 7, including compensatory picks, will allow four minutes. A look at where Green Bay currently stands in the draft order: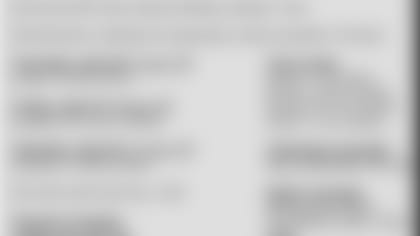 GUTEKUNST LEADS PACKERS IN FIRST DRAFT AS GM
Gutekunst spent his first 13 seasons with Green Bay as a college scout, serving as an East Coast regional scout for two years (1999-2000) before switching to the Southeast region (2001-11).
During his first 13 drafts with the Packers, Gutekunst was part of a personnel department that drafted Pro Bowlers, including WR Donald Driver (seventh round, 1999), who is the team's all-time leading receiver, T Chad Clifton (second round, 2000), DE Kabeer Gbaja- Biamila (fifth round, 2000), who is second in franchise history (since 1982) in sacks, WR Javon Walker (first round, 2002), DE Aaron Kampman (fifth round, 2002), C Scott Wells (seventh round, 2004), QB Aaron Rodgers (first round, 2005), S Nick Collins (second round, 2005), LB A.J. Hawk (first round, 2006), who is the leading tackler in franchise history, WR Greg Jennings (second round, 2006), WR Jordy Nelson (second round, 2008), G Josh Sitton (fourth round, 2008), DT B.J. Raji (first round, 2009), LB Clay Matthews (first round, 2009), who is the franchise leader in sacks, WR Randall Cobb (second round, 2011) who was also selected to the All- Rookie Team by Pro Football Weekly/PFWA.
Gutekunst was promoted to director of college scouting in 2012, a position he served in through 2015. Over that time period, Green Bay selected Pro Bowlers DT Mike Daniels (fourth round, 2012) who ranks No. 2 among Packers defensive tackles in sacks (since 1982), T David Bakhtiari (fourth round, 2013), who became the first Green Bay rookie to start every game at LT since the league went to a 16-game slate in 1978 and has been selected All-Pro second-team by The Associated Press in 2016 and 2017, RB Eddie Lacy (second round, 2012), who was named the NFL's Offensive Rookie of the Year by AP, S Ha Ha Clinton-Dix (first round, 2014), who was named to PFWA's All-Rookie team, and WR Davante Adams (second round, 2014). During that time, the Packers also drafted LB Nick Perry (first round, 2012), who ranks No. 3 in franchise postseason history with seven sacks and CB Casey Hayward (second round, 2012), who led all NFL rookies with six INTs in 2012 and became the first Packers CB to be named to the All-Rookie Team by Pro Football Weekly/PFWA since the team was first selected in 1974.
In 2016-17, Gutekunst served as director of player personnel and the last two drafts have been highlighted by the addition of DT Kenny Clark (first round, 2016), who finished No. 4 on the team with 78 tackles (39 solo) last season and set a record for sacks in December (since 1982) by a Packers DT with 4.5, LB Blake Martinez (fourth round, 2016), who ranked No. 1 on the team with 158 total tackles (107 solo) last season, and RBs Jamaal Williams (fourth round, 2017) and Aaron Jones (fifth round, 2017), who became the first Packers rookie duo to both register 400-plus rushing yards in a season. They were also the first two Green Bay rookie running back duo since Buckets Goldenberg and Bob Monnett in 1933 to each have three-plus rushing touchdowns.
A LOOK INTO THE DRAFT ROOM
General Manager Brian Gutekunst heads up the football operations, and he and Green Bay's coaches are known to Packers fans. But working with Gutekunst is a talented and experienced player personnel staff.
Members of the personnel staff have spent months, if not years with some prospects, studying for the 2018 NFL Draft. They visit schools throughout the season, attending practices, dozens of games and pro days in the spring. In each area, they have formed relationships with high school and college coaches, trying to get a better idea of who the person is, not just the football prospect.
Working closely with Gutekunst year-round is Director of College Scouting Jon-Eric Sullivan (15th NFL season), Director of Pro Personnel John Wojciechowski (23rd NFL season), West Regional Scout Sam Seale (23rd NFL season) and Senior Advisor to Football Operations Ted Thompson (27th NFL season).
Members of the scouting department include college scouts Alonzo Dotson (sixth NFL season), Joe Hueber (fourth NFL season), Matt Malispina (21st NFL season), Mike Owen (seventh NFL season), Charlie Peprah (third NFL season), and Charles Walls (sixth NFL season), pro scouts Chad Brinker (ninth NFL season), Richmond Williams (11th NFL season) and Luke Benuska (third NFL season), scouting assistant Brandian Ross (second NFL season), and college scouting coordinator Danny Mock (31st NFL season).
ANALYZING THE PICKS SINCE 2005
Total Picks: 121 
Offense: 64     
Defense: 56   
Specialists: 1
Quarterback (6): Aaron Rodgers (2005-1), Ingle Martin (2006-5a), Brian Brohm (2008-2b), Matt Flynn (2008-7a), B.J. Coleman (2012-7b), Brett Hundley (2015-5a)
Running Back (9): Brandon Jackson (2007-2), DeShawn Wynn (2007-7a), James Starks (2010-6), Alex Green (2011-3), Eddie Lacy (2013-2), Johnathan Franklin (2013-4c), Jamaal Williams (2017-4b), Aaron Jones (2017-5b), Devante Mays (2017-7a)
Fullback (3): Korey Hall (2007-6a), Quinn Johnson (2009-5a), Aaron Ripkowski (2015-6a)
Tight End (7): Clark Harris (2007-7), Jermichael Finley (2008-3), Andrew Quarless (2010-5a), D.J. Williams (2011-5), Ryan Taylor (2011-7a), Richard Rodgers (2014-3b), Kennard Backman (2015-6c)
Wide Receiver (18): Terrence Murphy (2005-2b), Craig Bragg (2005-6b), Greg Jennings (2006-2b), Cory Rodgers (2006-4a), James Jones (2007-3a), David Clowney (2007-5), Jordy Nelson (2008-2a), Brett Swain (2008-7b), Randall Cobb (2011-2), Charles Johnson (2013-7a), Kevin Dorsey (2013-7b), Davante Adams (2014-2), Jared Abbrederis (2014-5b), Jeff Janis (2014-7), Ty Montgomery (2015-3), Trevor Davis (2016, 5), DeAngelo Yancey (2017-5a), Malachi Dupre (2017-7b)
Tackle (12): Tony Moll (2006-5b), Breno Giacomini (2008-5), T.J. Lang (2009-4), Jamon Meredith (2009-5b), Bryan Bulaga (2010-1), Marshall Newhouse (2010-5b), Derek Sherrod (2011-1), Andrew Datko (2012-7a), David Bakhtiari (2013-4a), JC Tretter (2013-4b), Jason Spriggs (2016-2), Kyle Murphy (2016-6)
Guard (7): William Whitticker (2005-7b), Daryn Colledge (2006-2a), Jason Spitz (2006-3b), Allen Barbre (2007-4), Josh Sitton (2008-4b), Caleb Schlauderaff (2011-6a), Kofi Amichia (2017-6)
Center (2): Junius Coston (2005-5a), Corey Linsley (2014-5a)
Defensive End (12): Michael Montgomery (2005-6a), Dave Tollefson (2006-7), Jeremy Thompson (2008-4a), Jarius Wynn (2009-6a), Mike Neal (2010-2), C.J. Wilson (2010-7), Lawrence Guy (2011-7b), Jerel Worthy (2012-2a), Datone Jones (2013-1), Josh Boyd (2013-5b), Khyri Thornton (2014-3a), Dean Lowry (2016-4b)
Defensive Tackle (7): Johnny Jolly (2006-6a), Justin Harrell (2007-1), B.J. Raji (2009-1a), Mike Daniels (2012-4a), Christian Ringo (2015-6b), Kenny Clark (2016-1), Montravius Adams (2017-3)
Linebacker (18): Brady Poppinga (2005-4b), Kurt Campbell (2005-7a), A.J. Hawk (2006-1), Abdul Hodge (2006-3a), Desmond Bishop (2007-6b), Clay Matthews (2009-1b), Brad Jones (2009-7), D.J. Smith (2011-6b), Ricky Elmore (2011-6c), Nick Perry (2012-1), Terrell Manning (2012-5), Nate Palmer (2013-6), Sam Barrington (2013-7c), Carl Bradford (2014-4), Jake Ryan (2015-4), Kyler Fackrell (2016-3), Blake Martinez (2016-4a), Vince Biegel (2017-4a)
Cornerback (11): Mike Hawkins (2005-5b), Will Blackmon (2006-4b), Pat Lee (2008-2c), Brandon Underwood (2009-6b), Davon House (2011-4), Casey Hayward (2012-2b), Micah Hyde (2013-5a), Demetri Goodson (2014-6), Damarious Randall (2015-1), Quinten Rollins (2015-2), Kevin King (2017-2a)
Safety (8): Nick Collins (2005-2a), Marviel Underwood (2005-4a), Tyrone Culver (2006-6b), Aaron Rouse (2007-3b), Morgan Burnett (2010-3), Jerron McMillian (2012-4b), Ha Ha Clinton-Dix (2014-1), Josh Jones (2017-2b)
Kicker (1): Mason Crosby (2007-6c)
DRAFT PICKS BY SCHOOL
Where have the 121 Packers draft picks gone to school? Note: Power 5 schools are those in the ACC, Big 12, Big Ten, Pac-12 and SEC.
Power 5: 81
UCLA 5, California 4, Iowa 4, Arizona State 3, Colorado 3, LSU 3, Louisville 3, Stanford 3, Texas A&M 3, Alabama 2, Auburn 2, Boston College 2, Michigan State 2, Mississippi State 2, North Carolina State 2, Ohio State 2, Oklahoma 2, Purdue 2, Southern California 2, Texas Christian 2, Virginia Tech 2, Wisconsin 2, Arizona, Arkansas, Baylor, Florida, Florida State, Georgia, Georgia Tech, Indiana, Kansas State, Kentucky, Maryland, Michigan, Nebraska, North Carolina, Northwestern, Penn State, Rutgers, South Carolina, Tennessee, Texas, Utah, Vanderbilt, Washington, Wake Forest
Non-Power 5: 40
Brigham Young 2, Boise State 2, Fresno State 2, San Diego State 2, South Florida 2, Utah State 2, Alabama-Birmingham, Albany, Appalachian State, Bethune-Cookman, Buffalo, Central Florida, Cincinnati, Cornell, East Carolina, Eastern Michigan, Furman, Grand Valley State, Hawaii, Illinois State, Louisiana-Lafayette, Maine, Miami (Ohio), Missouri Southern State, Nevada, New Mexico State, North Carolina A&T, Northwest Missouri State, Saginaw Valley State, San Jose State, Southern Mississippi, Tennessee-Chattanooga, Texas-El Paso, Western Michigan
First Round (12):Defensive tackle (3), linebacker (3), tackle (2), cornerback, defensive end, quarterback, safety
Second Round (18):Wide receiver (5), cornerback (4), defensive end (2), running back (2), safety (2), guard, quarterback, tackle
Third Round (12):Linebacker (2), safety (2), tight end (2), wide receiver (2), defensive end, defensive tackle, guard, running back
Fourth Round (20):Linebacker (5), tackle (3), cornerback (2), defensive end (2), guard (2), running back (2), safety (2), defensive tackle, wide receiver
Fifth Round (20):Tackle (4), wide receiver (4), cornerback (2), quarterback (2), tight end (2), center, defensive end, fullback, guard, linebacker, running back
Sixth Round (20):Linebacker (4), cornerback (2), defensive end (2), defensive tackle (2), fullback (2), guard (2), kicker, running back, safety, tackle, tight end, wide receiver
Seventh Round (19):Wide receiver (5), defensive end (3), linebacker (3), quarterback (2), running back (2), tight end (2), guard, tackle