PACKERS HEAD TO ATLANTA FOR NFC DIVISIONAL MATCHUP
For the second straight week, the Packers (11-6) will go on the road for a postseason game that is a rematch from the regular season, this time an NFC Divisional contest against the Atlanta Falcons (13-3) at the Georgia Dome.
Green Bay traveled to Atlanta in Week 12, a 20-17 Falcons win that ended on a 47-yard Matt Bryant field goal in the closing seconds.
Last Sunday, the Packers beat the Eagles, 21-16, as Green Bay joined the 1981 N.Y. Giants as the only team to win twice at Philadelphia, including playoffs, in the same season.
It was the Packers' first road postseason win since a 23-10 victory at San Francisco in the 1997 NFC Championship on Jan. 11, 1998.
Tonight's game will be the third postseason matchup between the Packers and Falcons and the first ever in Atlanta. The teams have met twice before in NFC Wild Card games at Lambeau Field, the first on Dec. 31, 1995, and the other on Jan. 4, 2003. Green Bay won the '95 contest, 37-20, while the Falcons won the more recent matchup, 27-7.
It will be just the third meeting between the teams in Atlanta in the past 18 seasons. Green Bay's Week 12 visit was the first since 2005, but prior to that the most recent game there was on Oct. 4, 1992.
The all-time series is deadlocked at 13-13, which includes the two playoff meetings (1-1).
Tonight will mark the first time since 1993 that the Packers have played two postseason road contests in a season (at Detroit and at Dallas). That was also the only other time in franchise history that Green Bay played road games against two teams in the regular season and postseason.
The Falcons were 7-1 at the Georgia Dome this season, their lone defeat coming to New Orleans in Week 16 on the way to a 13-3 record and the No. 1 seed in the NFC. Atlanta's home record of 20-4 (.833) since 2008 is the best in the conference and No. 2 in the NFL behind only New England (21-3, .875).
Atlanta is 2-0 in postseason games at the Georgia Dome and 3-1 all-time at home in the playoffs, with the most recent contest coming against the St. Louis Rams on Jan. 15, 2005, in an NFC Divisional playoff.
POSTSEASON SUCCESS
Green Bay's 26th postseason berth in team history marks the franchise's 13th appearance in the last 18 seasons and the third in the past four years under Head Coach Mike McCarthy.
Tonight will be the second NFC Divisional contest for the Packers in the past four seasons. Green Bay is 4-5 all-time in the Divisional round.
The Packers' 26 playoff appearances rank tied for No. 4 in NFL history behind only the N.Y. Giants and Dallas (30 each) and Cleveland/L.A./St. Louis Rams (27).
Green Bay's win at Philadelphia last Sunday was its 26th in the postseason, third most in NFL history. The Packers are now tied with San Francisco and Oakland for the most playoff victories behind Dallas (33) and Pittsburgh (31).
The Packers own the league's third-best postseason winning percentage (.619, 26-16) among NFL teams behind Baltimore (.643, 9-5) and Pittsburgh (.620, 31-19), who face off today.
Green Bay is 4-3 this season against 2010 playoff teams, with three of its wins coming on the road (Philadelphia, Week 1 and NFC Wild Card; N.Y. Jets, Week 8). The Falcons are also 4-3 on the year against '10 playoff teams.
The Packers (2007, 2009, 2010) are one of only two teams in the NFC to advance to the postseason in three of the past four seasons, with the Eagles (2008-10) the other team to do so.
Since realignment in 2002, the Packers are tied for No. 2 in the NFC (with Seattle) with six playoff appearances behind only Philadelphia (seven).
NOTABLE CONNECTIONS
Packers WR coach Jimmy Robinson held the same post with the Falcons from 1990-93...Packers CB coach Joe Whitt Jr. broke into the NFL coaching ranks as a DB assistant for the Falcons in 2007...Packers S Charlie Peprah spent part of the 2009 season with Atlanta, appearing in two games for the Falcons...Packers RB Dimitri Nance was on Atlanta's practice squad before joining the Packers in Week 2 this season...Packers LB Clay Matthews' father, Clay Jr., played three seasons for Atlanta (1994-96)...Packers FB Quinn Johnson and Falcons WR coach Terry Robiskie are cousins...Falcons DB coach Tim Lewis was a first-round draft pick by the Packers in 1983 and played four seasons in Green Bay before his career was cut short due to a neck injury...Packers LB Erik Walden is native to Dublin, Ga., southeast of Atlanta in the central region of the state...Packers CB Josh Gordy is from Sandersville, Ga. ...Falcons TE Tony Gonzalez's first two NFL seasons were in Kansas City with McCarthy on the Chiefs' offensive coaching staff...Atlanta QB Matt Ryan and Green Bay NT B.J. Raji were teammates at Boston College and top-10 first-round draft picks in successive years (Ryan '08, Raji '09).
As per team tradition, the Packers alternated game captains each week during the regular season. For the postseason, the team elected captains.
Players' elected captains were WR Greg Jennings and QB Aaron Rodgers (offense), LB A.J. Hawk and CB Charles Woodson (defense) and CB/S Jarrett Bush and K Mason Crosby (special teams).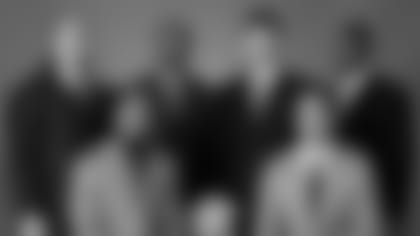 WEARING THE STRIPES
Tonight's officiating crew includes referee John Parry (132), umpire Dan Ferrell (64), head linesman Derrick Bowers (74), line judge Tom Barnes (55), field judge Scott Edwards (3), side judge Keith Washington (7) and back judge Perry Paganelli (46).
WHAT TO WATCH FOR IN THE POSTSEASON
A win would give the team its 27th in the postseason, third most in NFL history. Green Bay is currently tied for No. 3 with San Francisco and Oakland for the most all-time behind Dallas (33) and Pittsburgh (31).
80 DONALD DRIVER
Ranks No. 4 in team history with 517 receiving yards in the postseason, 17 yards behind No. 3 Carroll Dale (534).
Has played in more playoff games (10) in a Green Bay uniform than anyone else on the team.
52 CLAY MATTHEWS
With a sack tonight, would become the first player in franchise history (since 1982) to register a sack in each of his first three NFL postseason games.
12 AARON RODGERS
His seven TD passes in his first two playoff starts set an NFL postseason record, topping the mark of six held by five other QBs.
Is the only QB in NFL history to post a 120-plus passer rating in each of his first two playoff starts, and his career postseason rating of 121.8 ranks No. 1 in NFL postseason history (min. 50 attempts).
Ranks No. 3 in franchise postseason history in career passing yards (603), TDs (seven), completions (46) and attempts (69). His 66.7 completion percentage ranks No. 1 in team annals.
21 CHARLES WOODSON
With 11 career games played, leads the team in postseason experience. Four of those contests have been with Green Bay while the other seven were with Oakland.