PACKERS HEAD TO ATLANTA FOR NFC SHOWDOWN
In a matchup of two teams on four-game winning streaks, the Packers (7-3) travel to Atlanta to face the NFC-leading Falcons (8-2).
The four-game winning streaks that both teams enter today's game with are the longest current ones in the NFL, along with New Orleans and the N.Y. Jets.
It will be the second straight road contest for the Packers coming out of their bye after Green Bay traveled to division-rival Minnesota last Sunday. It is the sixth time in franchise history that the Packers have played dome games in back-to-back weeks.
The Packers beat the Vikings, 31-3, with the three points allowed matching the Green Bay franchise record for the fewest points ever given up at Minnesota in the 50-year history of the series (Nov. 14, 1971). The victory gave the Packers a season sweep of the Vikings for the first time since 2007, and improved the team's record to 4-1 under Head Coach Mike McCarthy in games immediately following the bye.
Last Sunday's victory improved the Packers to 3-1 in the NFC North this season, and 20-8 (.714) in divisional games under McCarthy. That record is No. 1 among NFC North teams and No. 3 in the NFL since 2006.
Green Bay handed the Vikings just their second home loss in their last 14 games at Mall of America Field, but the road test gets even tougher today in Atlanta.
The Falcons are tied with New England for the best regular-season home record in the NFL since 2008 at 18-3 (.857), and have won six straight at the Georgia Dome. Atlanta (5-0) is the only NFC team that hasn't lost at home this season.
The Packers have had some success away from Lambeau Field of late, winning six of their last nine (.667) regular-season road contests.
Today's contest is the second part of a stretch where the Packers will play four road games in five weeks, the first time they have done so since 2007 (Weeks 12, 13, 15, 16).
It will be just the second meeting between the teams in Atlanta in the past 18 seasons. Green Bay traveled to Atlanta in 2005, a 33-25 Packers win, but prior to that, the most recent game in Atlanta was on Oct. 4, 1992.
The Packers hold a slight advantage in the all-time series, possessing a 13-12 edge, which includes two playoff meetings (1-1).
STREAKING AT THE RIGHT TIME
After back-to-back overtime losses to Washington and Miami in Weeks 5-6 put them at 3-3, the Packers have responded with four straight wins, two of those coming against NFC North-rival Minnesota as well as a shutout road win at the N.Y. Jets and a 45-7 win vs. Dallas.
It is the second straight season that the Packers have had a four-game winning streak (five games in 2009), and the fifth winning streak of four or more games in Head Coach Mike McCarthy's five-year tenure in Green Bay.
The Packers have outscored their opponents 85-10 over the past three games, with the 10 points allowed being the fewest given up by Green Bay over a three-game span since Nov. 10-24, 1974, when the Packers also allowed 10 points.
The last NFL team to accomplish that feat was the 2005 New England Patriots, who gave up 10 points over three games from Dec. 4-17.
After leading the NFL in turnover differential last season at plus-24, the Packers have been especially prolific in that area of late. Over the past 14 quarters of play, Green Bay has a plus-12 turnover differential (12 takeaways, 0 giveaways).
NOTABLE CONNECTIONS
Packers WR coach Jimmy Robinson held the same post with the Falcons from 1990-93...Packers CB coach Joe Whitt Jr. broke into the NFL coaching ranks as an assistant defensive backs coach for the Falcons in 2007...Packers S Charlie Peprah spent part of the 2009 season with Atlanta, appearing in two games for the Falcons...Packers RB Dimitri Nance was on Atlanta's practice squad before joining the Packers in Week 2 this season...Packers LB Clay Matthews' father, Clay Jr., played three seasons for Atlanta (1994-96)...Packers FB Quinn Johnson and Falcons WR coach Terry Robiskie are cousins...Falcons secondary coach Tim Lewis was a first-round draft pick by the Packers in 1983 and played four seasons in Green Bay before his career was cut short due to a neck injury...Packers LB Erik Walden is native to Dublin, Ga., southeast of Atlanta in the central region of the state...Packers DE Jarius Wynn is from Lincolnton, Ga., and played at the University of Georgia.
TODAY'S CAPTAINS
As per team tradition, the Packers select game captains each week.
Today's captains will be QB Aaron Rodgers (offense), S Charlie Peprah (defense) and CB/S Jarrett Bush (special teams).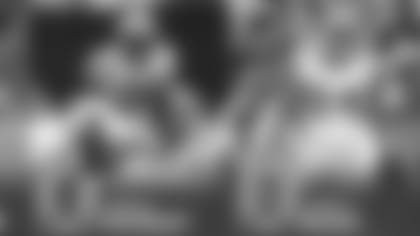 WEARING THE STRIPES
Today's officiating crew includes referee Pete Morelli (135), umpire Ruben Fowler (71), head linesman George Hayward (54), line judge John Hussey (35), field judge John Lucivansky (89), side judge Don Carlsen (39) and back judge Rob Vernatchi (75).
With 12 rushing yards, would become first Packers RB since Ahman Green in 2006 to post 500 rushing yards/200 receiving yards in the same season.
Needs two receptions to eclipse his career high of 30 in 2008.
85 GREG JENNINGS
Has caught six or more passes in each of the past five games, the longest streak of his career and the longest by a Packer since WR Sterling Sharpe posted six-plus receptions in 12 straight games (1993).
In the last five games, has posted 32 receptions for 520 yards (16.3 avg.) and six touchdowns.
12 AARON RODGERS
Has thrown for 2,255 passing yards, 17 TDs and just four INTs on 172-of-261 passing (65.9 percent) in eight career dome starts. His 108.3 passer rating indoors since 2008 ranks No. 1 in the league among NFL quarterbacks over that span.
Has not thrown an interception in his last 112 passing attempts.
GREEN BAY PACKERS
Green Bay ranks tied for No. 1 in the NFL in scoring defense at 14.6 points per game. The Packers have given up 11.8 points per game on the road, which ranks No. 1 in the league.
The Packers are No. 1 in the NFL with 87 points off of takeaways this season, and rank tied for No. 5 in the NFL with a plus-8 turnover differential.
The Packers have not turned the ball over in three straight games, the first time a Green Bay team has accomplished that feat since 1963. The last turnover came in the second quarter at Minnesota in Week 7, a streak of 14 straight quarters without a giveaway.
Under Head Coach Mike McCarthy, the Packers have a 10-3 regular-season record in domes. That .769 winning percentage since 2006 is No. 1 in the NFL among teams with at least eight road dome games.
Since Week 10 last season, the Packers are 14-4 (.778), the best regular-season record in the NFL over that span.