GREEN BAY – There are under-the-radar prospects, and then there's Marc-Antoine Dequoy.
The defensive back and Montreal native was one of 15 undrafted rookies the Packers signed immediately after last month's draft, but that barely begins to tell his tale.
He's a 25-year-old who didn't play any football games in three of his first four post-high school years before becoming a decorated collegiate player north of the border.
He practiced all week in January at the East-West Shrine Bowl with a cast on his broken forearm, which prevented him from getting medical clearance to play in the game.
He became just the second player in the history of his school, the University of Montreal, to hold a pro day, where he showed off eyebrow-raising speed and athletic ability despite battling bronchitis at the time.
That's not all of a backstory that may be hard to believe, but anyone looking for an against-all-odds hopeful to root for, look no further.
"To be honest with you, six months ago I think nobody in the NFL knew who I was," said Dequoy, a native French speaker, using more than passable English in a phone interview with packers.com.
"I'm the underdog of the underdogs."
Dequoy didn't even know Green Bay was interested in him until a couple of weeks before the draft. His agent, Sasha Ghavami, said that's when he first heard from the Packers, who he believes initially noticed Dequoy in the East-West Shrine practices and followed up when they saw his pro-day results.
In early March, with two NFL teams in attendance (Bears and Eagles) and less than a week before various pandemic-related shutdowns went into effect, Dequoy clocked a blazing 4.35-second time in the 40-yard dash and a 6.65 in the three-cone drill. He also recorded a 37-inch vertical and 10-foot, 8-inch broad jump.
All those numbers would have ranked in the top-five range among all defensive backs at the NFL Scouting Combine, yet Dequoy spent a week and a half after his pro day laid up in bed considerably ill with some sort of respiratory flu (not the coronavirus).
"It's rare to see that," Ghavami said of the athleticism, let alone at less than full strength. "He was able to showcase that and get his opportunity.
"The good teams do their homework, and I feel the Packers did theirs on Marc."
Dequoy credited adrenaline and his own imperviousness to pressure for the pro-day performance. Apparently, attention and big stages only fuel him. In collegiate playoff games, he returned two interceptions for touchdowns to bring his career total to six – six pick-sixes! – on 12 interceptions over the last three years.
He followed up Quebec conference defensive player of the year honors in 2018 with an all-national first-team selection last season, as he helped Montreal reach the Vanier Cup, Canada's collegiate national championship game.
That's when he broke his forearm, but he still received one of just two annual invites for Canadian players to a U.S. postseason all-star event. Despite having to sit out the actual game, Dequoy ended his East-West Shrine week in St. Petersburg, Fla., believing the NFL was more than just a pipe dream.
"I played there with guys who were drafted, the top talent in the country," Dequoy said. "After that, I told my agent, 'I know I can be in that league.'"
His confidence rose further as he trained for his pro day with other NFL players in Knoxville, Tenn., where he got some advice from Minnesota Vikings All-Pro safety Harrison Smith. He incorporated some tips to smooth out his drill work, and then he just had to wait.
As the Packers' interest ramped up in mid-April, Dequoy said he got a call from Green Bay's new defensive backs coach, Jerry Gray, the day before the draft began. Another call from the Packers came on the third day at the start of the sixth round, with an offer to sign as a free agent, and Dequoy wasted no time making it official when the draft concluded.
Ghavami advised Dequoy the Packers have a strong track record of giving undrafted players a fair shot to make the team. Back in 2013, one who did was former Montreal high schooler Andy Mulumba, with whom Dequoy recently spoke to learn more about the Packers.
Since signing, Dequoy has taken part in the Packers' virtual rookie orientation and now the virtual offseason program, conducting meetings with coaches and teammates online. Currently in Montreal, he's doing his best to continue working out and putting all the rest of his energy into learning the defensive playbook.
"Just the system is different," he said in describing the biggest change from the Canadian game, which has 12 players per side, a longer and wider field, and only three downs per series, among other alterations.
"I'm a guy who can learn on my own. I'm getting in the playbook, making sure when camp arrives, I'm not one step behind everybody. Then afterward it'll be getting adapted to the game speed."
Through his college career, Dequoy played various spots in the defensive backfield, mostly safety. The Packers are listing him as a cornerback, where his size (6-3, 198) fits best. He's more than willing to line up anywhere the team wants to try him, and he's already planning on special teams being his first vehicle to a roster spot.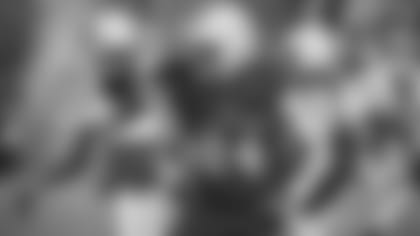 That's how Dequoy started to work his way back into the game at the college level after his extended absence. Following high school in Quebec, students are required to complete transitional schooling known as CEGEP (a French acronym for general/vocational education) before entering a university, and Dequoy initially quit football.
After changing CEGEP schools, he resumed playing but then ran into injury and age-eligibility issues that kept him sidelined. It left him a lot of catching up to do once he got to the University of Montreal, where he began buried on the depth chart.
Barely playing over that handful of years only rekindled and amplified his passion for the game he started playing at age 5, and since becoming a defensive starter for Montreal in 2017 he's been on a steady and rapid ascent.
Less than a week after signing with the Packers, Dequoy was selected in the second round of the Canadian Football League draft, at No. 14 overall, by Montreal.
While he's grateful his hometown Alouettes have provided him a fallback plan (though the CFL is reportedly discussing canceling its season due to the pandemic), Dequoy doesn't even want to talk about that option.
"Right now I'm focused on the Green Bay Packers," he said. "My mindset is I'm making that roster.
"I want to make sure I'm totally prepared. I'll wait for my chance to come, and when I get that chance to be on the field, I have to show that I know what I'm doing."
The underdog of underdogs can hardly believe himself that his chance is here.
"From not playing four years ago to being signed as an undrafted free agent with the Packers, it's surreal," he said.
"I'm going to give everything, really. There's going to be nothing left in the tank."