PACKERS AND GIANTS TO MEET IN PRIME-TIME MATCHUP
In a meeting of the two most recent Super Bowl champions, the Packers (7-3) face the Giants (6-4) at MetLife Stadium tonight. Green Bay enters tonight's  contest having won five straight games, which is tied with Denver for the longest current winning streak in the NFL.
The last time the Packers posted winning streaks of five-plus games in back-to-back seasons was in 1996-97. Green Bay started out the 2011 campaign with 13 consecutive wins.
The Packers improved to 7-3 on the season with a 24-20 victory over the Detroit Lions at Ford Field last Sunday, Green Bay's ninth straight win in the NFC North. That set a franchise record for the longest divisional winning streak, besting eight-game streaks in 1996-97 and 2001-02.
For Green Bay, it marked the fourth straight season that it won its first game after the bye. The Packers improved to 6-1 (.857) under Head Coach Mike McCarthy in the first game after the open date.
This will mark the third straight year that the Packers and Giants have faced off in the regular season, the first time that has happened since 1985-87. Green Bay has won the last three regular-season meetings.
It is also the third straight year that the Packers have played at MetLife Stadium, with a Week 13 contest in 2011 against the Giants and a Week 8 game with the Jets in 2010, the stadium's first season.
The Packers and Giants also met in a NFC Divisional playoff contest last season at Lambeau Field, one that was won by New York, 37-20.
Two of the most venerable franchises in professional football history, the Packers and Giants have combined for 21 championships. Green Bay ranks No. 1 among all NFL franchises with 13 titles, while the Giants check in at No. 3 with eight championships.
The Packers and Giants have squared off in five NFL championship games, with Green Bay winning four of those contests. New York won the 1938 title at the Polo Grounds in New York, but the Packers defeated the Giants in the championship game in 1939, 1944, 1961 and 1962.
Green Bay holds a 31-24-2 edge in the all-time series, which includes a 4-3 postseason record. The teams first met in 1928 in New York.
Including playoffs, Green Bay is 13-3 (.813) away from Lambeau Field over its last 16 games. The Packers have won three straight road games and 10 of their last 13 (.769) regular-season road contests.
The Packers have won 24 of their last 28 regular-season games overall (.857), the best record in the league over that span.
Tonight's game at New York is the second of three scheduled Sunday night contests for the Packers this season, with a game at Houston earlier this season in Week 6 and one coming up vs. Detroit in Week 14 (subject to flex scheduling).
The Packers have won six of their last seven games played on Sunday night, with the lone loss over that span coming at New England (31-27) in Week 15 of the 2010 season.
Under Head Coach Mike McCarthy, the Packers are 7-3 (.700) in Sunday night contests.
Green Bay is 19-5 all-time in Sunday night games, a .792 winning percentage that ranks No. 1 in NFL history ahead of Miami (16-8, .667) and Kansas City (10-5, .667).
Since 2009, Green Bay is 10-4 overall (.714) in prime-time games.
In seven career regular-season starts on Sunday night, QB Aaron Rodgers has completed 158 of 240 passes (65.8 percent) for 2,075 yards and 19 TDs with just two INTs for a 115.9 passer rating.
In his last two Sunday night starts, Rodgers has connected on 45 of 66 passes (68.2 percent) for 621 yards and 11 TDs with zero INTs for a 137.7 passer rating. That includes a six-TD passing game, which tied the single-game franchise record, against the Texans earlier this season in Week 6.
Green Bay has scored 206 points over its past seven games, a 29.4-point average that ranks No. 4 in the league since Week 4.
The Packers rank No. 2 in the league in red-zone efficiency this season, scoring TDs on 67.9 percent (19 of 28) of their opportunities.
Green Bay has either won the takeaway battle or come out even in 26 of its last 28 regular-season games. During their current five-game winning streak, the Packers have a plus-8 turnover ratio (11 takeaways, three giveaways).
Entering Week 12, the Packers rank No. 2 in the NFL in sacks (33) and rank No. 2 in sack yardage (216). Green Bay has had 14 different players record at least one sack this season, tied for the second most in a season in franchise history (since 1982) behind only the 1987 season (15 players).
Since Week 4, Green Bay ranks No. 1 in the NFL in rushing yards allowed per game (84.0) and No. 3 in yards per carry (3.7 avg.).
Green Bay has not allowed its opponents to score on an opening possession this season, the only team in the NFL to do so.
Over his last seven games, QB Aaron Rodgers has thrown for 1,874 yards and 24 TDs with four INTs on 160-of-239 passing (66.9 percent) for a 117.0 passer rating. In his last 16 starts on the road in the regular season, Rodgers has completed 359 of 526 passes (68.3 percent) for 4,559 yards and 40 TDs with just five INTs for a 116.5 passer rating. He has posted a 100-plus rating in 13 of those 16 games.
Rodgers needs 15 passing yards to reach the 20,000-yard mark for his career. If he does so tonight in his 80th career game, he would tie Daunte Culpepper for the fourth fastest to 20,000 passing yards in NFL history behind Dan Marino (74), Kurt Warner (76) and Peyton Manning (78).
WR Randall Cobb has caught a TD pass in four consecutive games, the longest streak by a Packer since Greg Jennings (five games) in 2007. Cobb has six TD catches over his past four games, the second most in the league over that span behind only Patriots TE Rob Gronkowski (seven).
Over the last seven games, Cobb has 43 receptions for 478 yards (11.1 avg.) and seven TDs.
WR Jordy Nelsonranks No. 2 in the NFL with 20 TD catches since 2011, trailing only Patriots TE Rob Gronkowski (27).
WR James Jones is tied for No. 3 in the NFL with eight TD grabs this season, which already tops his career high of seven TD catches in 2011.
In two career games at MetLife Stadium, P Tim Masthay has placed nine punts inside the 20-yard line and has a combined 44.1-yard gross average and a 42.5-yard net average. Masthay earned NFC Special Teams Player of the Week recognition for both games at MetLife, in 2010 against the Jets (Week 8) and in 2011 against the Giants (Week 13).
Masthay has placed a career-high 26 punts inside the 20 this season, which is tied for No. 2 in the league. The single-season franchise record (since 1976) for most punts inside the 20 is 30 by Sean Landeta in 1998.
As per team tradition, the Packers select game captains each week.
Tonight's captains will be QB Aaron Rodgers(offense), CB Tramon Williams (defense) and S M.D. Jennings(special teams).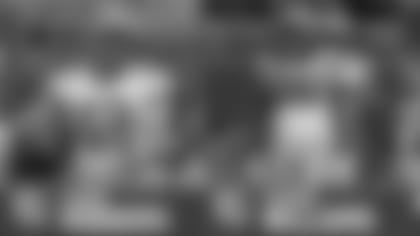 Tonight's officiating crew includes referee Terry McAulay (77), umpire Scott Dawson (70), head linesman Greg Bradley (98), line judge Mark Steinkerchner (84), field judge Terry Brown (53), side judge James Coleman (95) and back judge Lee Dyer (27).