GREEN BAY HOSTS N.Y. GIANTS IN NFC SHOWDOWN
The Green Bay Packers (8-6) return home after back-to-back road games to host the N.Y. Giants (9-5) today at Lambeau Field in a matchup that has major playoff implications in the NFC.
Green Bay will be back on its home field after playing four of its past five contests on the road. The Packers have won nine of their last 10 regular-season games at Lambeau Field, and their 9-1 mark over that span ranks No. 2 in the NFL behind only New England (10-0).
It is the first meeting between the Packers and Giants since they squared off in Green Bay in the 2007 NFC Championship, a game New York won, 23-20, in overtime on Jan. 20, 2008, in the third-coldest game in NFL championship game history (minus-1 temperature at game time with minus-23 wind chill).
This will be only the third regular-season trip to Lambeau Field for the Giants in the past 25 years. New York last played at Green Bay during the regular season on Oct. 3, 2004, a 14-7 Giants win. Prior to that, its only other visit since 1985 came on Sept. 17, 1995, when the Packers won 14-6.
Two of the most venerable franchises in professional football history, the teams have combined for 19 championships. Green Bay (12 titles) ranks No. 1 among all NFL franchises, while the Giants (seven) rank third.
The Packers and Giants have squared off in five NFL championship games, with Green Bay winning four of those contests. New York won the 1938 title at the Polo Grounds in New York, but the Packers defeated the Giants in the championship game in 1939, 1944, 1961 and 1962.
The Packers hold a 29-23-2 edge in the all-time series, which includes a 4-2 record in the postseason. The teams first met in 1928 in New York.
Green Bay closes out the regular season next Sunday when it hosts the division-rival Chicago Bears. It is the first time in Head Coach Mike McCarthy's tenure that the Packers have finished a season with back-to-back home games. The last time Green Bay concluded a season with consecutive home contests was 2005.
A PATH TO THE POSTSEASON
The Packers stand at 8-6 following a 31-27 defeat at New England last Sunday night, but with two games left on their schedule, they remain in position for a playoff bid with wins in their final two contests.
If Green Bay wins its remaining games against the Giants today and the Bears next Sunday, the Packers would finish at 10-6, and could potentially be tied with the N.Y. Giants, Tampa Bay and/or New Orleans.
The tiebreaker would come down to strength of victory since the conference records for those teams would all be 8-4, and the Packers currently sit atop that category among those teams.
The combined record of the teams the Packers have beaten this year is 48-64 (.429), which is ahead of the N.Y. Giants (50-76, .397), New Orleans (51-89, .364) and Tampa Bay (32-80, .286). If Green Bay wins its final two games, it would be adding victories over a Giants team that is currently 9-5 and a Bears team that is 10-4.
Chicago clinched the NFC North title last Monday night with a win at Minnesota. Even if the Bears were to lose their final two games, including at Green Bay in Week 17, they win the tiebreaker over the Packers based on divisional record.
There will be plenty on the line today at Lambeau Field for the Giants as well, who can clinch a playoff berth with a win.
TODAY'S CAPTAINS
As per team tradition, the Packers select game captains each week.   
Today's captains will be C Scott Wells (offense), LB Desmond Bishop (defense) and K Mason Crosby (special teams).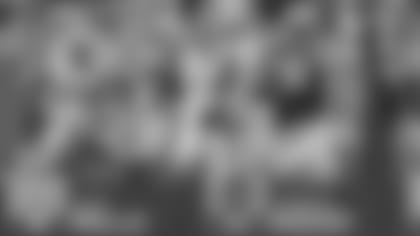 WEARING THE STRIPES
Today's officiating crew includes referee Walt Anderson (66), umpire Bill Schuster (129), head linesman Philip McKinnely (110), line judge Byron Boston (18), field judge Boris Cheek (41), side judge James Coleman (95) and back judge Billy Smith (2).
Will hit the 500-point mark for his career with four more points. If he does it today in his 63rd career game, that would make him the second fastest to 500 points in team history behind only RB Paul Hornung (60 games).
Needs one point for 100 on the season, which would give him four straight seasons with 100-plus points.
80 DONALD DRIVER
Needs 127 yards receiving to become the franchise's all-time leader in receiving yards. Currently ranks No. 2 with 9,530 yards behind WR James Lofton (9,656, 1978-86).
85 GREG JENNINGS
With 12 touchdown catches on the season, needs one more to top his previous career high set in 2007.
Will hit the 5,000-yard receiving mark for his career with 17 more yards.
Starting with Week 6 vs. Miami, has averaged 93.7 receiving yards per game, No. 2 in the NFL over that span (Andre Johnson, 96.2).
89 JAMES JONES
Needs three catches and 42 receiving yards to set career highs in both categories. His previous career bests came in 2007 when he recorded 47 receptions for 676 yards.
38 TRAMON WILLIAMS
Needs one more interception to set a new career high (five in 2008 is his previous best).
GREEN BAY PACKERS
The Packers rank No. 2 in the NFL in scoring defense at 15.7 points per game, which puts them on pace for their lowest mark since 1996 (13.1).
With a catch by WR Jordy Nelson today, the Packers will have five players with 40 catches in the same season for the first time since 1980. Jennings (65), Jones (45), Driver (43) and RB Brandon Jackson (40) have already hit the 40-reception mark.