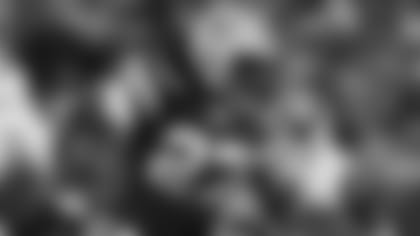 RB Eddie Lacy
Packers.com is taking a look at the Packers' roster, position by position. The second installment focuses on the running backs.
GREEN BAY—The best running game of the Mike McCarthy era featured rookie Eddie Lacy as the centerpiece and workhorse in 2013.
Barring injury, that's a given in 2014 as well. The question, however, is who will be Lacy's top sidekick.
In winning various league-wide rookie awards and heading to his first Pro Bowl, Lacy set franchise rookie records for carries, rushing yards and touchdowns. What he does for an encore will be one of the Packers' top storylines next season.
Topping 1,178 yards and 11 touchdowns isn't a huge stretch, though, considering Lacy missed essentially two full games in September with a concussion and battled an ankle injury throughout December. Rushing for 356 yards and five TDs over those final four regular-season games, as the Packers made their push for the NFC North title, spoke to Lacy's toughness and desire to be the bell cow.
But having a reliable and productive No. 2 was a big factor in the ground game's success, too, and the Packers appear to have options for that role.
In 2013, it fell to James Starks, who took hold of the job after an early season knee injury, slashing and dashing his way to 493 yards and an eye-popping 5.5 yards per carry. Starks showed arguably more power and elusiveness than he did as a rookie during the 2010 playoff run, and his three TD gallops of 25 yards or more all jumped off the film.
Starks is scheduled to become a free agent, though, and there's no guarantee he's back. If he gets an offer for more money and more playing time elsewhere, the Packers aren't likely to overspend to keep him, not with DuJuan Harris and Johnathan Franklin waiting in the wings. Late-season acquisition Kahlil Bell and practice-squad holdover Orwin Smith are behind them, too.
Then again, Starks' injury history could make other teams wary, and he might come back to the Packers at a reasonable price. If that's the case, the competition at running back in training camp promises to be as fierce as ever.
Harris was expected to be Lacy's top partner in the backfield last year after giving the Packers' ground game a major spark down the stretch in 2012, but a preseason knee injury ended Harris' season before it really began. The shifty, 5-foot-8 fireplug appears to be the perfect complement physically to the big, bruising Lacy, and he'll be out to show that after a frustrating year away.
Franklin has plenty from 2013 he'd like to forget as well, namely a pair of fumbles that led to significantly reduced playing time. The one he coughed up in Cincinnati was returned for a game-losing touchdown, and when he put the ball on the ground again the following week against Detroit (the Packers recovered that one), his promising 13-carry, 103-yard outing in relief of Starks against the Bengals had quickly faded into the background.
When Franklin's rookie season ended in late November with a concussion and neck injury, it left his potential largely untapped. He may enter 2014 with more to prove than any other member of the Packers' stable of backs.
As for the fullback position, veteran John Kuhn is a cult hero in Green Bay whose value in blitz pickup was no more evident than on the NFC North-winning TD pass on fourth down at Soldier Field. But he's also a 31-year-old free agent whose return to the Packers for an eighth season is anything but certain.
Recent fullback signee Ina Liaina won't necessarily factor into any decision regarding Kuhn, but the potential number of ball-carrying backs on the roster might make the Packers consider foregoing a fullback entirely.
Kuhn's offensive touches have steadily declined over the years (99 combined rushes and receptions in 2010, 45 in '11, 38 in '12, 23 in '13), but his knowledge of the offense – particularly pass-protection calls at the line of scrimmage, in the heat of battle – is probably second on the team only to quarterback Aaron Rodgers. How much that's worth is something the Packers will determine in the coming weeks and months.