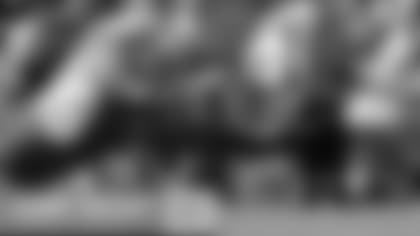 Green Bay Packers QB Aaron Rodgers tries outrun 49ers LB Aldon Smith. VIEW PHOTOS
SAN FRANCISCO—It was the third time in a year, exactly a year, but this one was very different. This was a game the Packers can honestly say they should've won.
The 49ers scored a 34-28 win over the Packers in the season opener at Candlestick Park on Sunday, but it was a 49ers win shrouded by what is believed to have been the botched assessment of a penalty, and it was a loss by the Packers in which they stood toe to toe and held their own against a team that physically dominated them a year ago.
This one was a shootout, and the Packers appeared as though they might have won it when Aaron Rodgers took his team 76 yards to the go-ahead touchdown with 8:26 to play in the game, but 49ers quarterback Colin Kaepernick one-upped Rodgers, leaving the visitors to take a lot of hurt back to Green Bay, again.
"That's part of the game," Head Coach Mike McCarthy said when asked about Referee Bill Leavy's alleged mishandling of a dual-penalty situation late in the first half. "The ball doesn't always bounce your way. They made more big plays than us. Boldin had a helluva day. Time of possession was also probably a big advantage for the 49ers."
With the game tied, 7-7, in the second quarter, Clay Matthews was flagged for a late hit out of bounds on Kaepernick. The 49ers' Joe Staley was then flagged for unsportsmanlike conduct. Leavy ruled that the down be replayed, and Kaepernick then threw a touchdown pass to Anquan Boldin. Reports are the assessment of the fouls should've left the 49ers facing fourth down, which likely would've resulted in a field goal attempt.
McCarthy kept his focus on the performance of his team, which he deemed not good enough. It began with a missed assignment on the second play of the game that resulted in Aaron Rodgers being sacked, graduated to an Eddie Lacy fumble that led to the 49ers' second touchdown and resulted in Lacy being benched for much of the remainder of the game, and included a pass that bounced out of Jermichael Finley's hands and into the hands of 49ers rookie safety Eric Reid.
"Horrendous start. I pulled him out of the game. I thought he picked it up in the second half," McCarthy said of Lacy.
"This is not the way we intended to come out here today. We weren't sharp enough."
McCarthy complimented Kaepernick, the star of the game, who completed 27 of 39 passes for 412 yards, three touchdowns, no interceptions and a 129.4 passer rating. Rodgers was victimized by the interception that bounced out of Finley's hands, though Finley redeemed himself by catching a short pass, breaking a tackle and scoring to tie the game at 14-14 in the final seconds of the first half. Rodgers finished with having completed 21 of 37 passes for 333 yards, three touchdowns, the one interception and a 102.6 passer rating.
"Every loss is frustrating. We put a lot into this. We didn't play our best game and we have to score more points," Rodgers said in assessment.
"I didn't think we played our best game. You can't turn the ball over like that. We have to score more points and (the defense) has to give up fewer points."
The 49ers won the stats with a whopping 494 yards of offense to the Packers' considerable output of 385. Time of possession was decidedly in the 49ers' favor, 38:35-21:25, on a warm day in San Francisco.
"We're 0-1 and we go back home," Rodgers said.
Additional coverage - Sept. 8