PACKERS RETURN HOME TO HOST THE JAGUARS
Following three straight games and nearly a month away from Lambeau Field, Green Bay (4-3) returns home to host the Jacksonville Jaguars (1-5) today for the second time ever, with 2004 being the lone other meeting between the clubs in Green Bay.
Today's contest is Green Bay's first noon kickoff at Lambeau Field this season, one of four noon games at home on the schedule (final two subject to flexible scheduling).
The Packers closed out their three-game road trip, the first time they had played three consecutive regular-season contests away from home since 1998, with a 30-20 win over St. Louis last Sunday at the Edward Jones Dome. It was the Rams' first loss at home this season.
This will be the fifth meeting all-time between Green Bay and Jacksonville, with the clubs splitting the first four games. The teams last squared off on Dec. 14, 2008, in Jacksonville, a game the Jaguars won, 20-16.
For the Packers, this is the third game in four weeks against a team from the AFC South (Indianapolis in Week 5 and Houston in Week 6). Green Bay hosts the other AFC South club, Tennessee, in Week 15.
Green Bay enters today's contest having won four of its last six regular-season games against teams from the AFC.
The Packers have won 21 of their last 25 regular-season games overall (.840), the best record in the league over that span.
It marks the third 21-4 stretch of Head Coach Mike McCarthy's tenure (also Oct. 24, 2010-Dec. 25, 2011; Oct. 31, 2010-Jan. 1, 2012). The Packers' best 25-game stretch prior to those was a 22-3 mark from Nov. 24, 1996-Sept. 27, 1998.
Green Bay stays home to host the Arizona Cardinals next Sunday. This upcoming two-game home stretch marks the Packers' only contests at Lambeau Field over an eight-week period (Weeks 5-12). Green Bay closes out its season with three of five games at home.
The Packers enter today's game with the Jaguars having won 15 of their last 16 and 21 of their last 23 games at Lambeau Field in the regular season.
Green Bay's .913 winning percentage (21-2) at home since Week 10 of 2009 ranks No. 2 in the league over that span behind only Baltimore's .917 mark (22-2).
With their loss to San Francisco in the 2012 season opener, the Packers' 13-game regular-season home winning streak came to an end. It is tied for the fourth-longest streak in franchise history (25 games, 1995-98; 20 games, 1929-32; 14 games, 1923-26).
Green Bay's 21-3 mark at home from 2009-11 was the best by the club over a three-year span since it posted the same mark from 2000-02.
The Packers have averaged 31.7 points per game at home since 2009, No. 1 in the league over that span. Green Bay has posted 30-plus points in 13 of 27 home games since '09 and eight 40-point games.
The defense has done its part as well at home since 2009, generating 69 turnovers at Lambeau Field. With Green Bay's offense posting only 29 giveaways over that span, the Packers have a plus-40 turnover ratio at home, No. 1 in the league since '09.
Green Bay has posted at least 300 yards of offense in 22 of its last 23 regular-season games, tied with New England for the most in the NFL since 2011.
The Packers rank No. 1 in the league in red-zone efficiency this season, scoring TDs on 76.2 percent (16 of 21) of their opportunities. Over the past four games, Green Bay has scored TDs on 12 of 14 trips inside the 20 (85.7 percent).
Green Bay has scored 127 points over its past four games, a 31.8-point average that ranks No. 3 in the league over that span.
The Packers have not posted a giveaway in two straight games. Green Bay is tied for No. 1 in the league with just six giveaways this season.
Green Bay has either won the takeaway battle or come out even in 23 of its last 25 regular-season games.
Entering Week 8, the Packers lead the leaguein sacks (24) and sack yardage (158).
Green Bay has not allowed its opponents to score on an opening possession this season, one of only two teams in the league (Chicago) to do so.
By appearing in today's contest, WR Donald Driver will join QB Brett Favre (255) as the only players in franchise history to play in 200 regular-season games. Driver would become the 22nd wide receiver in league annals to play in 200 games.
Driver would become the third Packer to reach the 200-game mark this season, joining DB Charles Woodson (Week 1) and C Jeff Saturday (Week 3). According to the Elias Sports Bureau, the last time a trio of teammates appeared in their 200th career game in the same season was in 2002 when the Kansas City Chiefs had three players reach the milestone (P Dan Stryzinski, LB Marvcus Patton and CB Ray Crockett).
QB Aaron Rodgersneeds to throw two touchdown passes to surpass QB Bart Starr (152 career TD passes) for the No. 2 spot in franchise history.
Rodgers has thrown a TD pass in 32 consecutive regular-season games at Lambeau Field, a team record (previous mark was 25 by Favre from 1992-96). Rodgers' home streak is the longest since Dolphins QB Dan Marino (39 games, 1983-88).
Over his last four games, Rodgers has thrown for 1,234 yards and 16 TDs with two INTs on 105-of-147 passing (71.4 percent) for a 127.2 passer rating. The 16 TD passes are a team record over a four-game span, topping the previous mark of 14 held by Rodgers (twice in 2011) and Favre (1995).
WR Jordy Nelsonhas 17 catches for 243 yards (14.3 avg.) and four TDs over his last two games. Nelson leads the league with 14 TD catches at home since 2011 and ranks No. 2 in the NFL in receiving yards at home since 2011 with 1,057 (Giants WR Victor Cruz, 1,176).
WR James Jones is tied for the NFL lead (Cruz, Bengals WR A.J. Green) with seven TD grabs this season, which already matches his career high (2011).
LB Clay Matthews, who ranks No. 2 in the NFL with nine sacks this season,**needs one more for the third 10-sack season of his career (2009-10).
CB*Casey Hayward *has recorded four interceptions over the past three games, the first Green Bay rookie to post four INTs over a three-game span since S Tom Flynn did so in 1984. Hayward is tied for the league lead with the four INTs, which is also the most by a Packers rookie in a season since Mike McKenzie recorded six in 1999.
Hayward has posted an interception in each of the last three games. The last Packer to register an INT in four straight games was S Nick Collins in 2009.
As per team tradition, the Packers select game captains each week.  
Today's captains will be WR James Jones(offense), LB Erik Walden (defense) and LS Brett Goode (special teams).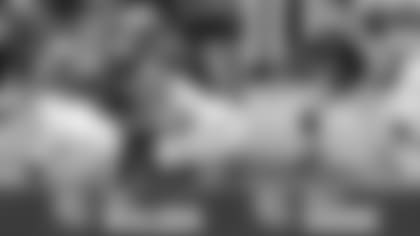 Today's officiating crew includes referee Carl Cheffers (51), umpire Undrey Wash (96), head linesman Kent Payne (79), line judge Tom Symonette (100), field judge Jimmy Buchanan (86), side judge Laird Hayes (125) and back judge Todd Prukop (30).