PACKERS HEAD EAST TO TAKE ON THE JETS
Green Bay (4-3) goes on the road after back-to-back home games to visit the New York Jets (5-1) today in the Packers' first-ever game at New Meadowlands Stadium, which opened this season.
Today's game will be Green Bay's first trip to New York to face the Jets since the teams squared off on Dec. 29, 2002. New York won, 42-17, in that '02 season finale.
It will be only the fifth meeting between the teams in New York, with the Packers also traveling there in 1981, 1982 and 1991, all Jets wins.
Green Bay trails 2-8 in the all-time series. The teams last met in Head Coach Mike McCarthy's first season when the Packers hosted New York on Dec. 3, 2006. The Jets won that contest, 38-10.
The Jets enter today's game coming off of their bye, and they are tied with New England and Pittsburgh for the best record in the league at 5-1. New York enters the matchup against Green Bay on a five-game winning streak, the longest current one in the NFL, and its longest since a five-game streak in 2008.
Today's matchup with New York will be Green Bay's third game of the season against a team from the AFC East. The Packers hosted Buffalo in Week 2 and Miami in Week 6, beating the Bills, 34-7, while falling in overtime to the Dolphins, 23-20. Green Bay wraps up its AFC East slate in Week 15 at New England.
Green Bay will be playing on Halloween for just the second time since 1995, with the only other contest coming at Washington in 2004, a 28-14 Packers win.
Next Sunday, the Packers return home to host Dallas in a nationally televised contest at 7:20 p.m. (CDT), the second straight Sunday night home contest for Green Bay. The following week the Packers will have their bye, with the Week 10 bye being the latest ever for Green Bay. The Jets travel to Detroit next Sunday for a noon (CDT) contest with the Lions.
KEEPING IT CLOSE
Last Sunday night, the Packers snapped a two-game losing streak with a thrilling 28-24 victory over the division-rival Minnesota Vikings at Lambeau Field to improve to 4-3 on the season.
For Green Bay, it was yet another game that was decided in the closing seconds, something the team has become accustomed to so far this season.
Of the Packers' seven games this season, six of them have been decided by seven points or less, with the last five decided by four points or fewer.
That total of six games with a touchdown or smaller margin already matches the number of contests they were involved in with that scoring differential in 2009.
The Packers join Baltimore and Washington as the only teams in the NFL to have six games decided by seven points or less this season.
Green Bay has already been involved in two overtime contests this season, going to the extra session in back-to-back games against Washington in Week 5 and Miami in Week 6. It was the first time the Packers played consecutive overtime games since Oct. 11-18, 1987.
This weekend the Packers will be facing a Jets team that has been involved in only two games this season that were decided by seven points or less. New York's average margin of victory in its current five-game winning streak is 11.8 points.
The league as a whole has been trending toward close games this season, with 31 of 104 NFL contests (29.8 percent) decided by three points or less. That pace is ahead of the highest percentage of three-point games since the 1970 merger (1997, 67 of 240, 27.9 percent).
NOTABLE CONNECTIONS
Jets off. coordinator Brian Schottenheimer is the son of Marty Schottenheimer, the former NFL head coach who gave Mike McCarthy his first NFL job with the Kansas City Chiefs in 1993, and the nephew of former Packers DB coach Kurt Schottenheimer (2004, '06-08)...McCarthy and Brian Schottenheimer coached on Kansas City's staff together in 1998...Jets QB coach Matt Cavanaugh was on the same offensive staff at the University of Pittsburgh with McCarthy in 1991-92...Packers special teams asst. Chad Morton played two seasons for the Jets (2001-02)...Jets asst. head coach/off. line Bill Callahan was on the staff of the University of Wisconsin's 1993 Rose Bowl champions...Packers NT Howard Green played in 14 games for New York from 2009-10, including two contests this season...Jets QB Mark Brunell was a 1993 fifth-round draft choice of the Packers and was Brett Favre's backup in 1994...Jets WR David Clowney was Green Bay's fifth-round pick in 2007...Jets S Jim Leonhard played collegiately at Wisconsin and is from the small town of Tony, Wis. ...Jets LB Jason Taylor won NFL Defensive Player of the Year honors in Miami in 2006 when Dom Capers was running the Dolphins' defense...Jets DT Kris Jenkins (on IR) is the older brother of Packers DE Cullen Jenkins...During the first four years of Jets FB Tony Richardson's career with Kansas City (1995-98), McCarthy was on the Chiefs' offensive staff...Jets C Nick Mangold and Packers LB A.J. Hawk were childhood friends growing up in Centerville, Ohio, attended Ohio State together, and were first-round draft picks in 2006.
TODAY'S CAPTAINS
As per team tradition, the Packers select game captains each week.
Today's captains will be T Chad Clifton (offense), LB Desmond Bishop (defense) and TE Tom Crabtree (special teams).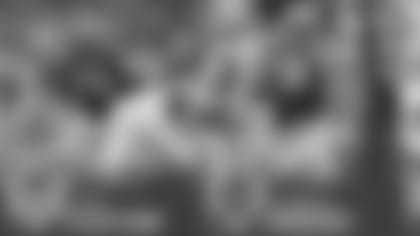 WEARING THE STRIPES
Today's officiating crew includes referee Jeff Triplette (42), umpire Jeff Rice (44), head linesman Wayne Mackie (106), line judge Jeff Bergman (32), field judge Scott Steenson (88), side judge Dave Wyant (16) and back judge Steve Freeman (133).
Needs 38 receiving yards to top his previous career high of 187 yards set in 2009. Already has surpassed his career high in rushing yards, and enters today's game with 363 yards on the ground this season.
Needs three receptions to move past Rich McGeorge (175) and into the No. 5 spot on the team's all-time tight ends list.
Has registered 8.5 sacks in the Packers' last seven regular-season games on the road.
Of the Packers' 12 takeaways this season, eight of them have been converted into touchdowns. That 66.7 TD percentage ranks No. 2 in the NFL behind only Kansas City (6-of-8, 75.0 percent), and Green Bay's eight TDs off of takeaways lead the NFL.
Green Bay's 56 points off of takeaways this season rank No. 2 in the league behind only Tennessee (63), and the Packers' 10 interceptions rank tied for No. 4 in the NFL.
The Packers have scored TDs on 14-of-21 red-zone trips this season. That 66.7 percent touchdown rate ranks tied for No. 2 in the NFL behind only Houston (70.6), and the 14 TDs rank tied for No. 3.