For years, Packers fans throughout Wisconsin and beyond have celebrated their support of the Packers by wearing their favorite green and gold clothing to work, to school and in the community on Fridays. This season, the team is taking that to a new level with a fan engagement initiative, "Green and Gold Friday," aimed to ramp up the energy and enthusiasm of Packers fans as they get ready for every game.
"Green and Gold Friday" will serve as the "kickoff" to kickoff each weekend and bring fans together to demonstrate their support for the Packers and take their spirit to the next level, wherever they are on Fridays.
"Dedicated Packers fans in Wisconsin, across the country and around the world have a special kind of enthusiasm for their team," said Gabrielle Dow, the team's vice president of marketing and fan engagement. "If each proud fan wears green and gold on Fridays before every game, whether home or away, we can demonstrate widespread support for the Packers that is unrivaled elsewhere in professional sports."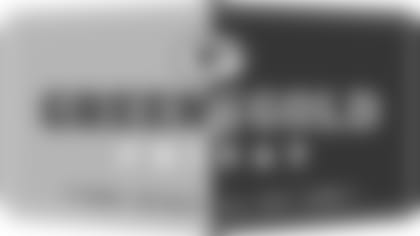 ans can participate by submitting photos of themselves and fellow fans dressed in green and gold on Fridays to www.packerseverywhere.com/pages/green-gold-friday, or sharing through social media. Selected photos will be featured Fridays on Packers.com and on the TundraVision video boards in Lambeau Field during home games.
Participants can also enter to win special "Green and Gold Friday" themed items from the Packers Pro Shop by pledging their support online at www.packerseverywhere.com/page/s/green-and-gold-friday. The Packers Pro Shop will stock different "Green and Gold Friday" themed items, with new items for each week in which the Packers play at home.
View photos of the 'Green and Gold Friday' kickoff press conference. Photos by Max Brodsky, Packers.com