PACKERS HEAD TO DETROIT FOR HOLIDAY TRADITION
One of the NFL's oldest rivalries takes to the national stage as the Green Bay Packers arrive in Detroit to face the Lions on Thanksgiving. Also, the Packers' stretch of three games in 12 days, all against NFC opponents, wraps up today.
It is the 33rd NFL game on Thanksgiving for the Packers franchise. All-time on the holiday, Green Bay is 12-18-2, including a 6-11-1 mark on Thanksgiving in Detroit.
The Packers come into the game riding a two-game winning streak and are right in the thick of things in the NFC postseason race. Green Bay defeated San Francisco at home last Sunday, 30-24.
No other NFL teams have played every year since 1932, when the Packers and the Lions, then known as the Portsmouth (Ohio) Spartans, began their yearly home-and-home series. The rivalry actually kicked off in 1930 at City Stadium in Green Bay, a 47-13 Packers win. Some two seasons later, the teams began a yearly series. Thursday marks meeting No. 161 in the all-time series.
Now rivals in the NFC North, Green Bay owns a 87-64-7 advantage over the Lions in the regular season and have won both playoff matchups.
Green Bay's current eight-game winning streak over Detroit is the longest in the series in over 50 years, dating back to Detroit's 11-game winning streak from 1949-54.
Head Coach Mike McCarthy is 7-0 against the Lions since arriving in Green Bay.
Overall, Green Bay has won 16 of the last 18 games in the series, including six of the last eight matchups in Detroit.
At 2-8, Detroit is coming off a last-second win over Cleveland. With no time remaining on the clock, the Lions threw a 1-yard touchdown pass to defeat the Browns, 38-37.
GREEN BAY ON THANKSGIVING DAY
Overall, Green Bay has played 35 times on the holiday, including three games (1920, '22, '33) that were not official NFL games.
The Packers first played a league game on Thanksgiving in 1923, a 19-0 victory over the Hammond Pros in Green Bay. Of the Packers' 32 league games on the holiday, their first was the only one to come at home.
They last played on Thanksgiving against the Lions in Detroit in 2007, a 37-26 Green Bay victory. WR Greg Jennings, a Kalamazoo, Mich., native, caught two touchdowns and RB Ryan Grant ran for 101 yards and a score.
Green Bay first played at Detroit on Thanksgiving 58 years ago, a 52-35 Detroit victory on Nov. 22, 1951. The two rivals played for 13 consecutive seasons, from 1951-1963, before the league began rotating opponents for the Lions.
The Packers next played on the holiday in 1970, when they traveled to Dallas. They also played the Cowboys in Dallas on Thanksgiving in a 1994 matchup.
The Green Bay-Detroit Thanksgiving matchup occurred just twice in a 37-year span (1984, '86), but the holiday tradition was renewed in 2001. Thursday will mark the fourth time this decade the teams have squared off on Thanksgiving.
As per team tradition, the Packers select game captains each week.
Today's captains will be WR Greg Jennings (offense), DE Cullen Jenkins (defense) and S Derrick Martin (special teams).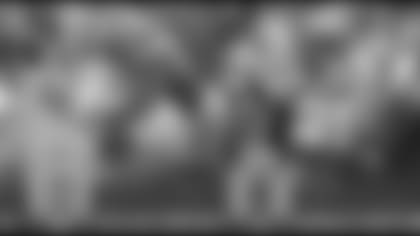 Members of the Packers who hail from Michigan include Jenkins (Belleville), Jennings (Kalamazoo), LB Brad Jones (East Lansing) and G/T T.J. Lang (Birmingham). All are expected to have sizeable groups of family and friends in attendance.
Jones may get the call at outside linebacker in Aaron Kampman's absence, while Lang could spell T Mark Tauscher on a series or two. Both rookies will be playing in their native state for the first time.
Jenkins has always enjoyed playing against his hometown team, as he set a career high in sacks against the Lions with three on Dec. 17, 2006. He also tied a career high in that game with seven tackles.
Jennings has always played well against Detroit, specifically at Ford Field. He posted his first career 100-yard game as a rookie in Week 3 at the stadium and then caught two scores in the 2007 Thanksgiving game in Detroit. Last season at Ford Field, he established a career high with 167 receiving yards. In three games at the stadium, he has 14 catches for 328 yards (23.4 avg.) and three touchdowns.
Today's officiating crew includes referee Bill Leavy (127), umpire Darrell Jenkins (76), head linesman Mark Baltz (26), line judge Mark Perlman (9), field judge Clete Blakeman (34), side judge Greg Bradley (98) and back judge Dino Paganelli (105).
With 10 interceptions since 2008, ranks tied for second with Pittsburgh's Troy Polamalu among NFL safeties behind Baltimore's Ed Reed (12).
For his career, has hit 51-of-55 field goals from 39 yards-and-closer.
Has hit 18-of-25 field goals from 40-49 yards.
Has hit 7-of-16 field goals from 50-plus yards.
Has a reception in 121 consecutive games, besting the franchise's previous long streak of Sterling Sharpe's 103 (1988-94).
For the seventh time had 50-plus receptions in 2008, tying a franchise record. James Lofton and Sharpe each had seven seasons with 50-plus catches. Driver (46 catches) is on pace to eclipse the mark for a record eighth season.
Enters with 2,988 career rushing yards.
Has 11 career 100-yard games.
When he gets 22 carries or more, the team is 9-1 (10-1 incl. playoffs).
His 19 catches of 40-plus yards since 2007 leads all NFL players.
Has 12 career 100-yard games.
In 26 career starts, has eclipsed a 100.0-plus passer rating 14 times.
Has seven career 300-yard games and six 3-TD games.
Has 41 career interceptions, 24 in 56 games since coming to Green Bay in 2006. Woodson had 17 interceptions in 106 games with Oakland.
Is tied for second in interceptions in the NFL since 2006 with 24 (Asante Samuel - PHI, 25; Ed Reed - BAL, 24).
His five interception-return TDs since 2006 is the most in the league during that span.