PACKERS HOST LIONS IN DIVISIONAL MATCHUP
No other NFL teams have played every year since 1932, when the Packers and the Lions, then known as the Portsmouth (Ohio) Spartans, began their yearly home-and-home series.
The rivalry actually kicked off in 1930 at City Stadium in Green Bay, a 47-13 Packers win. Some two seasons later, the teams began a yearly series. Today marks meeting No. 162 in the all-time series.
Now rivals in the NFC North, the Packers own a 88-64-7 advantage over the Lions in the regular season and have won both playoff matchups.
Green Bay's current nine-game winning streak is the longest in the series in over 50 years, dating back to Detroit's 11-game winning streak from 1949-54.
Longer still is Green Bay's current win streak over the Lions in the state of Wisconsin. It spans 19 consecutive games, including a 1994 playoff game, and eight Lions head coaches.
Taking away the '94 Wild Card playoff win at Lambeau Field, the Packers' 18-game regular-season home winning streak over the Lions ranks tied for first among active NFL streaks with Washington's 18-game streak at home against Detroit.
Today's game marks the second straight divisional matchup for each team, as Green Bay played at Chicago last Monday night while Detroit traveled to Minnesota last Sunday. The Packers have a 17-8 (.680) mark against NFC North opponents under Head Coach Mike McCarthy, which ranks first among NFC North teams over that span. Green Bay has posted a 4-2 record or better in the division each season under McCarthy.
This is the earliest in the season that the teams have met at Lambeau Field since they squared off on Sept. 14, 2003. The teams met late in December in Green Bay in each of Head Coach Mike McCarthy's first three seasons with the Packers, but the Lions will be visiting Lambeau Field in October for the second straight season.
Green Bay will take on the Redskins next Sunday at noon (CDT) in the team's first trip to Washington since 2004, while the Lions return home to host the St. Louis Rams on Sunday at noon (CDT).
NOTABLE CONNECTIONS
Detroit def. coord. Gunther Cunningham held the same position in Kansas City for four seasons (1995-98) when McCarthy was an off. asst. for the Chiefs; also on staff in Kansas City was Packers strength & cond. asst. Dave Redding...Lions O-line coach George Yarno finished his playing career with the Packers in 1990 but did not appear in any regular-season games...Lions DT Corey Williams was a Packers' sixth-round draft choice in 2004 and played four seasons in Green Bay (2004-07)...Lions LB Spencer Havner played two seasons for the Packers (2008-09) as a LB and TE...Packers DE Cullen Jenkins (Belleville), WR Greg Jennings (Kalamazoo), LB Brad Jones (East Lansing), G/T T.J. Lang (Birmingham), LB Frank Zombo (Sterling Heights) and G/C Nick McDonald (Sterling Heights) are Michigan natives...Packers RB Brandon Jackson was born in Detroit.
As per team tradition, the Packers select game captains each week.
Today's captains will be WR Greg Jennings (offense), LB Clay Matthews (defense) and LS Brett Goode (special teams).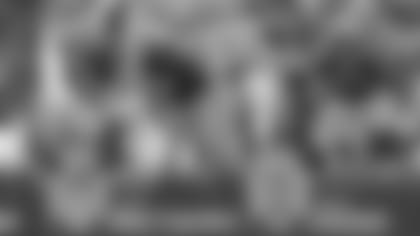 WEARING THE STRIPES
Today's officiating crew includes referee Mike Carey (94), umpire Rich Hall (49), head linesman Dana McKenzie (8), line judge Tim Podraza (47), field judge Buddy Horton (82), side judge Laird Hayes (125) and back judge Kirk Dornan (6).
PACKERS, KOHL'S TO RECOGNIZE BREAST CANCER AWARENESS MONTH TODAY
The Green Bay Packers and Kohl's Department Stores will recognize Breast Cancer Awareness Month today with Lambeau Field and
Packers players prominently featuring the color pink in several ways.
Fans will be involved from the start when they receive pink Kohl's Cares® rally towels as they enter the stadium, and then see cheerleaders (pink jackets) and TundraLine members (pink hats) sporting the color. At halftime, the Oneida Nation Dancers will be wearing pink jingle dresses while performing a healing dance in recognition of the month.
Other pink elements fans will notice include pink ribbon stencils on Lambeau Field, pink wall banners, pink goal-post padding, special game balls with pink ribbon decals, a pink coin used for the coin toss and pink-trimmed sideline caps for coaches and team personnel. Players will be using and wearing pink equipment, including pink cleats, wristbands, gloves, sideline caps, helmet decals, sideline towels and quarterback towels. Game officials will be wearing pink caps and pins.
WHAT TO WATCH FOR
Ranks tied for second in franchise annals (stat kept since 1975) with 1,001 career tackles, matching Johnnie Gray and trailing only John Anderson (1,020).
80 DONALD DRIVER
With a TD catch today, will move into sole possession of the No. 2 spot for most career receiving TDs at Lambeau Field. Is currently tied with Sterling Sharpe at 20 TD catches, trailing only Antonio Freeman (36).
By appearing in today's game, will move into sole possession of the No. 10 spot for most games played  in team history with 165.
Enters game with a streak of 130 games with at least one reception (136 including postseason), the longest streak in franchise history. Ranks third among active NFL players behind Hines Ward (181) and Tony Gonzalez (150).
88 JERMICHAEL FINLEY
With 59 yards receiving today, would set a franchise record for most receiving yards by a tight end over a three-game span. Paul Coffman (276 yards, Oct. 21-Nov. 4, 1979) holds the team mark.
12 AARON RODGERS
In four career starts vs. Detroit, has completed 102-of-145 passes (70.3 percent) for 1,342 yards, 11 TDs with only one INT for a 121.7 passer rating. He has eclipsed the 300-yard mark in each contest.
21 CHARLES WOODSON
In the last four games against Detroit, has intercepted five passes, returning two for touchdowns.