PACKERS HEAD TO DETROIT FOR DIVISIONAL MATCHUP
For the first time since a Week 2 contest vs. Chicago, the Packers (6-3) will play a game against an NFC North foe when take on the Detroit Lions (4-5) today at Ford Field, the second straight year the clubs have met in Detroit in November.
This is the latest in a season that the Packers' second divisional game has ever arrived (since 1967).
Coming off of their Week 10 bye, the Packers will be looking to extend their winning streak to five games. Green Bay is the only team in the league to enter its bye on a winning streak of four games or more each of the last two seasons (seven-game streak going into bye in 2011).
The Packers have won eight straight NFC North games dating back to 2010, which matches the franchise record (see below for more).
No other NFL teams have played every year since 1932, when the Packers and the Lions, then known as the Portsmouth (Ohio) Spartans, began their yearly home-and-home series.
The rivalry actually kicked off in 1930 at City Stadium in Green Bay, a 47-13 Packers win. Some two seasons later, the clubs began a yearly series. Today marks meeting No. 166 in the all-time series.
Now rivals in the NFC North, the Packers own a 91-65-7 (.583) advantage over the Lions in the regular season and have won both playoff games.
Green Bay has an 11-1 mark (.917) against the Lions under Head Coach Mike McCarthy. Overall, the Packers have won 20 of the last 23 (.870) in the series.
The Packers have a 5-1 record at Ford Field under McCarthy and have outscored the Lions, 180-109, in those games at Detroit. Green Bay is 7-3 all-time at Ford Field.
Including playoffs, Green Bay is 12-3 (.800) away from Lambeau Field over its last 15 games. The Packers have won nine of their last 12 regular-season road contests (.750).
The Packers have won 23 of their last 27 regular-season games overall (.852), the best record in the league over that span.
The Packers had their bye last weekend, the second time in three seasons (2010) that the open date for Green Bay arrived in Week 10.
Today marks the third straight season that the Packers have come out of their bye with a contest away from Lambeau Field. Last season, Green Bay traveled to San Diego and in 2010, the Packers visited Minnesota following their open week.
In games immediately following its bye week, Green Bay has won 12 of its last 16 (.750). Under McCarthy, the Packers are 5-1 (.833).
Green Bay won its first game after the bye each of the last three seasons, outscoring its opponents 102-41 in those games. That included a 26-0 win vs. Detroit in 2009 and a 31-3 victory at Minnesota in 2010.
Since McCarthy took over in 2006, Green Bay has a 38-20 overall record (.655) after the bye. Since 2009, the Packers are 21-7 (.750) after the bye.
The Packers enter today's contest at Detroit on an eight-game winning streak in NFC North games.
Green Bay has tied the franchise record (since the league went to a divisional format in 1967), matching eight-game divisional winning streaks in 1996-97 and 2001-02.
The Packers' eight-game winning streak is the second-longest current divisional winning streak in the league behind only Baltimore's 11-game streak against AFC North foes.
Green Bay posted a perfect 6-0 mark in NFC North games in 2011, the first time the Packers went undefeated in their division since 1967. The Packers became the first team to sweep the NFC North/Central since the 1987 Chicago Bears (7-0).
Green Bay has outscored its opponents 245-141 in the eight-game divisional winning streak and has a combined plus-10 turnover differential.
Including today's game at Detroit, five of the Packers' final seven games will be against NFC North foes.
Green Bay has scored 182 points over its past six games, a 30.3-point average that ranks No. 4 in the league since Week 4.
The Packers rank No. 3 in the league in red-zone efficiency this season, scoring TDs on 67.9 percent (19 of 28) of their opportunities. Detroit is tied for No. 2 in the league in red-zone defense this season at 38.1 percent (8 of 21).
Green Bay has either won the takeaway battle or come out even in 25 of its last 27 regular-season games.
Entering Week 11, the Packers are tied for No. 2 in the NFL in sacks (28) and rank No. 2 in sack yardage (202).
Since Week 4, the Green Bay ranks No. 1 in the NFL in rushing yards allowed per game (79.7) and yards per carry (3.5 avg.).
Green Bay has not allowed its opponents to score on an opening possession this season, one of only two teams in the league (Chicago) to do so.
QB Aaron Rodgers has thrown 25 touchdown passes this season (tied with Saints QB Drew Brees for league lead) as he became the first NFL quarterback to throw 25-plus TD passes in the opening nine games in two different seasons (28 TDs in first nine games of 2011).
Over his last six games, Rodgers has thrown for 1,638 yards and 22 TDs with three INTs on 141-of-212 passing (66.5 percent) for a 118.4 passer rating. The 22 TD passes are a team record over a six-game span, topping the previous mark of 20 by Rodgers (twice in 2011) and Brett Favre (1996).
In his last eight dome starts (including playoffs), Rodgers has thrown for 2,623 yards and 25 TDs with just one interception on 201-of-283 passing (71.0 percent) for a 127.9 passer rating. He posted a 100-plus passer rating in all eight of those games, with seven 300-yard games and three-plus TD passes in six of them. His career rating of 117.0 indoors ranks No. 1 in NFL history (min. 200 attempts).
Rodgers needs 251 passing yards to reach the 20,000-yard passing mark for his career.
WR Jordy Nelsonranks No. 2 in the NFL with 20 TD catches since 2011, trailing only Patriots TE Rob Gronkowski (25).
WR James Jones is tied for the NFL lead (Bengals WR A.J. Green) with eight TD grabs this season, which already tops his career high of seven TD catches in 2011.
WR Randall Cobb has caught 34 passes for 404 yards (11.8 avg.) and six TDs over the past six games. Five of those TD catches have come in the last three contests, which ties him with Gronkowski for the most in the league over that span.
As per team tradition, the Packers select game captains each week.  
Today's captains will be WR Randall Cobb(offense), LB Brad Jones (defense) and LB Jamari Lattimore(special teams).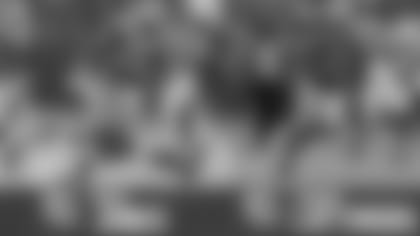 Today's officiating crew includes referee Ron Winter (14), umpire Carl Paganelli (124), head linesman Jim Howey (37), line judge Gary Arthur (108), field judge Scott Steenson (88), side judge Tom Hill (97) and back judge Greg Steed (83).