PACKERS AND LIONS SET TO SQUARE OFF IN PRIME-TIME CONTEST
The Packers (8-4) stay home to host the Detroit Lions (4-8) tonight in a nationally televised contest, the first prime-time meeting between the division rivals since a Sunday night game at Lambeau Field in 2005.
Green Bay has won six of its last seven games, which entering Week 14 was tied for the second-best record in the league since Week 6 behind only Denver (7-0).
The Packers have won six of their last eight games played on Sunday night. Green Bay is 19-6 all-time in Sunday night contests, a .760 winning percentage that ranks No. 1 in the NFL.
This is the second in a stretch of three straight NFC North games for Green Bay, the first time the Packers have had three consecutive divisional contests on the schedule since 2006 (Weeks 15-17). Three of Green Bay's final four remaining games are against divisional foes.
Green Bay enters Week 14 tied with Chicago (8-4) for first place in the NFC North, two games ahead of Minnesota (6-6). The Packers beat the Bears in Week 2, and the teams square off again in Chicago next Sunday.
No other NFL teams have played every year since 1932, when the Packers and the Lions, then known as the Portsmouth (Ohio) Spartans, began their yearly home-and-home series.
The rivalry actually kicked off in 1930 at City Stadium in Green Bay, a 47-13 Packers win. Some two seasons later, the clubs began a yearly series. Tonight marks meeting No. 166 in the all-time series.
Now rivals in the NFC North, the Packers own a 92-65-7 (.585) advantage over the Lions in the regular season and have won both playoff games.
Green Bay has a 12-1 mark (.923) against the Lions under Head Coach Mike McCarthy. Overall, the Packers have won 13 of the last 14 and 21 of the last 24 in the series.
The Packers have won 21 straight games against the Lions in the state of Wisconsin (including a 1994 playoff game). The streak started with Green Bay's win over the Lions at County Stadium in Milwaukee on Dec. 6, 1992.
Green Bay's 20-game regular-season home winning streak against Detroit is the longest in NFL history, ahead of Washington's 18-game home winning streak against the Lions (1939-present) and Pittsburgh's 16-game streak versus the Cleveland Browns (1970-85).
The Packers have won 18 of their last 19 regular-season games (.947) at Lambeau Field and 24 of their last 26 (.923) at home.
Green Bay has won 25 of its last 30 regular-season games overall (.833), the best record in the league over that span.
The Packers' current 10-game divisional winning streak is the longest current streak in the league and the longest in franchise history, surpassing eight-game winning streaks in 1996-97 and 2001-02.
Green Bay has won eight straight NFC North games at home, the longest streak by the team since a 10-game streak from 2000-02.
During their current divisional winning streak, the Packers have outscored their opponents by a combined total of 292 to 175 and have a combined turnover differential of plus-14 (26 takeaways, 12 giveaways).
The Packers have a 30-9 (.769) regular-season record against NFC North opponents under*McCarthy, a divisional mark that ranksNo. 2 in the NFL* since 2006 behind only New England (33-8, .805).
The Packers have won 17 of 20 NFC North games at home under McCarthy, an .850 winning percentage that is tied for No. 1 in the league over that span with New England (17-3, .850).
Green Bay enters tonight's game with a 3-0 record in NFC North games this season. A victory would give the Packers a winning record in the division for the seventh consecutive season and extend a franchise record. The previous high was five consecutive winning seasons in the division from 2000-04.
Green Bay has averaged 31.2 points per game at Lambeau Field since 2009, No. 2 in the league at home over that span behind only New England (32.5).
The Packers have a plus-42 turnover differential (74 takeaways, 32 giveaways) at home since 2009, No. 1 in the NFL over that span.
Green Bay has either won the takeaway battle or come out even in 27 of its last 30 regular-season games.
Entering Week 14, the Packers are tied for No. 4 in the NFL in sacks (34) and rank No. 3 in sack yardage (222). Green Bay has had 14 different players record at least one sack this season (No. 2 in the NFL), tied for the second most in a season in franchise history (since 1982) behind only the 1987 season (15 players).
QB Aaron Rodgers has thrown a TD pass in 35 consecutive regular-season games at Lambeau Field, the second-longest home streak in league history behind only Dolphins QB Dan Marino (39 games, 1983-88). Rodgers' 35-game streak at Lambeau is thelongest passing-TD streak in NFL history at a single venue, surpassing Johnny Unitas' 34-game streak at Baltimore's Memorial Stadium from 1956-62 (Marino's 39-game streak came at the Orange Bowl and Joe Robbie Stadium).
Rodgers has a combined 114.6 passer rating in eight career starts against Detroit, having connected on 162 of 233 passes (69.5 percent) for 2,112 yards and 18 TDs with five INTs. He has posted five 300-yard games against the Lions.
Rodgers' career passer rating of 109.6 in divisional games ranks No. 1 in NFL history (since the NFL went to a divisional format in 1967). He has completed 570 of 814 passes (70.0 percent) for 6,782 yards and 54 TDs with 15 INTs.
WR Randall Cobb has six TD catches over the past six games, tied for the second most in the NFL over that span behind only Patriots TE Rob Gronkowski (seven). Over the last nine games, Cobb has 53 receptions for 579 yards (10.9 avg.) and seven TDs.
WR Greg Jenningsranks No. 8 in team history with 6,295 receiving yards and needs 52 more yards to surpass No. 7 Max McGee (6,346).
TE Jermichael Finleyranks No. 6 in team annals among TEs with 2,266 receiving yards and needs 35 more to surpass No. 5 Bubba Franks (2,300).
P Tim Masthay has placed a career-high 27 punts inside the 20 this season, which ranks No. 4 in the league. Masthay's total ranks No. 3 in franchise history (since 1976) behind only Sean Landeta (30 in 1998) and Craig Hentrich (28 in 1996).
As per team tradition, the Packers select game captains each week.  
Tonight's captains will be TE Jermichael Finley(offense), S Morgan Burnett (defense) and P Tim Masthay (special teams).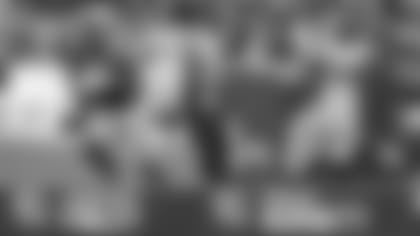 Tonight's officiating crew includes referee Tony Corrente (99), umpire Fred Bryan (11), head linesman John McGrath (5), line judge Darryll Lewis (130), field judge Gary Cavaletto (60), side judge Allen Baynes (56) and back judge Greg Wilson (119).