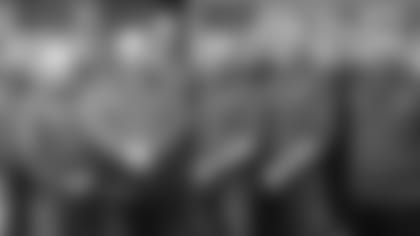 Front row (L-R): Tyler Rosa, John Rivard, Mick Fox, Bruce Larson, Chet Bangor, Dean Hoff, Trent Larrieu
Back row (L-R): Tim Germain, Ross Wargula, Grant Solum, Joe Hutter, Bob Seibel, Dave Praschak
Not pictured: Terry Otradovec
Coach Bruce Larson of Somerset High School, the Green Bay Packers' nominee for Don Shula NFL High School Coach of the Year, has been named the winner of the award, the NFL announced today.
Larson was one of three high school football coaches from across the country named as a finalist for the award, which was created to honor exemplary high school football coaches who demonstrate a commitment to player health and safety, and to the integrity, achievement, and leadership exemplified by the winningest coach in NFL history, Don Shula.
Larson is a 28 year coaching veteran who has been with Somerset High School his entire coaching career and recently completed his 16th season as head coach. The Somerset Spartans finished the 2014 season with a perfect 14-0 record, capped off by a 28-16 victory over Little Chute High School in the WIAA Division 4 State Championship at Camp Randall Stadium in Madison on Nov. 20. Larson and his staff oversee a program of 85 players, including a varsity roster of 50.
As part of his nomination, Larson wrote of his responsibility as a coach: "The greatest thing that comes from coaching for me is watching the players go from boys who participate in youth football to men who fight together at the varsity level and take the lessons they learned in football throughout their life and become successful individuals." Larson coached Houston Texans OT Bryan Witzmann.
"We're pleased, along with the NFL, to honor Bruce Larson for his accomplishments, not only as a football coach but as a role model and leader in the community," said Packers President/CEO Mark Murphy. "Bruce sets a strong example for young people to follow, both on and off the field. Through his 28 years with Somerset High School, he has demonstrated a tremendous commitment to coaching and his community."
Each of the three award finalists received a $2,500 cash award and a $5,000 grant for their high school football programs. All nominees are active or retired high school football coaches nominated by NFL teams or players for their character and integrity, inspirational leadership, commitment to the community and on-field success. The other finalists were Cherry Creek High School Head Football Coach Dave Logan*of Greenwood Village, Colorado and Truman High School Head Football Coach Gregg Webb *from Independence, Missouri.
Larson was also honored this year with the WFCA/Packers Coach of the Year award, presented to him at the Packers' final regular season home game against the Detroit Lions. In recognition of the honor, the Packers donated $2,000 to the Somerset football program. This marks the 17th year both the Green Bay Packers and WFCA have awarded the honor together. More information regarding this award, the All-State team and the WFCA is available at www.wifca.org.
The Don Shula NFL High School Coach of the Year Award selection panel is comprised of Coach Shula; former Dallas Cowboys Personnel Director and NFL.com contributor Gil Brandt; former Indianapolis Colts Coach and current NBC analyst Tony Dungy; veteran sportswriter Jack Fleischer; Executive Director of USA Football Scott Hallenbeck; Former Raiders Coach and Pro Football Hall of Famer John Madden; General Raymond Odierno; and Former Secretary of State, Senior Fellow on Public Policy at the Hoover Institution and faculty member at the Stanford Graduate School of Business Condoleezza Rice.