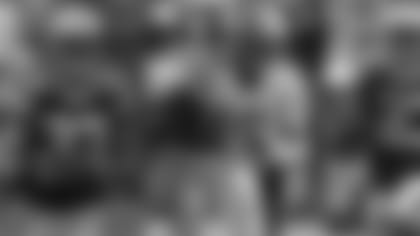 From left to right, potential return men Micah Hyde (33), Randall Cobb (18) & Johnathan Franklin (23).
GREEN BAY—The Packers aren't picking one return man for Sunday's game against the Lions.
Head Coach Mike McCarthy said on Friday that whether Randall Cobb, Johnathan Franklin and/or Micah Hyde is called upon for a kickoff or punt return could vary depending on the moment.
"It will be situational," McCarthy said. "It's a game-plan decision, based on when and where."
Based on preseason reps, Franklin could return kickoffs and Hyde could return punts. Cobb, of course, has done both.
McCarthy also said Jordy Nelson and Tramon Williams, who have both served as return men in past seasons, continue to take reps in practice as additional choices. But McCarthy confirmed that Cobb, Franklin and Hyde are the primary options at this point.
Given the fluid situation, it's likely that anybody who shows a hot hand will be given a chance to take over the duty more permanently. Conversely, a costly miscue will have the coaches looking in other directions, especially coming off the fumbled kickoff by the since-released Jeremy Ross.
"We don't ever try to lock it into just one or two players," McCarthy said. "Randall still takes the normal flow of returns. I feel good about Micah and Johnathan."
McCarthy also feels good about his team coming out of its bye week. He felt the week of practice, which included four workouts, went well, with Thursday's "one of our better padded practices."
The Packers are 6-1 under McCarthy following their bye week, with the only loss coming in overtime at Tennessee in 2008.
"If you were going to prioritize what's the most important thing that happens in the bye week, it's really the players getting healthy," McCarthy said.
The Packers' health did improve, with seven of the 10 players on the injury report listed as probable for the game. That includes four players whose hamstrings healed – linebacker Clay Matthews, safety Morgan Burnett, fullback John Kuhn and cornerback Jarrett Bush – plus two players who recovered from concussions, running back Eddie Lacy and tight end Jermichael Finley.
In both 2009 and 2012, the Packers beat the Lions coming off the bye, part of McCarthy's 13-1 record against Detroit. But at 3-1 with already a 2-0 mark in the NFC North, this Lions team may be the strongest the Packers have seen in quite some time.
McCarthy said this is the best he's seen the Lions playing heading into a matchup with the Packers, but he also expects to see his own squad re-energized and with a clear sense of purpose following a frustrating 1-2 start.
"I think the ability to step away and come back – the energy, the focus and the urgency, that's always heightened," McCarthy said. "It gives a chance for the coaching staff to put more into that up-and-coming game plan." Additional coverage - Oct. 4