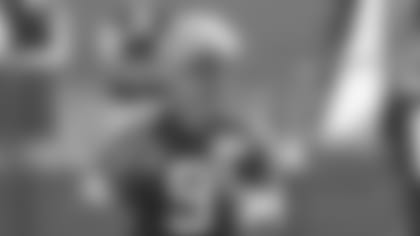 QB B.J. Coleman
GREEN BAY—The Packers' organized team activities, more commonly known as OTAs, begin next week and will look a little different than they have in recent years.
For starters, they'll be on a different field. Due to ongoing preparations for training camp at Ray Nitschke Field, this year's OTAs will take place on Clarke Hinkle Field in front of the Don Hutson Center.
That means for the fans interested in getting a glimpse of the team during the three Tuesday OTAs open to the public – on May 21, May 28 and June 11 – watching practice will revert to the "railbird" era along the Oneida Street fence.
Those open practices all begin at 11:30 a.m. Two additional practices during the team's mandatory minicamp on June 4-5 will also be on Hinkle Field and open to the public, with a start time TBA.
In all, the rest of the offseason consists of 10 OTAs and three days of minicamp spread out over four weeks, beginning next week. The first OTA is slated for Monday, May 20.
Another difference was mentioned by Head Coach Mike McCarthy on Sunday when rookie orientation wrapped up, and that's less "team" work during OTAs, meaning there will be fewer 11-on-11 periods between the offense and defense. That suggests more fundamentals and drill work to prepare the team for training camp.
McCarthy also mentioned the Packers could take four quarterbacks into OTAs, one more than they did last year. Aaron Rodgers, Graham Harrell, B.J. Coleman and undrafted rookie Matt Brown would be that quartet, with Coleman and Brown having just participated in rookie orientation.
Coleman, a seventh-round draft pick last year, was eligible for rookie orientation because he spent his entire 2012 rookie season on the practice squad.
The weekend of work was valuable for Coleman, giving him an opportunity to apply on the field his year's worth of knowledge in the offense without feeling overwhelmed as most rookies, particularly quarterbacks, do at first.
Coleman also began his first run through McCarthy's quarterback school a few weeks ago, an intensive period of film study and fundamental work that's a been a staple of the Packers' offseason since McCarthy arrived in 2006.
"For me, it's really diving into that playbook, the details," Coleman said over the weekend, speaking to reporters at his locker. "It's easy for quarterbacks to look at a play and understand what we're trying to accomplish, but it's the details. It's understanding the protections and the route adjustments, the different things that really make a difference. I think that's huge."
Coleman talked about his year of "osmosis," watching and learning from Rodgers in 2012. He joked about occasionally forgetting the play he just called in the huddle by the time he got up to the line of scrimmage last year, but with a year under his belt, he doesn't have to think about the play mentally as much as try to execute it physically.
Refocusing on the basics, such as footwork and shoulder position, in QB school has gone hand-in-hand with that.
"It's good to be able to fine-tune that stuff, because it really gets everything in sync," he said. "As you've seen the last two days, if you're a split-second late going down the middle, that ball is picked and going the other way for six."
Experience alone gives Coleman a leg up on Brown, a star and leader at Illinois State, for the No. 3 QB job, but the more interesting question could be whether Coleman might push Harrell for the No. 2 spot.
Training camp and the preseason will play a far bigger role in that than OTAs, with Harrell looking to build on his sterling outing in the preseason finale last August (13 of 15, 223 yards, two TDs) that solidified him as Rodgers' top backup.
Coleman is looking to make the same type of progress in 2013.
"From year one to year two, there's really no comparison," he said. "I feel a lot more smooth, a lot more fluid, and getting the ball out of my hand is important. That's what we're predicated on here, going out there and making quick decisions."