GREEN BAY CLOSES OUT ROAD SLATE IN NEW ENGLAND
The Packers travel to New England for the first time since 2002 for a nationally televised contest tonight against the Patriots, Green Bay's fourth prime-time game of the season.
This will be the first time the teams have met in a prime-time matchup since they squared off on Monday Night Football in New England on Oct. 27, 1997. The Packers are 2-0 on Sunday Night Football this season.
That was the season after the teams met in Super Bowl XXXI in New Orleans, as the Packers topped the Patriots, 35-21, to capture their first world championship in 29 years. For Green Bay, the victory marked its league-high 12th NFL championship as well as its third Super Bowl title.
Green Bay will be taking on a Patriots team that has won 15 straight games at Gillette Stadium, the longest current winning streak at home in the league. New England's last loss at home came on Nov. 30, 2008, to Pittsburgh. Patriots QB Tom Brady has won 26 straight starts at home, an NFL record for most consecutive regular-season home wins by a quarterback.
The Patriots have won 16 straight games against NFC opponents at home, with Green Bay handing them their last loss on Oct. 13, 2002. That is New England's only loss to an NFC team at Gillette Stadium since it opened in '02.
The last time the Packers played on the road against a team with only two losses in Week 15 or later was in 2006 when Green Bay traveled to Chicago in the season finale to take on the Chicago Bears (13-2). Coincidentally, that was also a Sunday night contest.
This is the latest in the season that the Packers have ever traveled to New England, with a contest on Nov. 18, 1973, being the previous mark. That was the first-ever meeting between the franchises.
The Packers have a 5-4 edge in the all-time series, which includes the Super Bowl win, and have posted victories in each of their last two trips to New England (1997, 2002).
Next Sunday, Green Bay returns home for a 3:15 p.m. (CST) contest against the N.Y. Giants at Lambeau Field. It is the first of back-to-back home games for the Packers to close out the season, with Chicago visiting Green Bay in Week 17.
FINISHING STRONG
Mike McCarthy has often emphasized the importance of his team playing its best football at the end of the season.
Since McCarthy took over in 2006, the Packers are 13-7 in regular-season games in December/January. That .650 winning percentage ranks No. 2 in the NFC over that span behind only Philadelphia (17-4, .810).
Dating back to the 2008 season finale, Green Bay has won six of its last eight regular-season contests in December/January.
Going back even further, the Packers are 59-24 (.711) in regular-season games played in December or January since 1992. That is the highest winning percentage for any team in the league over that span, with the Patriots checking in at No. 2 with a 57-24 mark (.704).
The Packers will certainly be put to the test tonight against a New England team that is 39-9 (.813) in December/January games since Bill Belichick took over as head coach in 2000, the best mark in the NFL over teat span. The Patriots haven't lost a Dec./Jan. regular-season home game since Jan. 1, 2006, a 28-26 defeat to Miami.
NOTABLE CONNECTIONS
Packers defensive coordinator Dom Capers was a special assistant and secondary coach for the Patriots in 2008...Packers offensive coordinator Joe Philbin was born in Springfield, Mass., and coached at Worcester Tech (1986-87), Northeastern (1995-96) and Harvard (1997-98)...Patriots special teams coach Scott O'Brien is a native of Superior, Wis., and played collegiately as a LB for the University of Wisconsin-Superior from 1975-78. He also started his coaching career there in 1980...Packers LB Clay Matthews was selected No. 26 overall in the 2009 NFL Draft with a pick acquired from New England in exxchange for Green Bay's second-round choice (No. 41) and two third-round picks (Nos. 73 and 83). The Packers also received a fifth-round selection in the trade...Matthews' father, Clay Jr., played under Patriots head coach Bill Belichick and O'Brien for three seasons in Cleveland (1991-93), and teamed with Patriots DL coach Pepper Johnson in the Browns' linebacking corps in 1993....Patriots LB Tracy White spent three seasons in Green Bay (2006-08)...Patriots QB Tom Brady and Packers CB Charles Woodson were teammates on the University of Michigan's 1997 national championship team...Patriots LS Matt Katula played collegiately at Wisconsin.
TONIGHT'S CAPTAINS
As per team tradition, the Packers select game captains each week.   
Tonight's captains will be WR Donald Driver (offense), LB A.J. Hawk (defense) and LB Diyral Briggs (special teams).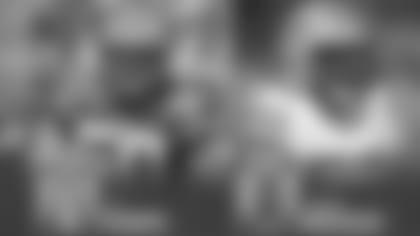 WEARING THE STRIPES
Tonight's officiating crew includes referee Ed Hochuli (85), umpire Chad Brown (31), head linesman Mark Hittner (28), line judge Tom Symonette (100), field judge Craig Wrolstad (4), side judge Ron Torbert (62) and back judge Don Carey (126).
By appearing in tonight's contest, will play in the 157th game of his career. That moves him into sole possession of fourth place among offensive linemen in franchise annals, ahead of T Ken Ruettgers and C/G Frank Winters (156 each).
2 MASON CROSBY
Needs 10 points for 100 on the season, which would give him four straight seasons with 100-plus points.
85 GREG JENNINGS
Needs 4 receiving yards for 1,000 on the season. Could become just the fifth WR in team history to have three straight 1,000-yard campaigns (Driver, Lofton, Sharpe, Freeman).
With a touchdown catch, would match his career high of 12 (2007).
Will hit the 5,000-yard mark for his career with 47 more receiving yards.
Starting with Week 6 vs. Miami, has averaged 101.6 receiving yards per game, No. 1 in the NFL over that span.
38 TRAMON WILLIAMS
Needs one more interception to set a new career high (five in 2008 is his previous best).
GREEN BAY PACKERS
The Packers rank No. 1 in the NFL in scoring defense at 14.5 points per game, and have allowed 7.2 points per game in their last six contests.
Since Week 10 last season, the Packers are 15-6 (.714), which is tied with five other teams (including New England) for the best regular-season record in the NFL over that span.
With one more catch by RB Brandon Jackson and two more by WR Jordy Nelson, the Packers will have five players with 40 catches in the same season for the first time since 1980. Jennings (61) and WRs James Jones and Donald Driver (40 each) have already hit the 40-reception mark.